Film study, post-practice throwing and a whole lot of patience. That's been constant for Alex Smith over the past six weeks.
Now after being re-named the 49ers starting quarterback, it's more film study, in-practice throwing and an even more aggressive mindset this week.
The sixth-year pro has an opportunity to end the season positively with a strong showing against the Seattle Seahawks, and said he learned a thing or two watching Troy Smith lead the 49ers to a 3-2 record – notably, the importance of staying aggressive and looking for big plays.
In making his first comments to the media this week, Smith was asked what makes him a capable NFL quarterback. The confidence he shared in his answer should serve him well this weekend against the division co-leaders.
"I believe I have the ability to make all the throws on the field, athletic enough that I can make plays with my feet when I have to. I can handle any playbook out there, adjustments you have to make, calls, different things, protections, adjustments; I think I can.
"Have I done that consistently? I'll be honest with you, no. And I think that's what I need to do."
Smith also has experience on his side and full command of the 49ers playbook, reasons Mike Singletary alluded to when making the change from Troy to Alex.
Now it comes down to better execution from Smith, who had his moments of strong play despite the 49ers 1-6 start to the season:
-He led a remarkable game-tying, two-minute touchdown drive Week 2 against the defending Super Bowl Champion New Orleans Saints on "Monday Night Football," only to see a Garrett Hartley field goal still split the uprights despite being tipped by 49ers defensive tackle Ray McDonald at the end of regulation.
-He came within one Nate Clements fumble of being the only quarterback to beat Matt Ryan and the Atlanta Falcons in the Georgia Dome this season.
-He threw two touchdown passes in a win over the cross-town rival Oakland Raiders and was in position to beat Carolina before a separated shoulder caused him to miss a few games.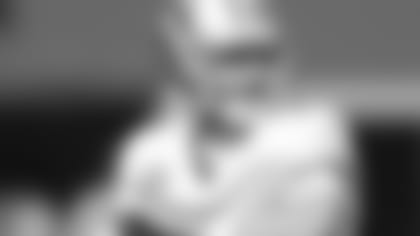 All the close calls mean nothing in the end to Smith in the end, only the final results. That's why he's not taking the opportunity to start Sunday lightly by any means.
Winning isn't solely on Smith's shoulders though. The rest of the 49ers offense see this week as a game where all 11 players can demonstrate their command of the offense, not just the man under center.
"We're all in it together," said rookie running back Anthony Dixon, who carried nine times in Green Bay last week splitting running back duties with Brian Westbrook. "Any way I can make things easier for Alex, that's what I'm aiming for. If I can keep it on the ground all day, that's what I'm trying to do."
Smith's center, David Baas, said it's imperative that each individual concentrates on getting their job done. He's spent zero time contemplating the differences between quarterbacks. Baas and the 49ers linemen have to account for a Seattle defense that sacked Smith twice and held the 49ers to 2.6 yards per carry back in September.
"I treat every week the same, prepare the same," Baas said. "We have confidence in whoever's back there and do our best to give them all the time and protection that he needs."
The 49ers are more than preoccupied with their opponent, one that got the best of them 31-6 to start the season.
"I learned off the bat, we need to win," Dixon said of his first NFL game.
And that's exactly what the 49ers need to do Sunday to keep pace in the NFC West race. But they can't win all four games at once.
"That's all we've been talking about, all Coach has been talking, we're just focused on Seattle right now," Dixon shared. "That's the good thing about playing in the NFL. You have so many games that you're really never really out of it unless you lose too many. We haven't gotten to that point yet. We have life."
That life, under Smith's direction, is about making the most of opportunity. Smith is determined to do so.
"This might sound cliché, I was determined that if I got an opportunity, I was going to be ready. And I knew there were – as each week counted down, six more weeks, five more weeks, whatever it was, that if I got my number called, I was going to be ready to go."
Go-time for Smith and the 49ers is 1:05 p.m. Sunday afternoon at Candlestick Park.