The head of 49ers Studios has penned a tribute to his former mentor, Ed Sabol, the founder of NFL Films, who passed away on Monday at the age of 98.
I started working for NFL Films as a filmmaker in April 1995. My career there was short and by the spring of '97, I began working exclusively on the team side, where I remain today. But at 25, I had walked not only into a world that was at the top of its game, but also a total throwback.
Working on film equipment from the 1950s (I specifically remember the Moviola film editor that would allow us to view and cut film and two tracks of audio simultaneously), I felt as if I truly was in the golden age of sports filmmaking that had been created well before my first birthday.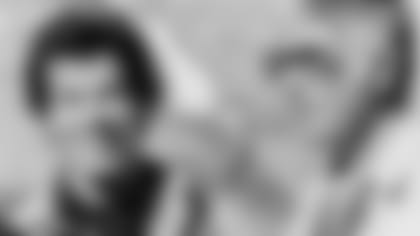 Ed Sabol was born on Sept. 11, 1916 in Atlantic City, N.J., a short hop to Philadelphia (unless you hit traffic) where the first NFL Films headquarters was located. Originally titled, "Blair Motion Pictures," NFL Films expanded and eventually relocated to a larger headquarters housed in Mt. Laurel, N.J., where Ed acted in the roles of president and chairman. His son, iconic filmmaker and, in my estimation, a genius, Steve Sabol, would take over the reigns from him and was already known for incredible work and productions that cultivated many generations of football fans. 
"Big Ed" Sabol created the juggernaut that we know as NFL Films. There is nothing like it in any sport. Certainly there are other networks, stations and league outlets, but for one sport to be so defined, so uniquely identified as football is through NFL Films.
It stands in a class of its own. 
The pageantry, music and imagery that is created by this "Hollywood" of sports can never be duplicated and remains the standard for how other productions in the sporting world are measured.
I remember Ed's final days at NFL Films as they were my first.  I remember seeing him there, not often, but enough. As I walked the halls and was feeling out my new digs, he was saying his goodbyes to a familiar setting. One night in the summer of '95, NFL Films held an incredible retirement party for Ed. Rows and rows of tables were set under a tent that was adjacent to the building he had led for so many years. I was amazed at the people who showed up – from Paul Hornung to Michael Buffer – it was a who's who in the sports world. Again, the celebration emphasized history, something NFL Films had always done so gracefully. 
Everyone in attendance was offered a bottle of wine with Ed Sabol's image engraved on the back as a memento of the evening. I remember thinking that "I had done it. I had made my way to NFL Films and worked under the likes of some of the best in the world." 
Even after my years there were completed and I moved on to a new job, I knew that I would never have done what I did without the pioneers before me. For that I am forever grateful. We can only hope the next wave of pioneers will make as great of an impact as Steve and Ed did on my generation.
As I think of the Sabol family's contributions to pro football, I uncork that bottle of wine and pour a glass. This toast is to the Sabol family for making football not only a sport, but more importantly an amazing spectacle. 
Here's to the greatest sport on earth and to the two men whom that sport owes a great debt.
More Sabol tributes from NFL media:**