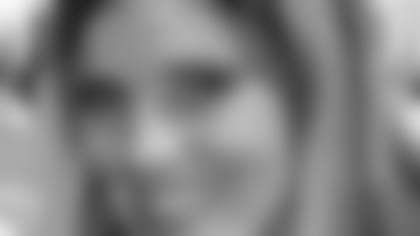 49ers.com writer Chrissy Mauck is one of a few official bloggers over on 49ersfaithful.net. Make sure to check out our social networking site, and in the meantime, here's some updates. **
Here are a few updates from Monday's press conference with head coach Mike Nolan and general manager Scot McCloughan.
Although the Raiders have confirmed that they would be practicing against the 49ers this training camp, Nolan said nothing is etched in stone at this point.
If it does take place, Nolan emphasized that it would be a practice, not a scrimmage, and would be up in Napa at the Raiders training camp.
Nolan also said that it would not be an open practice to the public as the 49ers would adhere to the rules that the Raiders follow for camp.
If the 49ers do work against the Raiders, Nolan will not hold his usual intra-squad scrimmage.
Larry Allen has not yet been ruled out for the 2008 season. Nolan said that the future Hall of Famer has been in contact with offensive line coach George Warhop in recent weeks, expressing interest to return to the team.
Nolan said he has a few calls into Allen, but has yet to hear back.
"Last year he was on our roster, this year he's not, so he doesn't have to call me," said Nolan. "I think because he's a free agent, he's left a lot of it up to his agent more than anything."
He also said that David Baas is on schedule and doing well, but that being on schedule could mean missing time at the start of the season.
"If he's had zero practice up to that point, maybe not," said Nolan of Baas starting in the season opener. "If he's had some work, that could be the case. We certainly have expectations of him to come back and pick up where he left off, which was as a starter."
Nolan hopes that head trainer Jeff Ferguson and staff can speed up Baas' recovery, but in the meantime that Tony Wragge will continue to work with the starting unit.
Nolan did confirm that Chilo Rachal has been switched back from tackle to guard and that the rookie would also compete with Wragge at right guard.
"Leading up to the beginning of the season, they will be competing," said Nolan. "You'd hope everyone in training camp would be competing. Some have a little bit stiffer battles than others and when you talk about a rookie vs a veteran, it's tough, in particular on the line to get in the lineup right away as a rookie. That's one of the more difficult positions to start right away."
When asked about linebacker Takeo Spikes, who recently visited with the Lions, McCloughan affirmed that the veteran player is still on the 49ers radar.
"Of course he is," said McCloughan. "There are a lot of guys coach and I sit down and talk about of guys who could help us at some point, if not right now, maybe during training camp or once the season starts. We have an emergency board and he's someone we talk about."
The 49ers have three draft picks remained to be signed including first-rounder Kentwan Balmer, third-rounder Reggie Smith and fourth-rounder Cody Wallace.
McCloughan said discussions are underway and that he feels good with the current negotiations.
Check back later for Nolan's Notebook for more from this afternoon's conference call.
The 49ers and the Oakland Raiders are in discussions over holding joint practices together during training camp. I am told that more news on this is to come in the following days.
Head coach Mike Nolan spoke with the local media Thursday morning to discuss his recent trip to visit the troops in Afghanistan. We'll have more to post later this afternoon about his trip, but Coach did answer one specific 49ers question during the call. Nolan said if all goes well, his plan is to name a starting quarterback prior to the 49ers third preseason game against the Chicago Bears. Shaun Hill and Alex Smith will both split reps with the first team during training camp and will each have a start in weeks one and two of the preseason.