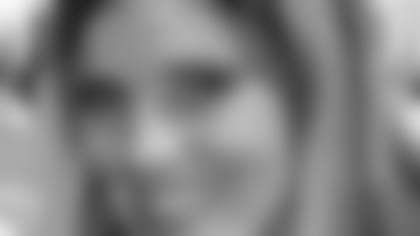 Over on our social networking site, 49ersfaithful.net, we have a few official team bloggers including two of our players in Manny Lawson and Marcus Hudson. All this week, 49ers.com writer Chrissy Mauck will also blog from the Senior Bowl.**
Since both teams practiced on Monday at the same time, I attended the South squad practice to get video and photos of our coaches and squad, which you can check out in our photo gallery on 49ers.com.
The North practiced first thing Tuesday morning, and all of our scouts were in attendance for that one. I am working on a video/written piece on some of the California kids out here since I figure they are of interest to many of our fans. I was able to get the USC quarterback John David Booty, USC linebacker Keith Rivers, Cal wide receiver Lavelle Hawkins and Cal running back Justin Forsett.
I met and interviewed Mike Martz immediately following practice, and then spoke to several other assistants. He had a crowd of coaches around waiting to say hello, including his former defensive coordinator in St. Louis in current Bears head coach Lovie Smith. Smith and company were accommodating enough to let me sneak in my interview first.
Following practice I hightailed it back to my hotel, downloaded part of the video we shot today and then scurried over to the player hotel to shoot head coach Mike Nolan's press conference. Raiders head coach Lane Kiffin also spoke today, as well as quarterbacks John David Booty, Chad Henne, Andre Woodson and Colt Brennan. 
Nolan talked some about the secondary he's got this week. McCloughan had told me that this draft is deep at defensive back, and Nolan seemed happy with the group of guys here this week, noting Troy CB Leodis McKelvin, safety Marcus Griffin and Auburn corner Patrick Lee.
Brennan and Woodson were the most entertaining. Here's what they had to say when asked about their personalities as Brennan was clearly more energized during the press conference.
"Andre had a great run early in the year and he's a projected first rounder and I'm luck to be here, so I'm just having fun, enjoying it and trying to impress as many people as I can," said Brennan. "He's still trying to keep that first rround draft status, so there's probably a lot more pressure."
Woodson responded, "Actually, I'm just tired. Usually I'm not this serious, and I'm kind of goofy."
Right now I'm sitting over in the dining room as players saunter in and out. I'm going to help the scouts gather up some of them for their interviews, and then call it a night!