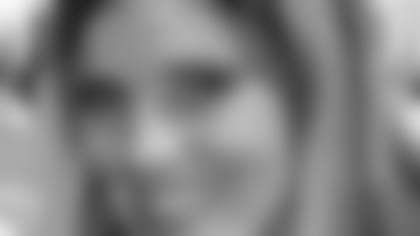 The 2008 NFL Draft is underway, and 49ers.com writer Chrissy Mauck will check in for updates throughout the weekend in this Draft Day Blog!**
Scot McCloughan just wrapped up his press conference, where he repeated a few times that he views this weekend as a "heck of a draft." In particular, McCloughan named Kentwan Balmer and Reggie Smith as players he would not have thought possible of getting based on where the 49ers had to pick, and said that he was very excited when the two players fell his way.
There were talks of trades at picks 4, 6 and 7 but McCloughan stayed put at each one because the guy he wanted was there.
McCloughan also said that for the first time in his scouting experiences,  the 49ers board (which is stacked based on our offensive and defensive schemes and needs) followed very closely to the rest of the NFL. In particular, he said that Kansas City mirrored the picks the 49ers would have made had they been selecting where the Chiefs were. We'll have his transcript up later this evening.
And with that, this blog comes to a close! Kentwan Balmer had flight delays and won't be getting in until later this evening, so his press conference has been moved to Monday morning. Check back tomorrow for video of our #1 pick.
Coach Nolan just finished talking to the media, following our final pick of the draft in Ohio State LB Larry Grant. Coach indicated that Grant, who has played all three linebacker positions in his career, will join the mix at TED. He also said that special teams coordinator Al Everest was extremely satisfied with the selection of Grant, who has also been a teams contributor. "Al was so excited he was still trying to sell him even after we picked," said Nolan. "I told him he didn't need to do that."
Nolan said the pick did not rule out the possibility of signing free agent LB Takeo Spikes.
The scouts are scurrying out in the halls and in and out of the draft room and various conference rooms right now as they work to put together their lists of potential free agents. Nolan expects the 49ers to sign about six more players, including probably two more offensive linemen and two receivers. Those phone calls will take place as soon as the Mister Irrelevant, the final draft pick is made.
I'm going to go ahead and give the best quote of the weekend to Grant. Asked if his five sacks last year indicated that he has some pass rush juice, Grant responded, "Oh, I got's the juice."
Here are the remaining jersey numbers for our new draft picks, courtesy of our stellar equipment manager Steve Urbaniak.
Chilo Rachal – 62
Cody Wallace – 65
Reggie Smith – 31
Josh Morgan – 84 a
Larry Grant - 57
We just added WR Josh Morgan out of Virginia Tech in the sixth round. I have to believe that area scout Todd Brunner is thrilled about this one, as well as both of the McCloughan's.  They talked to me about this guy having big-time play-making ability and I know they had him pinpointed for today.
SUNDAY: We just made our next pick, taking CB Reggie Smith out of Oklahoma at the 12th slot in the 3rd round. Smith was still in bed when 49ers scout Todd Brunner called to tell him the news. Local reporters joked with him that it must have been the best wake up call ever.
Smith played both corner and safety at Oklahoma, and also has experience as a punt and kickoff return man.
I'd have to go back and do all of the math, but I'm fairly certain that defensive back is the position that Scot McCloughan has most drafted since his time with the 49ers, and that this is also the highest he's ever taken a defensive back. By my recollection, the 49ers have drafted Derrick Johnson, Daven Holly, Marcus Hudson, Vickiel Vaughn, Tarell Brown and Dashon Goldson. Offensive line I believe would be second with Joe Staley, Adam Snyder, David Baas, Patrick Estes and Chico Rachal, but I could be missing one?  
Ok, McCloughan may have evened up the offensive line with his defensive back selections by choosing C Cody Wallace out of Texas A&M in the fourth-round. Wallace was a player the 49ers got to know a little more about down at the Senior Bowl as he played on the South squad, which was coached by the 49ers.
Nolan just had a brief press conference with the media to discuss both Smith and Wallace. He did confirm that he plans to work Smith at corner, opposite of Nate Clements, so behind Walt Harris.
Nolan also said that he expects last year's rookie Tarell Brown to miss mini camp as he continues to recover from a knee injury. Nolan does expect Brown back for training camp.
Nolan discussed the way Wallace handled some of the top defensive linemen available in this year's draft during the Senior Bowl game, and believes that the Aggie lineman will be an asset to the 49ers offensive line.  He did say that the club would have liked to have added another tackle to shore up that area of the line, but that he does feel very good about Joe Staley and Jonas Jennings. Nolan said he'd prefer to see Damane Duckett step up and show that he's capable of being a solid backup at tackle, and leave Adam Snyder strictly at guard but he did leave the window cracked in terms of Snyder sliding back out to tackle if that was necessary.
Nolan said there have been continuous discussions about taking a wide receiver, but that they've followed the board so far and gone with the best player.  Contrary to the belief that he doesn't currently have the talent to be successful at that position, Nolan said he felt that it was more of a situation where the 49ers "need to have a better plan on offense and utilize the players that they have better." Nolan said that "we are not on the short-end of the stick in talent on offense like we were when we got here."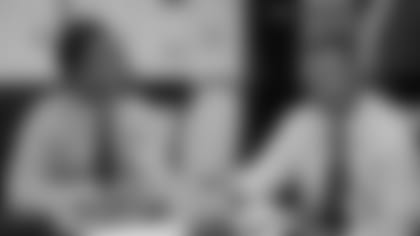 Thus far, the Draft has been fairly predictable, but it is still early. I did think the Rams would opt for Glenn Dorsey over Chris Long, but I'm happy they didn't. I think Dorsey will be the more dominant and disruptive player to have had in the division.
I just shot some B-roll in the War Room and fed that over to the NFL Network. All of our scouts are in there, Jed and John York, Scot McCloughan and Coach Nolan. Defensive coordinator Greg Manusky was in there while I was shooting, but the assistant coaches all tend to go in and out.
I was in there for the Raiders pick, which Scot predicted to be McFadden and then he said Dorsey would definitely go to Kansas City. So, he was dead on for those two.
The 49ers are offering a Draft Day Party outside, exclusive to season-ticket holders. I think some of our players are out there signing autographs. Keena Turner just came by and said he's slotted at 1:30, and Coach Nolan went down there at 1 to greet the fans. 
Turner later came by and said that "it was very exciting to see all of the energy from the fans in anticipation of our pick." Turner also seemed very pleased about our two selections and feels they can both have an early impact.
Coach basically talked about the trades that have gone on so far, namely with Baltimore and New England moving back out of the top ten.  He gave zero indication who the 49ers would take, no shocker there.
It's been interesting to watch this first round unfold. I always pay particular attention to what the rest of our division does. The Cardinals definitely needed to address their secondary and they did so with Dominique Rodgers-Cromartie out of Tennessee State. He was a player who was on the South squad at the Senior Bowl and I know that our staff liked the way he ran.
Obviously, as expected, there's been a big run on tackles. Houston just took Virginia Tech's Duane Brown, making that the seventh offensive tackle taken in the first round.
The website experienced some difficulty today. We just switched to a new server, so it's very disappointing that we had this kind of inexcusable downtime. I apologize.
So, in the first round we took DT Kentwan Balmer out of North Carolina.
I just spoke with our equipment manager Steve Urbaniak who informed me that due to availability Balmer will have a temporary number, and will likely be re-assigned following training camp. The number for the time being is 67.  You can go ahead and pre-order a Balmer jersey online at shop49ers.com!
Coach Nolan just did his press conference and said that Balmer will compete at the nose or left end. He likes the fact that Balmer has great size and rarely came off the field last year, a tough duty for a defensive linemen he said. He said that judging by the noise and excitement he heard during his phone conversation with the first-round pick that Balmer is thrilled to be a 49ers.
Nolan also revealed that he and GM Scot McCloughan were a little suprised that Balmer was still there to be had.
With our second-round pick, the 49ers selected USC G Chilo Rachal. Nolan said that McCloughan had told him prior to the Combine that Rachal was a "poor man's Larry Allen." Nolan said he didn't know if that meant this would be a Hall of Famer one day like Allen should be, but that Rachal apparently plays with the same toughness.
Nolan said the injury to David Baas did not impact the 49ers decision to take Rachal, and that it was more of an instance of just wanting to add depth to the offensive line.
So the first day just ended, in five hours and 53 minutes, which by the way is 15 minutes shorter than the first round lasted in 2007.
At this point, I've got photos up, bios up, and some quotes from Balmer at least. We'll get the complete transcripts up for both selections, as well as audio files, and the video from Coach Nolan's press conference. Todd Brunner will also give us a blog update at some point tonight.