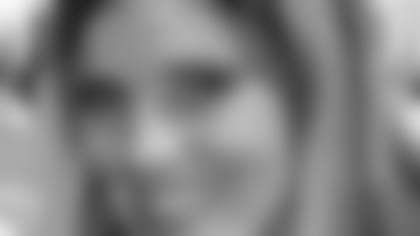 Over on our social networking site, 49ersfaithful.net, we have a few official team bloggers including two of our players in Manny Lawson and Marcus Hudson. All this week, 49ers.com writer Chrissy Mauck will also blog from the Senior Bowl. **
I caught a bright and early flight on Sunday for Mobile, Alabama and actually made it here without any delays or lost luggage. That was a first!
Things got underway for the South squad last night at a team meeting. A gentleman from the Senior Bowl went through some of the basics – schedule, where to turn in laundry, meals, game lounge area, etc. Coach Nolan introduced his staff. Ted Tollner will be working with the running backs this week, and I also got my first Mike Martz as an official 49ers sighting. Nolan and GM Scot McCloughan talked to the squad about their expectations for the week, and basically applauded the guys who came to compete in the all-star game. Some guys will opt to skip the game, not wanting to risk injury with so much at stake in April, but according to the 49ers brass, it says a lot about the guys who do show up and play.
QB Brian Brohm out of Louisville dropped out of the game and was replaced on the South squad by Erik Ainge, a quarterback out of Tennessee. DE Quentin Groves out of Auburn also dropped off the South squad. He was a guy who probably would have seen some work this week in coverage as he's one of those tweener types who could fit a 3-4 scheme. The Notre Dame tight end didn't show up for the North squad, so I believe they took Missouri TE Martin Rucker from our squad and moved him over to the North.
After the team meeting, the offense and defense broke up and heard from Greg Manusky and Martz. Al Everest got the group as a whole and went down a quick run down of special teams, something he expects all players present to take part in during the week.
The players then heard from their position coach and I laughed as I walked by and heard Mike Singletary telling his group he's not going to try to make them look bad in his drills this week (I instantly thought bag over), but that all the present coaches, general managers and scouts will be looking to see what they are made of and that he wants to give them all a chance to show their mettle.
A lot was thrown out at the guys, but mostly they just seemed amped for their first practice later this afternoon. I interviewed a few guys, including one of the bigger name receivers in LSU wideout Early Doucet. He was a bright guy and although he told me he hates interviews, I thought he did a superb job.
The players will load up on gear this week from Under Armour, but our equipment staff had t-shirts and hats for the guys as they finished up the night as well.
Height and weight will start at 10:30 so I will head over to the convention center in a few minutes and report on that later today.
Our PR department just sent out a release for our new assistant strength coach. Funny story on that was that I actually sat with him on the second leg of my flight here yesterday but I had no idea who he was. While at baggage claim, Mark was talking to someone about why he was down at Senior Bowl and I heard him answer that he had just been hired with the 49ers. I said, "not to be nosey, but what are you doing for the 49ers?"
So he told me, and then I let him know that I also work for the club.
He was front and center, along with newly promoted head strength coach Duane Carlisle over at the height and weight.
I really feel for these guys walking in this huge ballroom in their underwear and having everyone take notes about their body. But, I'll go ahead and give the best body award to Keith Rivers, a linebacker from USC. I was standing next to Scot McCloughan who said he's ripped like Thomas Clayton, only taller. Last year, our coaches started calling Clayton Popeye, so that gives you an indication.
Oniel Cousins, an offensive lineman out of UTEP, had arms like Inspector Gadget that will help improve his standing when it comes to the draft. O-line coaches look for long armed linemen!