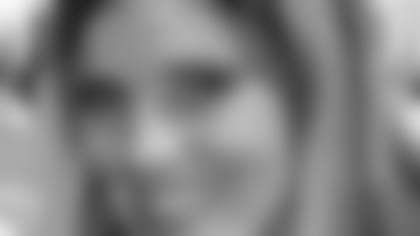 Over on our social networking site, 49ersfaithful.net, we have a few official team bloggers including some staff members and two of our players in Manny Lawson and Marcus Hudson. Here's a blog from 49ers.com writer Chrissy Mauck with this week's latest news from 49ers Headquarters.**
DE Justin Smith has also selected his jersey number. He will be wearing #94.
The players have been participating in a pool workout today, which has provided for some hilarious comedy. Most of the workout takes place in the shallow end, but for the grand finale, full laps are required. For the guys who can't swim, they wear vests and run the width of the pool instead. CB Shawntae Spencer, RB Michael Robinson, FB Moran Norris and LB Parys Haralson were the players in this morning's first group that opted for the vests. Upon finishing, Spencer informed everyone that he will now be signing up for swim lessons on Wednesday because he does not intend to ever have to do the running portion again. LB Manny Lawson warned him that swimming the full laps was no joke either.
Jersey numbers have been chosen by Isaac Bruce and Bryant Johnson. Bruce will be wearing #88, and Johnson will be wearing #82. A few players have also changed their numbers.
I'm sure the fans are as happy as I am to know that our players are back. This morning's off-season program kicked off offiicially with a short meeting. Head coach Mike Nolan, head strength coach Duane Carlisle and head trainer Jeff Ferguson briefly ran over a few keys to the program and a few rules (no gum in the weight room) and now the big guys are in the weight room, while the small guys are out on the field. 
Present in this first group were quarterbacks Shaun Hill, Alex Smith and J.T. O'Sullivan, most of the offensive line, a few of the defensive line including Melvin Oliver and Justin Smith, and most of the linebackers including Manny Lawson, Patrick Willis and newbie Dontarrious Thomas. Apparently cornerback Shawntae Spencer and safety Keith Lewis are also sticking with their early morning routine again this year!
Although it's still a VERY long time before we play an actual game, the off-season program really is the start of the season and so it's great to have the guys back and know that the work has begun.
We will have video and photos later today.