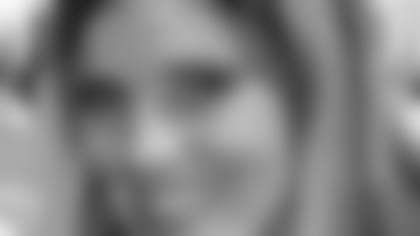 Over on our social networking site, 49ersfaithful.net, we have a few official team bloggers including some staff members and two of our players in Manny Lawson and Marcus Hudson. Here's part of a blog from 49ers.com writer Chrissy Mauck with some thoughts about this weekend's Draft. **
I've been quiet on the blogging front as I've been trying to wrap up all of the On the Clock stories on some of the draft prospects.
Several players came in last week, and I sat down with a handful of them for interviews and met many others. After working at the Senior Bowl and the Combine, it seems like I've gotten a fairly good impression of a lot of their personalities and so I'll be excited to see where they all land.
I saw that Darrell Jackson signed on with the Broncos. I wish DJack the best in Denver! He was terrific with helping me out with his column and video interviews whenever we requested and I will miss his enthusiasm and zest around here!
I know that Matt Maiocco is always hammering me to do a Mock Draft, but I think if I started doing one that Scot McCloughan might ban me from shooting in the war room. I think I'd rather skip it and not hurt my access. Since I thought Miami was going to go for Chris Long, I probably wouldn't fare to well anyhow. Maybe I'll still do a top 10 at least later in the week.
I enjoy viewing the various mock drafts that are out there which have us taking anyone from Quentin Groves to Gosder Cherilus to Limas Sweed to Dan Connor. These guys all fit positions of need for us so they are as safe bets as any. I raved over Cherilus after speaking with him at the Combine, but I just don't see him being on the board when we pick.
I saw in the release our PR Department put out on the draft that this will be the first time in the 49ers history that they will pick at 29th overall. Just out of curiosity I went back and looked on nfl.com to see who had been picked at that selection the last several years.
29th Overall
2007 – G Ben Grubbs, Auburn, Ravens
2006 – C Nick Mangold, Ohio State, Jets
2005 – DB Marlin Jackson, Michigan, Colts
2004 – WR Michael Jenkins, Ohio State, Falcons
2003 – LB Nick Barnett, Oregon State, Packers
2002 – T Marc Colombo, Boston College, Chicago Bears
2001 - DT Ryan Pickett, Ohio State, Rams
2000 – WR R. Jay Soward, USC, Jaguars
Other than that, I watched all of our passing school session on Tuesday and it definitely got me excited about the offense. The gloves seem to be off for QB Alex Smith. In previous weeks, he wasn't participating fully in the sessions but it seemed to me that he did everything the other guys did, and he was extremely accurate. QB Shaun Hill also looked sharp. J.T. O'Sullivan has a different looking release but he can gun it as well.