Imagine it's approaching midnight between Wednesday and Thursday and you're just pulling into work.
You'll be in your Los Angeles office until about 8 a.m., before hopping on a flight up to San Francisco. Once you're in the Bay Area, you'll get to work again at your second office, Candlestick Park.
After you punch the time clock and punch out again, it's nightfall, but the workday isn't over. Following one more shift in the LA office, you're finally free on a Friday afternoon.
Welcome to the life of Eric Davis.
The former 49ers defensive back turned team broadcaster and NFL Network host has lived much of his life on planes, trains and automobiles since football season started. Week 7 was particularly hectic for Davis, who sandwiched two appearances on NFL AM, NFL Network's Monday-Friday morning talk show, around his radio duties with partner Ted Robinson for the 13-6 49ers win over Seattle.
The jet-setting lifestyle has certainly been an adjustment for Davis, but he's been blessed with the support of his wife and four children.
"They know I'm crazy," Davis said. "That's my family, can't hide anything from 'em."
Red, White, Blue and Gold
Francis Scott Key wrote the lyrics for "Star-Spangled Banner" in 1814 as an amateur poet in New England. In the two centuries since, it's become a staple of American sport, played before every game from the high school to professional levels.
But there's something different about hearing the national anthem after an event, after a gold medal is won.
Since the 1998 Winter Games in Nagano, Japan, Robinson hasn't missed an Olympics. He's been behind the microphone for a variety of sports throughout the years; you name it and he's probably called it. Robinson has witnessed dozens of medal ceremonies, but it never gets old.
"When you stand on a podium and watch your country's flag go up and hear your country's anthem play," Robinson said, "when you see athletes react to that moment, it breaks any temptation, any human weakness of taking it for granted. It's such a powerful experience."
Nowadays, Robinson's weekends are usually full of a double dose of the "Star-Spangled Banner."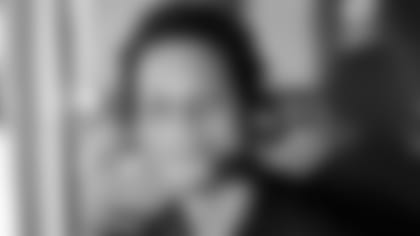 Davis was lined up at left cornerback across from Michael Irvin on a 3rd-and-8, less than a minute into the 1994 NFC Championship game. It marked the third consecutive year the 49ers and Cowboys met in the NFC Title game, but Dallas had the upper hand, winning both previous matchups en route to back-to-back Super Bowls.
As Davis backpedaled on his coverage of Irvin, he peered into the backfield, reading the eyes of quarterback Troy Aikman. Davis deserted Irvin about seven yards into his route and broke towards the middle of the field. Aikman's eyes told Davis where the ball was going.
He bumped into Dallas slot receiver Kevin Williams as he hauled in a dart from Aikman, before sprinting down the left sideline for a 44-yard score. The electrifying play jumpstarted a 21-point first quarter for the 49ers, who were hoisting the Lombardi Trophy two weeks later in Miami.
It's that type of championship experience which makes Davis such a valuable asset in the broadcast booth and behind the desk at NFL Network. Davis serves as the only ex-player voice on NFL AM, which broadcasts from 3 a.m. to 7 a.m. from Los Angeles for all the early-risers in the East. The NFL AM crew has since adapted to its graveyard shift hours, but it hasn't been easy.
"Eric Davis is a trooper," NFL AM producer Jeremy Louwerse said. "You probably have to ask him – what's more difficult? Winning a Super Bowl or not sleeping for 48 hours?"
But as he builds his second career in the realm of football, Davis wants to forge a new identity. He doesn't want to be known as Eric Davis, former NFL cornerback. He wants to be known as Eric Davis, broadcaster.
"Of course I am proud of what I did and I think that gives me a perspective that a lot of people don't have in the business," Davis said. "It gives me a unique perspective of actually being in the huddle and taking the hits and being in the locker room and all the things that entails. I understand that, I get that.
"But I don't do that anymore, I'm a broadcaster. I want to work at this and learn this craft and all of the nuances of it, and go beyond being an ex-jock."
Davis isn't the only to be darting up and down the West Coast on a regular basis. Robinson has had a busy travel schedule of his own, becoming a valued voice on the newly-formed Pac-12 Network this fall.
From Pullman, Wash., to Tucson, Ariz., Robinson usually spends his Saturdays at a college football stadium before calling 49ers games the next day, getting the best of both worlds.
"The pro game has the best players and the best coaches," Robinson said. "The college game has atmosphere – cheerleaders and bands. That's the difference. The emotions of cheering for a college team are so different than the passion of cheering for a professional team."
Both the 49ers and the Pac-12 are developing and growing to bring their proud organizations to unprecedented levels. Robinson is smack dab in the middle of both. As the Pac-12 grows its TV network and fights for the national spotlight, the 49ers are busy building their new Santa Clara Stadium in the heart of Silicon Valley.
Robinson is just the fifth play-by-play voice in the proud history of the 49ers, with ties that run three decades deep. He played a big role in 49ers radio broadcasts from 1983-86, including postgame locker room coverage of San Francisco's 38-16 victory over the Dolphins in Super Bowl XIX.
But all those remarkable memories of Candlestick Park will only be joined by a few more, as the new stadium is set to open for the 2014 season. Robinson is looking forward to the new chapter of 49ers football.
"When people get to the stadium in 2020," Robinson said, "they're going to have an amazingly, interactive, contemporary experience. It won't just be 2014, it's going to continue. That's what I love here. That's a measure of success that the organization wants to mirror its home."
Thousands of 49ers Faithful driving in their cars probably pumped their fist in unison around 8 p.m. on the night of Jan. 14. It's because they were listening Robinson and Davis.
Following a few years of local radio and TV work, Davis joined Robinson in the broadcast booth before the 2011 season, just in time for the Jim Harbaugh era. In their season and a half as partners, no radio call stands out more than their collective description of Vernon Davis' 14-yard, game-winning touchdown catch with nine seconds left against the New Orleans Saints in the Divisional Round of last year's playoffs.
The play and radio call have made the rounds on YouTube and won't be going anywhere soon.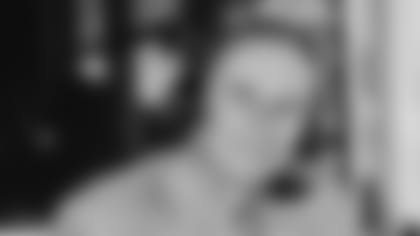 Robinson: Smith in the gun with Gore on his left hip. Third down, Alex takes the snap. Alex looking …
Robinson: Caught! Touchdown! Touchdown 49ers!
Robinson: Vernon Davis with the play of his life! Alex Smith with the play of his life! And the 49ers are nine seconds away from playing for the NFC Championship. Can you feel Candlestick?!
The call still causes chills more than 10 months later, and probably always will. It was the perfect marriage of description, excitement and pure emotion.
It also spotlighted Davis' know-how as an ex-player, as he read the play early and knew the 49ers tight end would be open, before letting out a loud shout that printed words can't do justice. Robinson, meanwhile, captured the essence of the magical atmosphere at Candlestick Park with the Faithful fans roaring in the background.
Now in the midst of their second season as partners, the teamwork in broadcast booth is only growing stronger.
"Chemistry's never an issue with Eric," Robinson said. "He's such a good guy. I got know Eric when he was doing preseason TV coverage and the 49ers Central show. He's just an easy-going guy, easy to get along with."
Likewise, Davis has appreciated Robinson's guidance as he establishes himself in his second football career.
"Working with Ted has afforded me with the opportunity to gain a lot of knowledge of the business from a true professional," Davis said. "It's on-the-job training and a learning lesson for me each and every time we're together. And I have the added advantage of considering him a friend, as well, so I get the advice from both sides."
Which begs the question – who's got better radio broadcasters than the 49ers? Nobody.