This wasn't the type of football the 49ers are used to.
Instead of end zones, shoulder pads and NFL logos, there were goals, shin guards and talks of the English Premiership.
The transition from American football to English football, better known as soccer in the United States, was difficult for the 49ers, especially Joe Staley.
The last time the left tackle played organized soccer he was six. Since then, the only training Staley has had came while playing the FIFA video games and watching this past World Cup on TV.
He got a harsh wakeup call Thursday morning.
"This is the hardest sport I've ever played," Staley said. "I have a better chance at figure skating than I have a chance at being a pro soccer player.
Staley was one of three 49ers who spent Thursday and Friday practicing with the Tottenham Hotspurs of the English Premier League, who are in the Bay Area to play a friendly match against the San Jose Earthquakes this weekend.
Staley and quarterback Alex Smith took the pitch Thursday before kicker Joe Nedney gave it a shot on Friday. The players watched Tottenham practice before taking the field and trying to emulate what they had just seen.
Nedney, who played competitive soccer while growing in the Bay Area, was the most natural with the soccer ball, but all three shined at some point while on the field.
"They said they were slightly nervous doing the English football," Tottenham midfielder Tom Huddlestone said of Smith and Staley. "But they looked alright."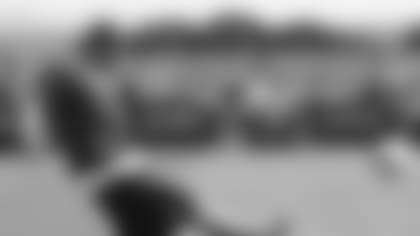 Near the end of Tottenham's Thursday practice, Smith and Staley received passes from the coach and took shots on goal.
It was obvious that their skills were a little rusty, but Staley actually scored on the Tottenham goalkeeper with his first shot.
He followed up his goal with a celebration that had everyone laughing.
"I had a great trap off my belly, lined it up, aimed it, shot it, scored, danced, ran backed, high fived, good times," Staley said. "That goal dance was basically the Macarena while driving a bus."
After several shots on the Tottenham goalie, Smith and Staley took turns playing goalkeeper and shooting on each other.
They received some tips on how to play goalie from Earthquakes keeper Jon Busch, but it didn't help.
Neither player stopped a shot, and both said they were very nervous between the pipes.
"That was way harder than I thought it was going to be," Staley said. "They are really close and you have to completely guess.
"My knees buckled – that was about as far as I went when they shot."
After Nedney watched Tottenham practice the following day, the 49ers kicker and several Tottenham players gave each other tips on how to play their respective sports.
First, Nedney gave a quick lesson on how to kick field goals and punt footballs. Then he took some penalty shots on the Hotspurs keepers before playing goalie himself.
"I have a lot of respect for their sport," Nedney said, "and to have them kick a football I think they got a little bit of respect for what I do too."
Nedney keeps a soccer ball in his football bag and kicks it around every day before practice, and everyone in attendance Friday could tell Nedney was a little shaper with the soccer ball than his teammates.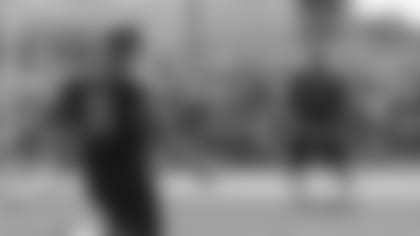 Nedney wanted to make sure they knew too.
"I didn't get to see them yesterday, but I guarantee you I did better than Joe and Alex," he said. "Alex can throw a ball, Joe can block a man and I can kick a ball. I should be better than them at this sport."
This isn't the last time the 49ers will take the pitch with Tottenham. When the team goes to London for their Oct. 31, game against the Denver Broncos in Wembley Stadium, players from the 49ers will once again meet up with the Hotspurs.
And even though he got some practice Thursday, Smith said he will still be nervous out there.
"I could practice every day between now and then and I still won't be any good," he said. "But this was still a lot of fun."
But while Smith was down on his soccer game, he did impress at least one spectator.
"I could tell Alex had some skills," said Brandi Chastain, the former United States women's World Cup team member who was on hand to watch Thursday.
"But lucky for all of them, they don't need a future in this."