The 49ers defense had its best showing of the 2006 season in Sunday's 9-3 win over Minnesota. Starting linebacker Derek Smith breaks it down in his latest 50 on 50.
It was a simple game plan and it was something where we said we wanted to go out there and execute a few things really well. We went out and did exactly that and were able to limit what they were able to do on offense.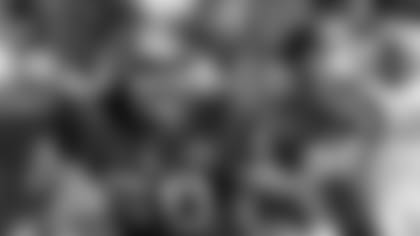 Things had obviously not been going well for us and I think when push comes to shove, you either quit or you stand up and do something about it. I think the guys on defense stood up and did something about it.
I think it is good when you have different guys capable of playing football to rotate them in and out and keep guys fresh. I think you are better off following that plan than just beating one guy to death. The coaches rotated guys a lot during this game, guys were fresh, and they were flying around and we got results.
We expected Minnesota to really run the ball, actually we expected them to try to run it more than what they did. In the first part of the game they got some big gains but after that we tightened back up and held him in check. I don't know how many Chester Taylor had in that second half, but I know it wasn't much compared to the first half. I think they got discouraged and tried to throw more and open up the passing game, but we had that well covered.
We had a great day getting pressure on Brad Johnson. The pass rush is really a combined effort. It goes hand and hand. We had good coverage in the back end and then pressure up in the quarterback's face in the front end. Pressure is always two pieces. It's not just the front and it's not just the back. It's both working together.
The defensive line did a tremendous job. Minnesota has a great offensive line and our guys got it done. I think any time you win a game, you win it up front. I think we won the game up front yesterday and that's the difference in a game to me.
Specifically, Brandon Moore had a lot of opportunities. He was out there quite a bit and he made some tremendous plays. He got great pressure when he was rushing on 3rd down and then when he was in there in base, he made some key defensive tackles shooting through the line. He just had an outstanding day.
I don't know if there was necessarily just one play that made the biggest impact in that game. Obviously the turnovers were important. Any time you can get turnovers on defense and limit your turnovers on offense, that's going to be a key factor.
Otherwise, I think all the plays build on top of each other. You don't get a big play here, you might not get to make another big one later. I think the whole day was a series of big plays for us.
It felt good to know that the defense went out and did its part and that we were such a contributing factor to that game. Coach Nolan pulled us together during that final drive and just kind of put the game on us. It was just a reassurance that he knew we could get it done and that the game was on us. We went out there and the base defense did a good job, and then the third down defense went out there and finished things up for us.
Coach gave us today off after the victory which is great. My parents are in town so I'm hanging out with my mom and dad, my wife and my kids and we're just having a great day.
I think it's really big for us to build on this performance and have another strong showing on the road against Detroit. We haven't done very good on the road so far, and after such a solid performance, we really want to build on that and get this thing going in the right direction.