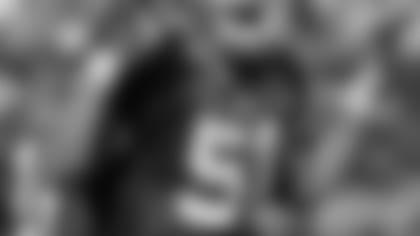 Linebacker Derek Smith returned to action on Sunday in an important divisional showdown against the Arizona Cardinals. Unfortunately, Arizona dashed the 49ers playoff hopes, but the team will still fight to finish strong. Here's a look at what Smith had to say about the game...**
Sunday was my first game back since my hamstring injury against New Orleans. I felt okay. I felt a little slower than I would have liked to be. It was just an average performance.
They have a bunch of guys who are real talented. They did a great job of execution and they made some plays that made the difference in the game. They've gotten us the last couple of years so obviously you want a chance to go at it with them again, but we'll have to wait until next year.
We did a lot of substitution, especially in the first half. We were just trying to match to the personnel they had in there at the time.
In the first half we just let it get too far out of reach. That was the biggest problem. In the second half they only scored six points but we just let it get out of hand in that first part of the game. We didn't make enough stops.
In the second half, we gave up the ball offensively and we were able to hold them to the two field goals, but we needed to also create turnovers on defense and we didn't get that done. You always want to be on the positive ratio and we need to do a better job of that.
There was a little bit of an added sting to it because Seattle lost, but if you don't handle your own, it doesn't really matter what they do. We didn't handle our side of things so it didn't really matter.
Our goal again next year will be to go out and win the West. That's what it is every year and we came a lot closer to it this year. We probably gave it away this year, but we'll move on to the next game and that's Denver. We may be out of the playoffs now, but the goal is still to go out there and win and we need to go and get a win against them. It's a situation where you want to go out there and finish strong and show where you are going next year as you head into the off-season.