No loss ever feels anything but horrible, but the sting of the 40-26 defeat by the Eagles will linger longer than most.
The 49ers scored 17 unanswered points and appeared to be in control heading into the fourth quarter with a 26-17 lead, but all three phases of the game then shared responsibility in an extremely destructive final period.
"I think over the last few weeks, we've played well but haven't finished," said cornerback Walt Harris. "This was a definitely a game we were in. This is definitely a tough one to swallow, there were some good things out there, but we have just got to make a lot more plays than we did out there."
There were big plays, like linebacker Takeo Spikes notching his third interception in three games  late in the third quarter. Spikes picked off a pass intended for LJ Smith inside the red zone to prevent an Eagles score.
"I know one thing, as individuals, each one of us, offensively, defensively, special teams, we have to look in the mirror and say, 'I can play better. I need to make more plays,'" said Spikes. "We have to get off the field when we are supposed to, to get the ball back to the offense, because when those guys are in a rhythm, it's hard to stop them."
But the offense couldn't find their rhythm after the pick, and in fact after solidly managing the Eagles blitz-heavy defense for most of the game, gave up their first sack of the game at the 3-yardline early in the fourth quarter.
"I felt like all of a sudden when we were moving the ball, the first downs were coming, guys were making plays. We had somewhat of a rhythm going," said quarterback JT O'Sullivan.
"Obviously the three and outs are going to put a stop to that and you're going to struggle. I felt like we handled the pressure well. Every time they blitzed I felt like we did a good job of getting the ball to hot receivers, seeing it, making plays on it. Not every single one, but the majority of them I felt that part of them went pretty well."
Forced to punt from the back of the end zone, Andy Lee struck the ball incorrectly for a short, line driver that DeSean Jackson picked up off a bounce and returned to the 49ers 38-yardline where he stepped out of bounds.
The 49ers failed to defend the short field with Donovan McNabb needing just six plays to reach the end zone on a 2-yard touchdown pass to Smith to pull within two points with over 11 minutes left to play.
"We are struggling on defense," said defensive end Ray McDonald. "We aren't getting off the field when we need to. In every game we've lost, the offense has scored enough points for us to win. As a defense we're just not getting it done right now."
Vernon Davis enjoyed his best game of the year with six grabs for 75 yards, but a 1st and 10 deep ball to the tight end after the Eagles score was well off the mark. Following another incomplete ball to Josh Morgan, O'Sullivan threw a desperate ball to Davis, who made the catch but was snuffed out for a 7-yard loss.
The three and out lasted all of 46 seconds with the defense starting out from the Eagles 49-yardline following the punt.
Asked why the 49ers didn't try to instead run the ball at that point since Frank Gore finished the game with 19 carries for 101 yards and a 5.3 average, O'Sullivan defended his offensive coordinator Mike Martz.
"I believe in whatever play coach Martz call is going to be the best call for our offense," said O'Sullivan. "He's trying to move the ball, we're trying to be aggressive. Those are the ways I would answer the question. He's going to call whatever he thinks is going to be the most successful call. I trust in him that's his only intention – us being successful. If he thinks that's going to work, that's what we're going to play."
McNabb meanwhile hardly missed his Pro Bowl running back Brian Westbrook in the romp, finding Correll Buckhalter to be an able backup. Buckhalter totaled 93 yards on the ground for a 5.2 average, and led the team in receptions with 7 grabs for 85 yards. He was particularly handy on the go-ahead scoring drive, catching a pair of back to back passes to set David Akers up for a 38-yard field goal that allowed the Eagles to take a 27-26 lead with 7:46 still to go.
Needing a score of their own, O'Sullivan and the offense quickly unraveled instead with the 49ers starting quarterback having a hand in three consecutive turnovers.
O'Sullivan first took a shot deep to Isaac Bruce and was picked by safety Quentin Mikell, who rambled his way to the 6-yardline for a 41-yard return before Gore got him down.
Trailing by four after Akers' 25-yard field goal, O'Sullivan then had the ball stripped out as he went to throw for a sack and fumble by Trent Cole, who got around Joe Staley to create the turnover.
"When you're down, you have to pass the ball, and they don't have to respect the run," said Staley. "Their job is to get to the quarterback and that's what they were doing, coming off the ball and getting back there. We just have to do a better job finishing."
Akers' drilled in a 28-yarder to cushion the Eagles with a touchdown lead with 1:14 remaining.
Looking to tie the game, O'Sullivan went into hurry up mode, finding Morgan for a 25-yard completion out at midfield, but his next quick throw to Arnaz Battle was intercepted by defensive end Juqua Parker who took it the house for a 55-yard touchdown, bringing the Eagles fourth-scoring total to 23 points.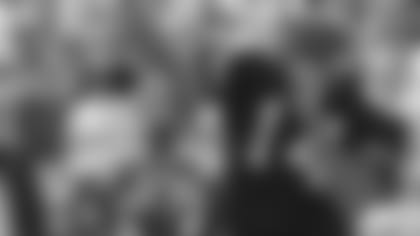 The fourth quarter collapse was particularly disappointing for a 49ers team that had shown some resiliency in the first half.
Struggles in the red zone early on for the 49ers on both sides of the ball led to a pair of Joe Nedney field goals, and a 17-6 deficit midway through the second quarter.
"I don't remember who said it or I'm plagiarizing someone else's quote, but you keep kicking field goals in this League and you're going to find a way to lose," said O'Sullivan. "You're getting closer and closer to losing. You just get frustrated not scoring touchdowns, especially when you get the ball down there. It's our job to score touchdowns. Not doing, you just feel like you're leaving points out there."
But a pair of plays by the 49ers special teams unit led to an exciting first half finish.
Nedney managed to just get a 53-yard field goal over the crossbar at the end of a 10-play, 37-yard drive to close within eight, but the Eagles had 29 seconds and all three timeouts to work with.
McNabb, who finished, completed three straight passes and called for a timeout with one second left. Akers attempted a 54-yard field goal that was blocked by defensive end Ray McDonald. Donald Strickland scooped up the ball on the run and headed to the end zone for a 41-yard touchdown, allowing the 49ers to head into the half trailing by a point.
"It definitely did carry into halftime, it was a momentum change," said Strickland."That was a ten point swing. It brought us within one, took points off the board for them, and we were feeling great going into halftime."
The 49ers rode that high with back to back scoring possession in the third quarter – including an opening 6-play, 78-yard scoring drive that Frank Gore finished off with a 6-yard touchdown run, and a field goal drive that was highlighted by a 57-yard explosive pass play by Davis, who put the moves on Pro Bowler Brian Dawkins and Mikell for the long gain.
"It would have been a lot better if we had won," said Davis of his big day. "It doesn't really mean anything to me, because we lost. I figure if we would have won, it would have meant a lot to me. We should have won. We didn't. We let it slip away."
Game Notes: K Joe Nedney injured his shoulder attempting to make a stop on a long kickoff return in the first quarter. Nedney finished the game. FB Zak Keasey was forced out of the game with an arm injury. Head coach Mike Nolan said that WR Bryant Johnson was limited in the game due to a groin injury that was bothering him last week.