The newest honorary member of the San Francisco 49ers may not stand as tall or weigh as much as the other players, but this feisty 9-year-old from Quapaw, Oklahoma has the fighter spirit, the passion and the Mohawk hair-do to make him a perfect fit for the squad.
Ty Crouch, who is battling Muscular Dystrophy, was given the opportunity to wish for anything in the world through the Make-A-Wish Foundation. His choice above all else? To visit the San Francisco 49ers and take part in the coin toss at a 49ers home game.
After arriving at the 49ers Santa Clara facility, he was given a tour of headquarters, signed an official contract and was introduced to the media for his own press conference.
"He's a very rambunctious kid who doesn't let anything slow him down," said Ty's father. "This was a good experience. He loves football and is just a great kid overall."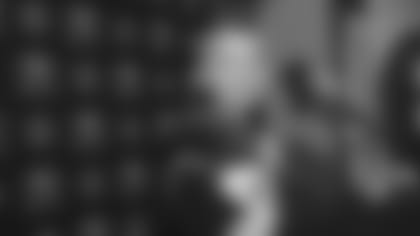 After signing autographs for his adoring fans, Crouch headed outside to take part in the team's practice where he was greeted by players and coaches. After practice ended, the team signed autographs for Ty and his family.
"I was either going to go to Disney World or a 49ers football game, Crouch said. "And we picked the 49ers."
On game day, Crouch and his family watched pregame from the sidelines, Ty part in the coin toss and cheered on the team from the stands as they took on the St. Louis Rams.
"He's had so much fun these last couple of days, going to practice, meeting all his favorite players, it was a good time for him and I am really happy that he's gotten to do what he's wanted to do," Ty's father said. "We just have to take every day by day and just be happy, go about our lives and have fun with Ty."