*Former 49ers Quarterback Becomes 11th Player in Team History to Receive Honor
---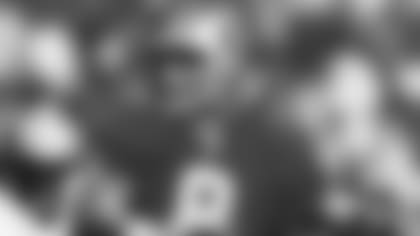 The San Francisco 49ers announced Thursday that former 49ers quarterback Steve Young will have his #8 jersey retired in a halftime ceremony at the team's game against the New England Patriots on October 5. Game time is set for 1:15 p.m.
Young will become the 11th player in team history to receive this prestigious accolade.
"Steve Young is an important part of the 49ers history and tradition," said John York, Owner of the San Francisco 49ers. "He combined talent, character and a tremendous work ethic to become an incomparable performer and champion on the field. He was a model professional, and he influenced many of the younger players with his dedication. Our players today and for years to come will look up to Steve. We are excited to pay tribute to his achievements with this special halftime ceremony in front of our fans."
As quarterback for the San Francisco 49ers from 1987 – 1999 out of Brigham Young University, Young was named the Most Valuable Player (MVP) of the NFL in 1992 and 1994, the MVP of Super Bowl XXIX, seven time consecutive Pro Bowl player from 1992-1998, named All-Pro in 1992 and 1993 and inducted into the Pro Football Hall of Fame in 2005; the first left-handed quarterback to be honored.
Young currently stands as the most accurate passer in league history with a 96.8 quarterback rating, ranks 17th all-time with 2,667 career completions, 19th all-time with 33,124 passing yards and 17th all-time with 232 touchdown passes. Young's dominating arm strength and mobility yielded 232 regular season touchdown passes and 3,581 rushing yards throughout his career. Young recorded 28, 300-yard passing games, holding an NFL record for the most consecutive 300-yard games with six in 1998 and his 43 rushing touchdowns are the most by a quarterback in pro football history. Young also holds the record for most touchdown passes in a Super Bowl with six in Super Bowl XXIX in the victory over San Diego. He is the San Francisco 49ers leading touchdown passer with 36 in one season and has combined with Jerry Rice for the NFL lead in touchdowns as a pair. Young has also been honored with the Len Eshmont award in 1992 and 1994, given to the 49ers who best exemplifies inspirational and courageous play.
Past 49ers to have their jersey retired are:
Jersey Player Year Retired
12 John Brodie 1973
16 Joe Montana 1997
34 Joe Perry 1971
37 Jimmy Johnson 1977
39 Hugh McElhenny 1971
42 Ronnie Lott 2003
70 Charlie Krueger 1974
73 Leo Nomellini 1971
79 Bob St. Clair 2001
87 Dwight Clark 1988