Just days before Father's Day, the San Francisco 49ers stopped by the YMCA Bayview in San Francisco to teach youth about the importance of respect and how to be a positive role model.
49ers players including running back Glen Coffee, defensive linemen Khalif Mitchell and Ricky Jean-Francois, and guard Kyle Howard, were divided up into groups of approximately ten students each to discuss the 49ers RESPECT Campaign and the meaning of being a role model based on a pledge from curriculum entitled "Coaching Boys into Men Playbook," created by the Family Violence Prevention Fund and sponsored by the NFL.
The youth from the day's event were from the CARE program and the Fellas Program, who provides mentoring and life-skills building to middle school boys in Bayview/Hunter's Point. This program targets at-risk middle-school boys and encourages leadership development, academic performance, self confidence and successful transition into high school in all those they service.
The Center for Academic Re-Enrollment (CARE) Program's mission is to provide youth a safe and supportive place to re-engage with the San Francisco School system. This is accomplished through a collaborative team approach involving parents and caretakers, schools, community-based organizations, and other public entities.
"Some of these kids may not have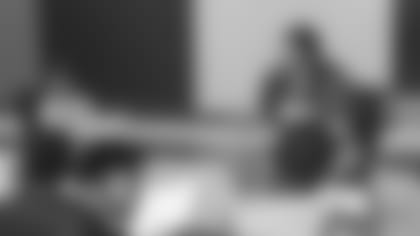 male figures in their lives and I think it's really important to give those kids someone to look up to and someone to talk to especially about important topics like this," said 49ers guard Kyle Howard.
With Father's Day around the corner, one of the main purposes of the day was to give the youth someone positive to look up to.
"The players here today are not necessarily fathers, but they are here to show that you don't have to be a father to be a role model to a young man," said Joanne Pasternack, 49ers Directory of Community Relations. "And that's really important because a lot of the young men participating in today's event do not have father figures in their lives but they can look up to a role model, whether male or female, who can help them set the standards they want to live in their lives."
The Bayview/Hunter's Point neighborhood is one, among many, where the 49ers look to give back and help keep kids safe, on track and in school.
"Denise, John and Jed and the 49ers Foundation are hugely supportive of what we're doing here in our community. It's not so much about the Y, it's about what we do for the Bayview," said Gina Fromer, executive director of the YMCA Bayview. "And their mission is to really serve this community and we are a centralized hub of the community so through their support we are able to filter that back out through the community."
The 49ers Foundation is in its 17th year and supports development programs for underserved youth that keep them safe, on track and in school. Under the direction of Denise and John York, the 49ers Foundation has raised and distributed $8.2 million to non-profit organizations over the last seven years, making it one of the premier foundations in the National Football League.