LONDON – For the students at Northumberland Park Community School, learning the fundamentals of American football from the San Francisco 49ers was an experience they won't soon forget.
Judging by the smiles on the students' faces, the 49ers joint community relations event with Tottenham Hotspur of the English Premier League was a smashing success.
Team owner Dr. John York, guards Mike Iupati and Tony Wragge, safety Chris Maragos, wide receiver Kevin Jurovich and defensive tackle Will Tukuafu were on hand to represent the 49ers and work with the students at various stations which emphasized football fundamentals.
"This is like our Community Tuesdays back home and we wanted to bring this to the UK while we were here," York said of the "Football and Football" event. "We've brought the message from the NFL to be active and play 60 minutes a day and the message from the 49ers Foundation which is to keep kids safe on track and in school."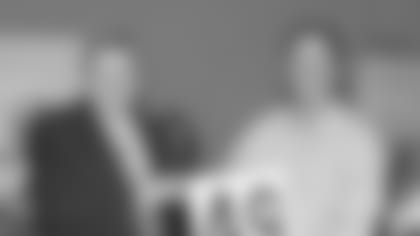 Tottenham goalkeeper Oscar Jansson and defender Michael Dawson were in attendance for the Spurs along with coach Clive Allen.  Having been exposed to the 49ers earlier this offseason while in town to play a friendly match against the San Jose Earthquakes, the Spurs players were impressed with the teaching skills of their American counterparts.
"Kids in England aren't used to American football and I think it's great the 49ers are here to show what it's all about," Jansson said. "It's a great sport. I've watched it for two years and I love it."
Dawson was equally astonished and remarked that NFL defensive players are much bigger than EPL defenders like himself.
"It's great to see the kids come down and do a little bit of football and see the lads who play American football – it's fantastic," he said.
For the 49ers, taking the time to teach the sport and share the importance of physical fitness was a win-win situation.
"We're so far away from home, but these kids still remind me of me. They're running around having fun and getting dirty and it's pretty cool to teach them," Jurovich said. "They don't even know what a wide receiver is, I had to explain that, but these kids did a great job."
Just the sight of a football threw some of them for a loop.
"In America everyone knows what a football is, but over here it was like, 'What is this? How do you throw it?'" Tukuafu said lightheartedly. "A lot of them started throwing them like basketballs, but it was cool to see these kids' excitement to learn something new."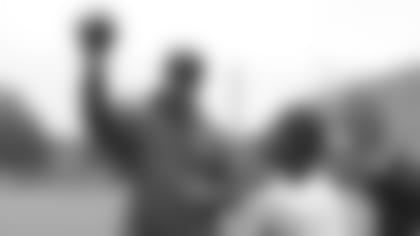 Iupati was also pleased to see the interest of the English students.
"It's fun working with the kids. They're doing good, some of them may have a future in football," he said. "They asked me all type of questions, they were very interested. It's good that they like the sport."
As 49ers community relations and foundation director Joanne Pasternack noted, taking part in the community event along with Tottenham was a natural fit.
"If we're going to have a week with a regular-season game, this is part of our regular makeup."
Before the event ended, York was presented with an official No. 49 Spurs jersey. The uniform number will be reserved on the team's roster for the 49ers, meaning no player will be able to wear it.
The passion for the 49ers was appreciated from York, who expects a great turnout this Sunday when the 49ers host the Denver Broncos at Wembley Stadium.
"There's a lot of interest outside the United States and to grow that interest, we bring the games over here," he said. "The regular-season games mean so much more. We sold the game out in a very short time."