The 49ers facility front parking lot was full with of red last Friday. It wasn't filled with the usual players prepping for a game but from a group of people supporting National Wear Red day in an effort to support and promote awareness for heart disease prevention.
On February 5, 49ers offensive linemen Tony Wragge and Cody Wallace, along with alumni RC Owens joined a group of supporters including heart disease survivors, physicians and more and hopped on the Go Red Express to promote awareness for heart disease prevention throughout Santa Clara.
In partnership with the American Heart Association and their national Go Red for Women campaign, which celebrates the energy, passion and the power women have to band together to wipe out heart disease and stroke, the bus riders provided lifesaving information to community members at various stops throughout the city.
Eighty percent of cardiac events could be prevented by actions like eating better, exercising more and avoiding tobacco, according to the American Heart Association. Heart disease devastates millions of Americans of all ages and causes nearly 950,000 deaths a year.
Wragge brought his wife and children along to help spread the news as well.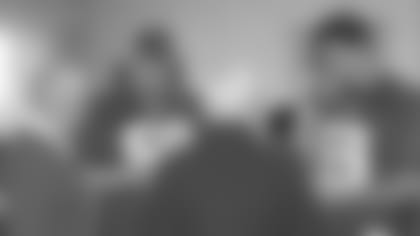 "We've had quite a few family members who have been affected by heart disease," Wragge said. "We were just looking for an organization that we could really reach out to and help. We hadn't really had the opportunity to get involved."
Wragge had a specific message to share with those he visited, one that cardiac specialists especially would agree with.
"This is a disease that can affect anyone," Wragge said. "The best ways to have a healthy heart and maintain are, basically, three things. Get plenty of exercise depending on your age. I'm not doctor, but 20 to 60 minutes of activity will help you have a healthy heart. Eating healthy is the second one, getting proper nutrition – not too many fatty foods. And, the last thing is no smoking."
Each stop featured speeches from various city members including Santa Clara mayor Patricia Mahan, Wilcox High School Principal Ben Gonzales and Dr. Arthur Lee, a noted Bay Area cardiologist, who all supported the day's cause.
The first stop at Kaiser Permanente Hospital in Santa Clara featured speeches from Kaiser Permanente Senior Vice President Chris Boyd, Mayor Mahan and Gonzales. The stop officially kicked off the Go Red Express journey with health checks for all in attendance.
"It's been well known among cardiologists that women do have heart disease, but it hasn't been appreciated in the general public," Dr. Lee said. "Most people think, when women have it, that it's stress related. The myths still exist that women don't have heart disease. "
The Go Red Express then made a special visit to the younger generation at Wilcox High School where the senior class held an assembly for the bus riders showing survivor stories and healthy heart decisions.
The third stop of the day moved the Go Red Express from the young to the young at heart with a stop at Liberty Tower Dr. Lee led a special Q&A session to help answer questions people may have about heart diseases.
The journey concluded at Abbott Laboratories Worldwide, the Bay Area Hometown Sponsor of Go Red for Women, who hosted a heart-healthy lunch and wrap up for all participants.
"Tony and Nicole Wragge approached me about coming today," 49ers C Cody Wallace said. "The American Heart Association is a great thing to try to support. I learned a lot. You think that heart disease is mostly just people who are either overweight, older or don't exercise – but it's all over the spectrum."