On Wednesday, April 25, the 49ers partnered with the Junior League of Palo Alto Mid-Peninsula for the Kids in the Kitchen event to demonstrate the importance of healthy eating and physical fitness for students at the 49ers Academy located in East Palo Alto.
49ers alumni Dennis Brown and current 49ers CB Cory Nelms spent their afternoon demonstrating healthy eating habits and assisting with a football camp for the youth in attendance.
"This is the third year we've partnered with the Junior League to host Kids in the Kitchen. It's part of the Association of Junior Leagues International's program to impart information about nutrition to kids. It fits in perfectly with our Play 60 campaign and of course all the work we do here at the 49ers Academy," said 49ers Director of Community Relations and 49ers Foundation Joanne Pasternack. "This is a second home for us, for our players, and we love being out here. To be able to come out here and share information about this important issue via our players, our alumni, and our staff is truly incredible."
The event started with cooking and tasting classes for students in Kindergarten through fifth grade and Q&A sessions with Cory Nelms, followed by football drills hosted by Dennis Brown, freeze dancing with the Gold Rush cheerleaders, hula-hooping and a raffle and culminated with an "Iron Chef" competition.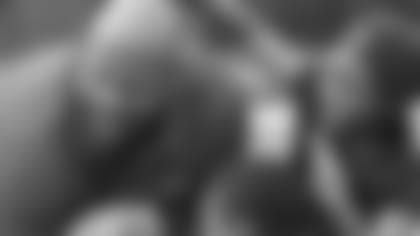 Cory Nelms expressed the importance of the 49ers hosting an event like this to help change the habits of the kids in order to stay healthy and active.
"I realized that it's very important for people like me, who may be role models for these kids, to come out here and share life's experiences with them," Nelms said.  "And also to teach them that it's important to eat healthy and exercise so they can grow up to achieve their goals."
The objective of the Kids in the Kitchen initiative, which is supported by The Association of Junior Leagues International Inc. and its member Leagues, is to empower youth to make healthy lifestyle choices and help reverse the growth of childhood obesity and its associated health issues.
"We've been really lucky that we've been able to partner with the 49ers for a few years now, as they really bring an extra something to our event," said Jacquetta Lannan, volunteer with the Junior League. "Having the chance to interact with the players and alumni, I think it really shows the kids what healthy eating and fitness can get you. They're just really great role models for the children."
The event hosted approximately 200 youth from both the 49ers Academy and Costaño Elementary School, which shares the campus and mission of the 49ers Academy. The 49ers Academy was founded in 1996 to serve 6th, 7th and 8th grade students from East Palo Alto. Defined by educational excellence, the 49ers Academy maximizes the potential of every student by emphasizing self-discipline, respect, and individualized academic attention to help them master core subjects and prepare for high school.