49ers players got their holiday shopping started in a non-traditional way Tuesday morning as they teamed up with low-income youth from the Samaritan House in the 4th Annual Shop with a Player Event presented by Visa. Linebacker Manny Lawson, cornerback Nate Clements, fullback Moran Norris, wide receiver Josh Morgan, guards Mike Iupati and Chilo Rachal, safeties Reggie Smith and Chris Maragos, and quarterback Nate Davis, along with Jenna and Mara York, and volunteers from Visa helped the 9-to-12-year-olds purchase gifts for their families.
The organized chaos of the day was exciting and rewarding for everyone, as the players each took four youth, a $250 Visa card for every child and a decorated cart on a shopping spree through a local store in Foster City selecting gifts such as clothing, kitchen appliances, electronics and toys for each member of their families.
"Seeing the kids, how excited they are when we come," Morgan said when asked why he participated in the event for a second straight year. "Seeing what they pick out for their parents, seeing how thoughtful they are."
For 12-year-old Sebastian, who was in Morgan's group, the shopping spree and time with Morgan was a gift itself. The youngster was so grateful for the opportunity that he made a gift and card for his "49ers Santa."
"I got my sister some dolls, and for my Dad I got him some jeans," Sebastian said. "And I also bought a video game for the whole family so we can share. I get to be with him (Morgan) and also get some gifts for my family, so it's like the ultimate gift for me."
The Samaritan House, which brought the 36 children to the event, is a community-based organization that provides basic services for needy families in San Mateo County including food, shelter, clothing, counseling and medical services.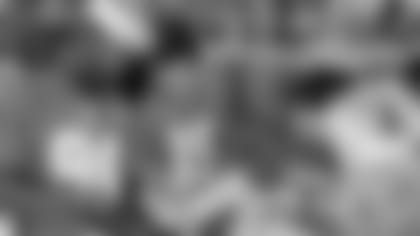 "If they didn't get these gifts, they would have no gifts for Christmas this year," explained Cindy Zbin, Director of Development at the Samaritan House. "It's everything (to the kids). They've looked forward to it. Some of them have told their parents that they've been up all night waiting for this."
The 49ers also made sure that each of the kids got something for themselves, as they gave each of the kids an autographed jersey to remember the day and add to the spirit of the event.
"One of the things that we always love with this event is that the kids are here shopping for their families. They get this amazing day with the players and each of them will be going home with an autographed jersey from the player they've been teamed up with," said Joanne Pasternack, Director of Community Relations/49ers Foundation. "I've seen carts filled with things like diapers and pajamas and other essentials. So it's clear that they get the spirit of Christmas today."
The spirit of the day also touched the players. For Chilo Rachal, giving his time to the event was only part of giving back, as he personally paid the extra balance between the $250 card and what the kids wanted to buy during their two hour trip. Clothes, toys and necessities were overflowing from his shopping cart as he showed his generosity and shared the Christmas spirit.
"It means a lot, just to put smiles on kids' faces and make sure that every kid left here happy," he said. "That's pretty much all that matters to me. I'm just going to cover the difference, so whatever it is over I'm just going to go ahead and pick it up, just as long as it puts a smile on their faces and gives their family the opportunity to get stuff."
Along with prepaid cards, Visa also contributed a gift for each of the kids, giving them DVDs of Visa's Financial Football computer game, which puts student's fiscal knowledge to the test in a game that combines the structure and rules of the NFL with financial education questions.
"We've got some smart kids," Morgan said. "They're budgeting their money well. It's something I never would have thought of at 12 years old."
Overall, the 49ers, Visa volunteers and children of the Samaritan House felt the Christmas spirit of the event.
"It's a blast, and the kids make is so much more fun," Lawson said. "Just seeing how much love and how much thought they put into the gifts that they want to give, it's touching."