Players spend their day off shopping at Target with Kids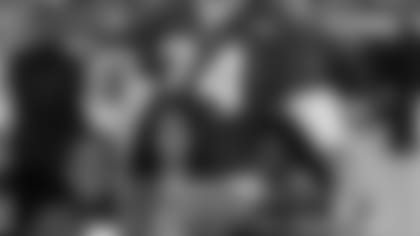 Everyone knows it's the season of giving, but when you give 30 kids each a $250 Visa gift card and let them loose in a Target store, one would imagine thinking of others would not be the first thing that pops in their heads. However, instead of heading to aisles filled with video games or other appropriate gifts for themselves, with the help of the 49ers, the children were taught the lesson of respect and giving and spent their money on gifts for their families for the holidays, instead of items for themselves.
Ten San Francisco 49ers players including Tarell Brown, Nate Clements, Vernon Davis, Walt Harris, Brian Jennings, Ramiro Pruneda, Allen Rossum, Joe Staley, Delanie Walker,  and Joe Staley took part in the 49ers annual Shop With A Player event on Tuesday at the Target located in Foster City.
The players partnered with a Target store representative and a 49ers organization volunteer to each help three to four kids shop for the holidays. The children were each given a $250 gift card, donated by Visa, to spend on their families and themselves to help make the holiday season a little brighter.
Target also provided over $1,250 towards the event and supplied countless numbers of volunteers to help the shopping spree run smoothly.
The children were outfitted in custom jerseys displaying their designated player's name, and given the opportunity to spend two hours with their favorite NFL players.
Staley enjoyed the time spent with the group of kids he was assigned, and was impressed by how they decided to spend their money.
"It's so fun to hang out with these kids. The kids are great," said Staley. "They kind of had in mind what they wanted and they were able to get it. The kids wanted to spend all their money on their family members and not on themselves, and they were always thinking about buying something for their moms or their brothers or their dads."
Rossum shared similar sentiments about his group and their shopping spree.
"These kids have such great personalities and they're just having so much fun shopping for other people. It means a lot not only to them but also to me to see that spirit of giving," he said.
The children chosen for the event were from the 49ers Academy, which serves low-income and underprivileged youth in the 6th, 7th, and 8th grade. Additional youth chosen for the event were from InnVision, a San Jose based non-profit and the Silicon Valley's largest provider of housing and services to homeless and at-risk individuals and families.
While the day was spent shopping for others, the players made sure the kids were able to pick something out for themselves as well.
Since the three boys in Willis' group had earlier put back an extra video game so that they could pick out something for their moms and stay under their $250 budget, the 49ers linebacker opted to add on to their spending money out of his own pockets by purchasing the video games and a PSP holder.
While checking out, Willis noticed a missed call from 49ers Head Coach Mike Singletary. At first, he had a uneasy look on his face, and immediately proceeded to call his coach back.
"He got me nervous," said Willis. "Anytime I see a call from a coach on my day off, you get nervous. My heart was beating fast when I heard Singletary. I was like uh-oh, something is not right, but I thought he just wanted to talk about how we need to finish these last two weeks."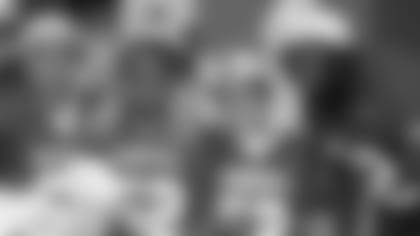 Once Willis heard Singletary's voice on the other end and gave him a second to explain, Willis was relieved, humbled, and appreciative.
"I just officially found out that I made the Pro Bowl," said an excited Willis. "Thank god, thank my teammates, my coaches and the fans who voted for me. I really appreciate it. I'm shocked. I really didn't think I was going to make it back this year."
Willis took a few minutes to gather himself and be excited about the honor, and then immediately turned the focus back on the kids he was helping.
"I really want to just run around this store right now celebrating, but it's not about me," said Willis. "I have to get back to my partners right now and finish up."
Even while finding out he was just named to the Pro Bowl, Willis still made it about the kids and taught them the ultimate lesson of giving and respect by continuing to focus on their needs despite the news he just received.
A true Pro Bowler if you ask me.