Just under a week before the San Francisco 49ers first pre-season game against Oakland, the team took some time out of their training camp schedule to serve as celebrity waiters at the 2nd annual Pasta Bowl presented by SanDisk. The family-style dinner event is a fundraiser for the San Francisco 49ers Foundation in support of City Year San Jose/Silicon Valley, San Jose After-School All-Stars, Santa Clara Schools Foundation, Fresh Lifelines for Youth (FLY) and Fit for Learning. The event this year, raised $150,000 for the 49ers Foundation.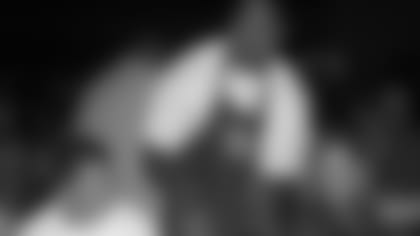 "This is the 2nd year we have done the Pasta Bowl and we are thrilled we were sold out as early as June this year," said Lisa Lang, Vice President of Communications for the 49ers. "Major corporations throughout the south bay are dedicated to coming to this event and helping out the non profit organizations. It is important for the 49ers foundation to raise awareness of the needs at risk youth have in the south bay, and the 49ers foundation is all about keeping bay area youth safe, on track, and in school. This event each year raises the money necessary to help fulfill our mission."
The San Francisco 49ers Foundation is the non-profit community funding extension of the San Francisco 49ers. Now in its 16th year, the 49ers Foundation supports development programs for underserved youth that keep them safe, on track and in school. A significant portion of its funding goes toward family violence prevention programs and activities that teach youth leadership and respect.
All the players from the 49ers and Head Coach Mike Nolan attended the Pasta Bowl as celebrity waiters for their tables, but before they arrived, guests were greeted with wine tasting from vintners from the Sonoma and Napa Valley region and hors d' oeuvres.
Dinner was served as soon as the players arrived with teach team member serving, mingling and socializing with the 1,000 people in attendance.
Bay Area native Tully Banta-Cain enjoyed the evening as he takes great pride in his community efforts with the 49ers.
"Being a local guy, this event is a great opportunity for me to give back to the community I grew up in. I know what it's like for teens and kids to grow up here and I think serving the community and helping these at risk youth is very important," Banta-Cain said.
The event also included an exclusive live auction with the lucky winner receiving a Super Bowl XLIII ticket package to next year's game held in Tampa Bay, Florida on February 1, 2009.
The night was fun for all ages with entertainment throughout the night including 9-time World Champion Pizza Acrobat Tony Gemignani, Sourdough Sam and a Gold Rush cheerleader performance.
City Year San Jose/Silicon Valley is a dedicated volunteer corps that serve children in school classrooms and in after school programs, inspire youth to make positive choices, lead volunteers into transformative service, develop leadership skills and make life-long friends. The San Jose After-School All-Stars provides comprehensive out-of-school programs that keep children safe and help them achieve in school and in life. Fresh Lifelines for Youth helps teens in trouble learn to make healthy decisions. The organization provides at-risk and disadvantaged youth with vital information regarding the decisions they make in their lives. Fir for Learning is a response to the alarming increase of childhood obesity by the Santa Clara County Office of Education (SCCOE), in cooperation with The Health Trust and Healthy Silicon Valley.