The 49ers are celebrating Thanksgiving twice this year.
They will observe the Thursday holiday later this week with the rest of the country, but members of the team and front office spent Tuesday afternoon serving a Thanksgiving feast at the Ray and Joan Kroc Salvation Army Community Center and Railton Place in San Francisco.
"It is the holiday season and Thanksgiving is upon us and it is just great to come out to the Salvation Army and serve food to people who might not have as much as other folks that are out there," 49ers President Jed York said. "This is a time to give back and realize that there are people who are less fortunate and need help. It is nice to get out here and help them."
The event was the team's featured Community Tuesday event for the month of November.
Along with York, Chief Operating Officer Andy Dolich, Vice President of Football Affairs Keena Turner, linebacker Manny Lawson, cornerback Dre´ Bly, kicker Joe Nedney, offensive linemen Tony Pashos and Tony Wragge and several players' and coaches' wives including Kim Singletary served up turkey, stuffing, mashed potatoes, gravy, cranberry sauce and pie to more than 130 people in need.
It truly was a memorable experience for everyone involved.
"You can see how excited everyone is," said Major George Rocheleau, a Kroc administrator. "There are a lot of 49ers fans here and they are going to remember this for a long time."
And those eating weren't the only thankful people at the event.
The players and front-office executives all said that participating in events like this remind them of how fortunate they are and how good it feels to give back.
"I am just thankful for my family and where I am in my life and of course, being a San Francisco 49er," Wragge said. "Everything I have is truly a blessing."
While the event was a time for reflection, it was also a time for fun.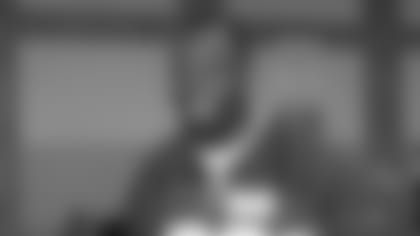 At a similar Thanksgiving event last year, Lawson was the life of the party donning an extravagant turkey hat as he served the food. This year he left the hat at home, but Lawson still was making everyone laugh.
"I'm going to try to stay away from the food myself because despite the outward appearance, I am a fat kid inside," Lawson joked. "Every time I walk past the pies I have to pinch myself and tell myself not to touch the pies. I am going to stick to the liquids and the people at my table might have to go get their own food because if I go get it for them that food won't come back on their plates. They'll get the outer ends of the turkey and a little scoop of mashed potatoes with finger prints in it because I'll use my fingers to eat it."
The Ray and Joan Kroc Salvation Army Corps Community Center and Railton Place completed in June of 2008 and is one of the top Salvation Army facilities in the nation. Complete with a gymnasium, climbing wall, swimming pool and game room, the Salvation Army encompasses 135,380 square feet.
And after the feast was finished, everyone in attendance got to use the grandiose facilities. The youth played air hockey, pool, ping pong and Dance Dance Revolution in the game room while the adults played bingo for 49ers prizes.
"This type of thing reminds you what you are working for," York said. "It reminds you about friends and family. When you see people come together for the holidays, there is nothing better than that."