In collaboration with the 49ers mission to increase community involvement through the 2010 season, six players were out in the community Tuesday volunteering their time at three separate events throughout the Bay Area. The players shared the team's award-winning community service campaign of RESPECT for communities, schools and families in each of the events.
Stocking the San Francisco Food BankTight ends Delanie Walker and Nate Byham, wide receiver Kevin Jurovich, and safety Reggie Smith spent their afternoon at the San Francisco Food Bank warehouse sorting and loading boxes of food to deliver to more than 400 local nonprofit organizations.
The players, along with Visa volunteers, moved more than 11,000 pounds of food, helping to accommodate for the additional food needs during the holiday season.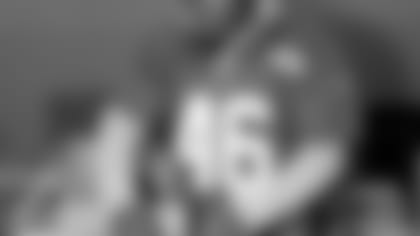 "We're putting these food boxes together for people in need," Walker said. "My station consists of putting the rice in, closing the box and passing it on down to get taped up. We've got some of our teammates down the line putting canned goods in, peanut butter, chips, basic food that people need on a daily basis."
The group ended the day with a count of 616 boxes, complete with 49ers stickers, and signed holiday cards to go along with the deliveries. The event represented the continuation of a long-standing partnership between the 49ers and the Food Bank.
"Having the 49ers here is an important symbol for the community," said Paul Ash, Executive Director for the San Francisco Food Bank. "Besides the work that gets done today, these are athletes, but they are also community leaders – people that kids look up to, sports fans look up to – and when they take the time to come down and get involved in something, especially right in the middle of their season, it sends a message to other people that this is an important thing to be involved in and they'll come down and make a donation or volunteer themselves."
"Back to Football" with Josh MorganRoosevelt Middle School in Burlingame got a special treat when wide receiver Josh Morgan made a visit for the NFL sponsored "Back to Football" event, where he brought the NFL's Play 60 movement to the winners of the NFL and United Way "Back to Football Friday" contest earlier in the season.
The school's enthusiasm for the 49ers during the "Back to Football Friday" event earned it the visit. And the students didn't hesitate to demonstrate why they won, waving posters and screaming with excitement at Morgan's arrival.
"It was probably the best welcome I ever had, coming in here," Morgan said. "I loved it. They're a great group here."
After hosting a school-wide assembly, five of the students stepped on the stage to ask Morgan questions before he led a physical education class for the group.
"We're basically out here working with the students and teaching them how to play 60 minutes a day so they can stay physically fit and just stay young, stay healthy and keep their mind fresh," Morgan said.
While some of the students participated in a variety of football drills, Morgan led a relay race with others where they ran from one cone to another before catching a football thrown by the wide receiver.
The event was run in partnership with United Way and the NFL, and the "NFL PLAY 60 Super School" was given a $10,000 check on behalf of the NFL and the 49ers. Morgan currently leads the team in community service hours this year and has committed just under 50 hours of his time to the Bay Area.
"We didn't have anything like this in my elementary school," Morgan said. "We didn't have positive role models to look forward to. So I always told myself and told my family that if I made it that I was going to give back the best I can."
"Dare to Dream" with Moran Norris
At Lowell Elementary School in San Jose, fullback Moran Norris participated in a "Dare to Dream" event in partnership with California Lottery in which he worked with a fifth-grade classroom to help spur ideas for the students' future paths.
Norris opened the day talking to the youth about his personal goals, like being the best football player he could be, getting a great education, and about the importance of driving to succeed.
"I told the kids personal goals that I had to hopefully relate it to theirs," Norris said. "I really just told them to pay attention, do research on what they want to do in life, ask questions and look at books so they can achieve their goals."
The classroom then broke into teams after a brief question-and-answer period with Norris. The students worked in groups to create posters with pictures that represented what they wanted to pursue for their future as Norris walked around the classroom spending time with each group. The teams then presented their ideas to the class, but not before showing off their touchdown-dance skills as a fun way to get the kids comfortable with opening up to their classmates.
"A lot of kids want to be football players, and I came across a couple bakers, and a clothing designer," Norris said. "It was cool. I mean I never had that when I was growing up. I think just for an NFL player to come out to a school and show the kids how to succeed, it was cool."
Norris has a personal commitment to working with youth and has created the Moran Norris Foundation with the intent to provide students, teachers and parents with programs and resources to combat the challenges associated with at-risk behaviors, student drop-outs and poor attendance. In harmony with his efforts and this event, the California Lottery is celebrating 25 years of enhancing education and supporting local communities, having contributed more than $1 billion to Santa Clara County schools over the past 25 years.