The 49ers have selected Taylor Mays, safety out of USC with their second-round pick (No. 49 overall).
Mays was featured in this "On the Clock" piece prior to the 2010 NFL Draft.
The athletic safety just spoke with local reporters via conference call. Here's the transcript.
On whether the 49ers were one of the teams that were most interested in him:
"Definitely, I felt like I really connected with Coach Singletary on my visit, but I also connected with the defensive backs coaches on my visit. It didn't surprise me at all when I got the call from a 408 number."
On whether it's a bittersweet day for him that he didn't go in the first round:"It's bittersweet, but I wanted to play for a coach like Coach Singletary, for a team like the 49ers, a team that's physical, that plays defense that will fight you and punch you in the face. I understand that I fell, but I'd rather fall and go to a team where I have a better chance of having a better quality career than go earlier and go to a team that doesn't have as good of a chance to win. It's tough, but at the same time, I can't complain. I'm in a much better situation than most people are in. I can't wait to get started."
On whether he looks forward to playing the Seahawks twice a year now:"I look forward to playing for Coach Singletary for 16 games more than I look forward to playing for Coach Carroll twice a year."
On the advice that Coach Carroll gave him:"Just in terms of, I didn't have anything to worry about, that my game was okay, that my back pedaling was fine, my tackling was fine. It's all things that I asked. What do I need to work on? What do I need to show? All these points and I was kind of led to think that I would have been okay. It is what it is and I'm so happy to be with the 49ers and on a team that Ronnie Lott played on. Playing for them, with a coach like Singletary and it's on the West Coast, so it's close to home, I really couldn't be any happier right now."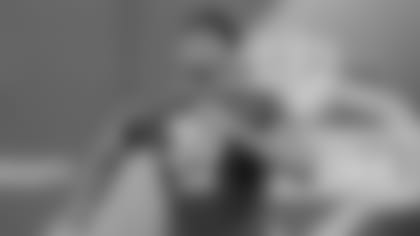 On whether Ronnie Lott was a player that he emulated his game after:"It's a guy that I've looked up to for a very long time in my life and he's a safety I try to emulate a lot. I went to USC to try and live the legacy that he lived at USC and now I get to go to the San Francisco 49ers, where I'll try to carry on the legacy that he left. I feel the obligation to do it and that's somebody that I'll definitely give a call to later today if he doesn't give me a call." **
On if he feels he has something to prove in the NFL:"I feel like I have the biggest chip on my shoulder of anybody in the draft, but I felt like that before the draft. I think it's just a little more amplified. I'm so happy to just be on the San Francisco 49ers. It's not just a chip to prove people wrong, it's a chip to show what I can do. I already know what I can do with myself. I'm not worried about getting back at anybody. I'm just worried about showing what I can do and obviously the San Francisco 49ers believed in that. That's all the confidence that I need, that they believed in me and I can take care of the rest."
On if he's a complete safety or an in-the-box safety:"Well, that's what we're going to find out over these next couple of months and years is whether I can play in the box or deep. I know what I can do and know what I'm capable of doing. I think it's just a misconception that I can't do a lot of things as a safety. That's why I've got coaches that are willing to work with me. I talked to these San Francisco coaches and they said they were going to teach me and show me, and I am going to be the best safety I can be and take it all in. And once I do that, there's nothing that can stop me."
On if he got a good sense of where they were going to play him:"I've got a great sense for it. We went over a lot of defenses that they run. We watched a lot of film and we did a lot of work in the film room. That's something that I'm going to be very acclimated to their defense quickly and see if I can start learning it today."
On where Michael Lewis plays and if that's where he sees himself playing:"I don't' know. I don't know what they want me to do. If they want me to play safety or linebacker or corner, I'll do whatever they tell me to do. I know they move their safeties around a lot, so it will be good regardless."
On if he knows Safety Dashon Goldson:"Yes, I knew Dashon and I met him again and reunited with him when I was at San Francisco. I had known him when he was at the University of Washington and I was in Seattle in high school. He was a University of Washington safety and somebody that I watched. I studied his game a little bit because he was at Washington."
On how Dashon Goldson and he will team together:"I think he's a safety that is so underrated. He's a supreme athlete and he's really shown it in especially this last year. I know what I bring is just physical dominance and a physical attitude. That's a defense that they already play. Being teamed up with guys like Dashon and [linebacker] Takeo [Spikes] and [linebacker] Joe Staley, those are the guys that bring the wood in. I think that's what I do best and I'm going to show them that I can bring it for them."