With the No. 190 overall pick in the sixth-round of the 2011 NFL Draft, the 49ers selected TCU safety Colin Jones. Jones played in 45 games (17 starts), recording 124 tackles, two interceptions, (one for a touchdown), 4.0 sacks, 14 tackles-for-loss, one fumble recovery and eight pass breakups. As a senior, Jones earned second-team All-Mountain West honors. He played in 13 games (12 starts) and ranked second on the team with 80 tackles.
"I'm a blue-collar player and I love to play special teams," Jones said in his conference call with the local media.
For more on the 49ers newest defensive back, read Jones' conference call transcript:
On when he had an idea that the 49ers had him on their radar:"Well, I had a workout with them earlier back at TCU and I had talks with them a lot over the course of the last two weeks and so I was really hoping they would pick me. I talked a lot to (49ers secondary coach Ed) Donatell and Mr. (49ers special teams coordinator/assistant head coach Brad) Seely, the special teams coach. I just felt that this would be a great fit and I'm really happy and excited it worked out."
On whether the 49ers worked him out in addition to his pro day:"Yes sir, yes sir."
On when that workout was:"It was actually a few weeks after the pro day."
On what feels right about being picked by the 49ers and why it is a good pick:"I'm a real blue collar player and I love to play special teams and I feel like Mr. Seely really offers a great - he's a great coach and that will be a fit to me initially. And also the need at safety, I feel that I can come in and help and compete there."
On his injury in 2009:"It was a hernia, a sports hernia."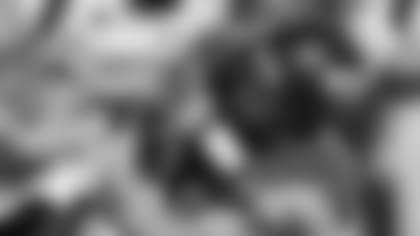 On how long he was out due to that injury:**"I was out the last four games I believe."
On whether he is healthy now:"Yes."
On whether his performance in the Rose Bowl set the momentum for him in the offseason:"Yes, I think it jump-started it. I couldn't have asked for a better way to go out than the Rose Bowl and I had a good game there and we got the win, more importantly. Then I had a good pro day and that really got things going. A lot of teams started jumping on a little bit after that performance and I'm just really excited to be in this situation."
On whether coach Donatell mentioned he will play free safety or strong safety:"Well, he didn't say specifically, but in the workout, they worked me out a lot at free safety, in the personal workout."
On whether prior to the pro day he thought he would go undrafted:"I knew that if I could hit what I've been doing and the mock pro days, I knew all along, even early in my career, that when I got a chance to go to pro day that would really be my strength so they could see my measurables, along with the film that I was able to accumulate."
On what it means to be a "blue collar" player:"I think (TCU head coach) Gary Patterson instilled that in a lot of us players. He makes us play special teams even when we're two-year starters. It's really beneficial, especially when you're trying to make a team at the next level because that's what you're going to be required to do unless you're a top guy. So that really, really benefits us."
On his strengths as a safety:"Definitely my speed and I think my versatility in college helped playing a 4-2-5 defense because I was able to play down tight to the line of scrimmage and then also play a lot of coverage."