The 49ers headed into the half with a 21-3 lead and then coasted to a 31-13 victory over the visiting Detroit Lions.
"We went out there and executed," said tight end Delanie Walker. "We did what we wanted to do and that was to move the ball and put points on the board. Our defense did a great job holding them down and we were able to keep a lead on them the entire game.It was a big team win for us."
Running back Frank Gore's 33-yard explosive run in the first quarter ignited him on his way to a season-high 130-yard rushing day.
"I knew I'd have a game like this eventually. It all depends on how teams try to play us and when you can have success in the air, it's only going to open things up for me on the ground and that's what happened today," said Gore. "I had the long one early in the game, but there were a couple of them today where I thought I was going to pop it completely open for some scores. They just barely got me stopped."
The long Gore scamper set up the 49ers offense for their first score of the day, a 6-yard strike from J.T. O'Sullivan to Isaac Bruce, marking Bruce's first touchdown as a 49ers.
Gore wasn't kept out of the end zone for long himself, working his way in on the following offensive series on a 4-yard run to put the 49ers up 14-0.
It was the first time this season the 49ers headed into the half with a cushion, and the first time this year the offense refrained from committing a single turnover in the game.
"It is something that we are conscious of and aware of, but at the same time when we go out there and play, it is about making plays and taking care of the ball," said O'Sullivan. "It is important and we understand the turnover ratio in this league gives you the best chance to win. It is something we try to do week in and week out."
Although there was a concentration on ball security, the offense played loose, and with improved protection up front and only one sack in the game, O'Sullivan enjoyed taking shots down the field.
Following a long 44-yard field goal by Jason Hanson midway thru the second quarter to put Detroit on the board, the 49ers offense turned up the heat in their aerial attack. On 1st and 10, O'Sullivan aired one out deep for tight end Vernon Davis. The catch wasn't made but a defensive holding call allowed a replay of the down. This time O'Sullivan gunned one to Bryant Johnson for 25 yards. His next throw to Josh Morgan picked up 18 yards and was followed by a 24-yard touchdown strike to Walker for the 21-3 halftime cushion.
"It was a good fake by JT," said Walker. "He faked it to Frank who was having a big day already and everybody ran up on him and I got free to the numbers. JT put a good ball on me and I caught it and got into the end zone. I think that really gave us some good momentum going into the half and definitely some confidence as an offense."
The defense also played a confidence building kind of game, sacking Jon Kitna four times and holding Detroit's explosive passing attack to just 146 yards. Calvin Johnson still led the group in receptions, but only with four catches for 40 yards.
"We were able to execute today and everybody handled their responsibilities and played within the defense," said cornerback Nate Clements. "I think the biggest thing was we did it on a consistent basis, all four quarters. There were some plays I think we still could have had tighter coverage on, but overall we played them pretty tough."
The secondary was without their top nickel corner in Shawntae Spencer, but second-year cornerback Tarell Brown stepped in and like the rest of the secondary, played tough, picking off a Kitna pass to Mike Furrey in the third quarter. That set up the 49ers for their only scoring opportunity of the quarter, a 43-yard try that Joe Nedney missed.
Hanson's 51-yard third quarter field goal capitalized on a long 27-yard run by Rudi Johnson, trimming the 49ers to a 21-6 lead at the start of the fourth quarter.
O'Sullivan, who would finish the day 16 of 23 for 189 yards, two touchdowns and a 123.3 QB Rating opened the final quarter with a 12-play, 77-yard scoring drive that culminated on a 1-yard end around by returner Allen Rossum.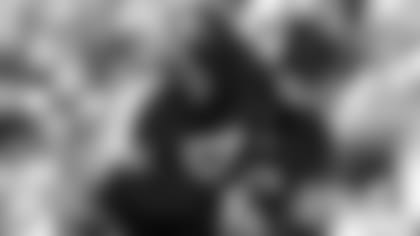 "My number was called and I just wanted to make sure I did my part," said Rossum. "They had some deep penetration and I wound up losing some yardage at first but I got a great block at the end, I think it was Bryant Johnson, and I got around the corner and then just made sure I got it into the end zone."
It was a gutsy play call for head coach Mike Nolan who originally sent out his field goal unit after Gore was stopped for a loss on a 3rd and inches play. Following a timeout, Nolan sent the offense back out on the field to go for it. The score helped put the game virtually out of reach at 28-6 with about nine and half minutes remaining.
"I wasn't sure if it was a yard, a yard and a half or two yards," said Nolan. "I ran down the side to kind of see, and that's why I called timeout. I saw that it was a yard. We went for it."
Following the score, Kitna turned to a no-huddle offense and drove his unit 78 plays yards in 9 plays, and scoring with a 34-yard pass play to Rudi Johnson, who finished the day with a combined 131 yards.
Trailing 28-13 with 6:57 to go, the Lions opted for the on-side kick which Arnaz Battle deftly caught on the run for a 28-yard return that nearly went for a score.
"I stumbled," said Battle of being stopped at the 9. "I was upset with myself. I felt like I could have scored the touchdown. The safety was coming across the top so I felt I could go outside and use a stiff arm, but as I cutback my foot got stuck and I stumbled. He made the tackle and I felt bad but we still got a score."
Battle's return led to a quick 25-yard field goal by Nedney a few plays later to extend the 49ers to a 31-13 advantage.
Kitna again positioned his unit inside 49ers territory for one last final Detroit drive, but Parys Haralson notched a sack and knocked Kitna out of the game. On 2nd and 16 from the 37, defensive end Justin Smith made a one-handed grab to intercept backup quarterback Dan Orlovsky's screen pass to Rudi Johnson.
"I was just lucky I guess," said Smith who has two other career-interceptions. "You don't get too many of those as a d-lineman, but they'd used that play a few times before. Rudi is an excellent runner out in space, but I was able to cut it off and I really got lucky. Turnovers are huge and fortunately we won that battle today, and usually when you win that, you win the game and that's what we did today."
The win improved the 49ers to a 2-1 record. That ties them with Arizona, who lost today to the Redskins.
GAME INJURIES: S Dashon Goldson suffered a shoulder sprain in the fourth quarter and did not return. S Michael Lewis suffered an elbow strain but returned to action. LB Jeff Ulbrich suffered an ankle injury but returned to action. S Keith Lewis suffered a knee sprain, but also finished out the game.