A seesaw scoring battle in the final minutes of the 49ers season finale with the Redskins eventually ended with San Francisco riding sky high after a 39-yard game winning field goal by Joe Nedney as time expired.
"As soon as they were inside the 10 yardline threatening to tie it up, I was already thinking about a game-winning field goal," said Nedney. "That's kind of my job. I've got to be able to project myself in these situations so that when they actually do happen, I'm prepared for them."
Nedney's 33-yard field goal with 5:06 left in the game padded the 49ers with a seven-point margin, but Redskins quarterback Jason Campbell made several big plays, including a 23-yard scramble and then a 2-yard tying touchdown rush up the middle on an all or nothing 4th and goal play.
"Campbell can scramble and he can run the ball well and you have to get cloth and wrap up," said linebacker Joe Staley. "It's frustrating that he got those runs but it's football. Our offense had to come through for us in the end, but that's what football is about. You need all three phases and fortunately they came through for us today."
Campbell escaped a few sacks in the game, and completed 18 of 30 passes for 156 yards and a touchdown, but quarterback Shaun Hill and company enjoyed the final laugh.
With about 1:02 left, Hill went to work, completing a key 3rd and 1 pass to Michael Robinson for 19 yards before delivering a 24-yard strike to Bryant Johnson at the Redskins 21-yardline, close enough for Nedney to work his magic and close out the season with a 27-24 victory.
"This offense has playmakers," said Johnson. "When we get our hands on the ball, we are able to make plays. We just knew going into that last drive that we didn't have to do anything special. We just had to make the plays that were presented for us and we knew if we got down there into his range that he was going to knock it down."
The game winning kick completed a strong second half for the 49ers, who trailed the Redskins 17-7 at halftime.
"Those are the type of games that you have to win to get into the playoffs," said defensive end Justin Smith. "It shows the character of this team and what we can accomplish. We have to keep moving forward and we have some pieces in place. Now we're going to move into next year."
The 49ers took the initial lead with Hill scrambling his way into the end zone for a 2-yard touchdown, punctuating an opening 10-play, 65-yard scoring drive.
But after failing to convert on a 3rd and 1 on their next offensive drive and then missing a field goal from 48 yards out after a bad snap, the Redskins took over on downs at their 38 and evened the game with a 10-play drive that covered 62 yards before running back Clinton Portis walked his way into the end zone for a 4-yard score.
Hill, who started the game completing 6 of 6 passes, was then picked by cornerback Carlos Rogers on a pass he intended for rookie Josh Morgan.
The defense bowed up and didn't give up a yard, but four plays later kicker Shaun Suisham drilled a 41-yarder to take the lead, one they built upon with a 16-play, 78-yard scoring drive finished by a 6-yard Campbell touchdown pass to Antwaan Randle El right before the end of the half.
Portis, who gained 50 of his 80 rushing yards in the first half, lost his grip on a 2-yard draw play up the middle at the start of the third quarter, thanks in part to Aubrayo Franklin who looked to have gotten a hand on the ball. Linebacker Takeo Spikes scooped up the loose ball to hand his offense excellent starting field position at the Redskins 38-yardline.
"It was the turning point, because we came in at halftime and talked about, 'This is not us. What we displayed out on the field wasn't us,' said Spikes. "But we went out and just said, 'There's no need to talk, we know what has to be done, so let's get it done.' That play sparked us."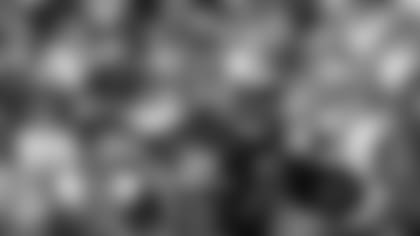 The 49ers relied on five straight run plays after the turnover to reach the end zone on a 1-yard touchdown run by DeShaun Foster, who had gained 18 yards to get to the 1-yardline two plays prior. The score trimmed the Redskins lead to within three.
"DeShaun came in and played well. He ran the ball hard. He hit the hole like how he's supposed to hit the holes and he made plays," said receiver Jason Hill.
Running back Frank Gore also had an impactful afternoon, leading the team with 58 yards on 11 carries to become the first player in franchise history to record 1,000-yard rushing seasons three years in a row.
"I'm happy I got the opportunity to do it today," said Gore. "My o-line, they wanted it and also my other teammates wanted to see me get it. There's not a running back in the history of the franchise to do it with all the great players here – I'm just happy to do it."
But it was Robinson, who finally got the 49ers over a critical hump with their short yardage situations. A throw to Isaac Bruce and a rush by Gore on two prior 3rd and 1 plays had stalled earlier drives, but Robinson's 2-yard carry on a 3rd and 1 at the Redskins 11-yardline kept alive the 49ers go-ahead scoring drive that ended a play later on a 9-yard touchdown pass from Hill to Jason Hill.
"It was a quick flat and Shaun caught me quick and I made a dive into the end zone and luckily I got in," said Hill.
Hill's dive for the pylon served as a fitting ending to an 8-play drive that included seven pass plays and a few highlight worthy receptions, starting with Johnson, who managed to snag an underthrown 19-yard pass to start off the drive. Foster also made a one-handed catch while staying in stride for a 12-yard pickup into Redskins territory, while Robinson leapt and adjusted his body in air to grab a 24-yard completion at the Redskins 20-yardline.
"There were a couple of times today where I missed a couple of throws, but Coach Martz had the confidence in me to go out and keep throwing the ball," said Hill who finished 21 of 30 for 245 yards, one touchdown pass, one touchdown run, and one interception for a 91.7 QB Rating. "The guys made some great catches out there today for me too, and fortunately we were able to move the ball when it counted."
Two tackles for losses on Portis by Nate Clements and Justin Smith started and ended the Redskins next three and out series.
"I'm just proud because collectively as a group we got it done," said Clements.
The 49ers did exactly that with Allen Rossum taking the ensuing punt back 35 yards to set the 49ers up at midfield.
An immediate 26-yard pass over the middle to Morgan then prepped Nedney for the field goal that made it a seven-point 49ers margin.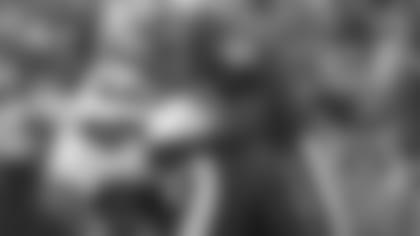 "Everybody stuck together. Defense, offense, special teams," said guard David Baas. "There were a lot of twists and turns and nothing really fazes us like that. We just kept doing what we were doing. We just had to stay focused and keep pounding down the field and that's why we won."
Even when Campbell scored his deflating run after his pass play broke down, the 49ers continued to show resiliency en route to a victory that for the second straight week, came down to final seconds.
"It's special. It's a great way to finish the year out," summed up Spikes. "This team was very excited to win this game. Any opposing team would probably have thought we were a playoff team and this win propelled us to the playoffs. The bottom line is everybody realizes what we have inside this locker room. Knowing that and to be able to win the last game of the year, we knew we wanted to make a great first impression for a new beginning, which is next year – so let's start it today."
Game Notes: Safeties Michael Lewis (knee) and Mark Roman (stinger) suffered injuries while in pursuit of Jason Campbell on safety blitzes. Roman returned, while Lewis was forced out. Linebacker Manny Lawson suffered a hamstring injury, but finished out the game.