Three offensive touchdowns, a 67-yard punt return by Allen Rossum and a 34-6 sound defeat of the Green Bay Packers put last week's failure to get the ball in the end zone against Oakland in the rearview mirror.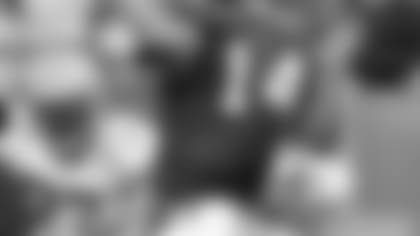 The night started off shaky for quarterback J.T. O'Sullivan who was picked by Charles Woodson when he locked in too early on tight end Vernon Davis. Woodson likely could have scored but he inexplicably fumbled, and the ball sailed out of bounds at the 7-yardline.
The 49ers defense lucked out on the next play when Donald Lee dropped Aaron Rodgers touchdown pass, but the unit then came up big with a sack by Ray McDonald and solid coverage on a third down play to force the Packers to settle for a field goal and a first quarter 3-0 lead. 
"That's the mentality - whenever you get a turnover by your offense, it's our job to get the momentum back and hold them to at the most three points," said cornerback Walt Harris. "All night our guys up front made it easier for us on the back end. They were humming up front and getting it done and we know if we give them just an extra few seconds, they can get there to the quarterback."
O'Sullivan bounced back from his error in a big way, leading his team to back-to-back scoring drives on his next two series to capture a 14-3 halftime edge.
The seemingly front runner in the 49ers starting quarterback competition engineered a 15-play, 87-yard scoring drive on his next series which culminated in a 1-yard touchdown run by DeShaun Foster on a 4th and goal try.
O'Sullivan had two highlight throws on the drive, both on 3rd down plays. The first was a 3rd and 8 throw to Jason Hill, who picked up extra yards after the catch for a 27-yard play into Green Bay territory. Three plays later on a 3rd and 3, O'Sullivan aired one up to rookie Josh Morgan, who made an over the shoulder catch for a 22-yard gain and a first down at Green Bay's 3-yardline.
"It is about everybody doing what they are supposed to do – trusting each other to be exactly where they're supposed to be, especially the wide receivers," said O'Sullivan. "Trusting the offensive line to hold up and protect like they did tonight. And for us [QB's] to put the ball exactly where it's supposed to be. When all those things and the running game are jelling, it is going to be really fun to watch this offense."
After being denied on three straight tries, Foster wasn't about to be stopped on his fourth down try, even when Green Bay looked to have him hemmed up at the 1. The veteran runner extended his arm to get the ball across the goal line at the last second for the touchdown.
"It was 4th and 1 and the coaches were trusting that we were going to get it in," said Foster. "I wished I had gotten it on the first three tries so it was time to get it in there. The line did their  job and I just reached out and got it across."
The second-team defense continued the stingy play that the first-teamers displayed, allowing only one first down before getting the ball back to O'Sullivan, who needed only three plays and 37 seconds to find the end zone again with a 59-yard touchdown bomb to Morgan.
"It really feels great," said Morgan of his first NFL touchdown. "It's a blessing from God. The cornerback tried to play me press and I beat him off the line. Our quarterback made a great throw. I just went up to get it."
That was O'Sullivan's final throw of the night, closing out his play with 8 of 17 completions for 154 yards, 1 interception and 1 touchdown.
Alex Smith started off the third quarter at the helm of the 49ers offense and led his mostly second-string unit to a 10-play, 49-yard field goal drive. Smith underthrew a deep ball to Morgan, but went right back to the rookie for a 27-yard completion. The highlight play of the series helped put Morgan over the 100-yard mark with 5 catches for 114 yards, and set up kicker Joe Nedney for a 49-yard field goal.
Green Bay responded with a 49-yard Marion Crosby field goal, set up by a 56 yard kickoff return.
On the following defensive series, 49ers defensive tackle Ronald Fields recovered a botched snap by the Packers at the 16-yardline.
Smith overthrew an open Hill in the back of the end zone, but then drew a pass interference call on a 4th and 2 fade throw to Cameron Colvin. Fullback Moran Norris punched it from the one to capitalize on the defensive turnover and cushion the 49ers to a 24-6 third quarter advantage.
That was the end of the action for Smith, who finished 5 of 12 for 62 yards with 10 points scored under his direction. 
"I think I did some things okay," said Smith. "But the things that stick out in my mind are a couple of missed opportunities. The long bomb to Josh Morgan and the high ball in the back of the end zone to Jason Hill."
Cornerback Markus Curry broke up a Brian Brohm 4th and 7 play at the 49ers 39-yardline on the following series, setting up Shaun Hill for an early 4th quarter scoring drive that ended in a 30-yard field goal by Ricky Schmitt. Hill completed only one pass on the drive, albeit a key 3rd and 12 conversion on a 16-yard throw to Dominique Zeigler. Jason Hill accounted for another big chunk of yards on the 49-yard scoring drive. Hill used his speed to outrun a defender in the backfield and then dodged his way between a trio of defenders for a 14-yard run and a first down at the Packers 16 on an end around.
After coming up with the field goal, Schmitt was forced to display his coverage skills - chasing Jordy Nelson out of bounds after his second long return of the night, this one a 58-yarder.
But also for the second time on the night, the defense showed resiliency in an adverse situation. Tully Banta-Cain enjoyed back to back sacks, causing quarterback Matt Flynn to fumble twice. Green Bay got the first loose ball, but Attiyah Ellison recovered the second at the 49ers 43-yardline.
"As the fourth quarter came, I started getting a rhythm and getting a feel for the game, so I was able to make a couple of plays in the fourth quarter," said Banta-Cain. "I feel I improved a little bit, but I've got a long way to go."
The two teams traded three and outs with the 49ers coming out on top when Rossum spun and avoided a defender and then sped his way 67 yards to the end zone to up the 49ers to a 34-6 cushion.
"It feels great," said Rossum who helped redeem a poor coverage night by the 49ers special teams unit. "I've got to tip my hat to the guys that were blocking for me. I think I was guilty of trying a little too hard in the beginning. The last one, I tried to relax. He had been giving me some good balls all day. I just followed my blocking as best as I could, and the rest is history."
Flynn had one last hurry up drive, but Dennis Haley forced a fumble at the 11-yardline that was recovered by Larry Grant to end the game with a flourish.
"It was a total team effort," said safety Mark Roman. "The special teams did well, the offense did well and defense did well. You always win as a team. Tonight was definitely a team effort. Watching film is going to be pretty fun for everybody on the team."