Nineteen rookies and over two dozen selected veterans participated in the first day of rookie minicamp at the 49ers team facility on Friday.
It was the first opportunity for the wide-eyed rookies to meet most of their new teammates and hit the practice field wearing their new red 49ers practice jerseys.
"It's very nice to get out here and see some of the guys that you watched on film all offseason," head coach Mike Singletary said. "We're very excited about the guys who we were able to draft. We're also excited about the free agents that we were able to get. So this is just the first day moving forward, and we're very excited about what we're seeing."
Friday also signaled the beginning of the latest chapter in the starting quarterback competition between Shaun Hill and Alex Smith. Both signal callers split reps and made a variety of throws with the makeshift first-team offense during the 11-on-11 portion of practice.
Prior to the workout, Singletary insisted that a decision on naming a starter was not imminent, but that he and his coaching staff would be evaluating the two every day.
"We're just going to continue to talk about the (decision) timeframe going forward," Singletary said. "Is it best after OTA's? Is it best after the first week of training camp? We'll just monitor it and be prepared to make a decision sooner than later."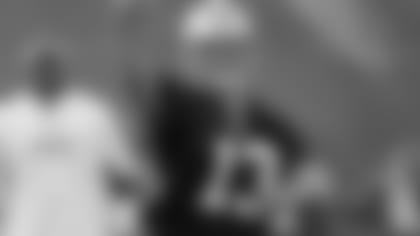 For both Hill and Smith, the competition remains friendly as the close friends are in the midst of their second consecutive battle to be named starter.
"That's how it's always been. That's how it always will be," Hill said of the two competing every day.
Smith, feeling no restrictions from his surgically-repaired shoulder also addressed the subject of the competition.
"It's definitely there. We both recognize it. Anytime you're doing football it's on," he said. "When we're doing football we're competing. So, it's all part of the deal. We had a little run at it last year doing it so it's kind of the second go around now." 
Both quarterbacks said they highly approved of the selection of Texas Tech wide receiver Michael Crabtree.
"I was excited about that," Hill said. "I was able to see him a little bit in college and I feel like going into the draft, we already had a good, solid deep receiving core, but with the addition of him I thought we became better and deeper."
Smith echoed Hill's sentiments completely.
"I didn't know if he was going to fall to us, or what was going to happen," Smith said. "But when he did and (we) took him, I was excited."
After the players broke off for individual drills, the veterans went away from the group and worked on conditioning drills with head strength and conditioning coach Duane Carlisle. At the same time, the rookies went through a conditioning circuit similar to the one installed at the first 49ers minicamp.
Looking like they had just finished playing a game, Singletary called in the rookies and challenged them to increase their effort in the various drills. The rookies responded to the words of Singletary and pushed through the rigorous workout.
Following the circuit drills, the players reconvened for 11-on-11 work which allowed the coaching staff to get a better look at some of the young players on the team as well as the newcomers.
Although the minicamp was voluntary, Singletary wanted to get a better look at some of the younger talent on the 49ers roster.
"We didn't demand anybody," he said. "It's just those guys that we felt would really, in another setting, (they) may take another step. May mature a little bit more without some of the veterans here. May ask some other questions that makes them a little vulnerable if the veterans are here. But may step out a little bit. Just giving them an opportunity to come out here and try and learn a little bit more."
With some of the younger players becoming more comfortable in their surroundings, the rookies themselves did their best to blend in and bond with their new teammates and fellow rookies.
"I know more on the defense right now because we're in the defensive meetings with them right now," fifth-round pick Pittsburgh linebacker Scott McKillop said. "I also got a chance to meet some of the offensive guys like Crabtree and Coffee. So far everyone has been really nice, professional and hoping for the best. I think everyone is like myself, eager to get out there and get back to football practice, learning the offense and defense and see where we stand with the team."
Prior to Friday's rookie minicamp, the 49ers announced the signing of free agent linebacker Marques Harris. The fifth-year veteran spent the four previous years with the San Diego Chargers. At 6-foot-1, 231 pounds, Harris saw action in 56 games (six starts) for the Chargers, recording 75 tackles, eight sacks, four fumble recoveries, three forced fumbles and 22 special teams stops.
Harris, who comes from a 3-4 defense in San Diego said it was a great opportunity to join the 49ers.
"It's just a privilege to be here and be a part of this team. For me, personally, it's exciting because San Francisco is on the verge of doing big things," he said.
Harris said his role with the team will be as an outside linebacker who specializes in rushing the passer.
"Right now, I'm playing outside linebacker. Obviously, my specialty is rushing the quarterback. With this team, whatever they want me to play, whether it's the strong side or the weak side, I'll definitely play."
During the conditioning circuit, secondary coach Johnnie Lynn did his best to make sure the rookies were motivated for the drills. In a direct tone, Lynn said to one of his groups, "We're trying to break you! Don't be broken!"
On the sidelines watching the drills was left tackle Joe Staley. Though he wasn't participating in the workout on Friday, the third-year tackle was on hand to support his teammates. However, he almost was called into action by wide receivers coach Jerry Sullivan.
Coach Sullivan recognized Staley on the sideline and said, "Be careful Joe, we might be one man short!" To which Joe responded, "No thanks, but I could play tight end if needed."
On the field, two standout plays were made by the defensive backfield, earning a tie for play of the day honors.
The first play happened on a slant pattern that was intended for Dominique Zeigler. It was broken up by undrafted free agent cornerback Terrail Lambert. Shaun Hill congratulated Lambert by repeatedly yelling "Good job rook!"
The other happened on a quick pass from Hill to tight end JJ Finley, who tipped the ball in the air which was then intercepted by seventh-round draft pick LSU defensive back Curtis Taylor.