In an afternoon press conference on Wednesday, Team Owner John York announced that Head Coach Mike Nolan will be retained for 2008 and that Vice President of Player Personnel Scot McCloughan has been promoted to General Manager.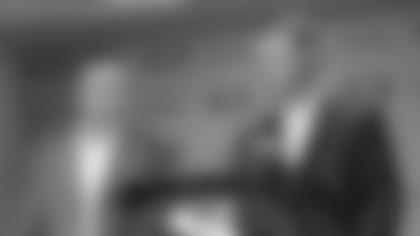 "Over the past two days, we've had productive meetings, developing a plan of action," said York. "Throughout these discussions, we had a single-minded focus and that is, how do we put the 49ers back on the winning track, which we started three years ago. When we interviewed Scot he was clearly our top choice and we immediately believed that over time he would be elevated to the role of general manager based on his performance. Based on his abilities to evaluate talent, his leadership role as well as his managerial style all says that now is that time."
Heading into the season, Nolan had stated that it would be a disappointment if the 49ers did not make the playoffs in 2007. The team's 5-11 record kept them out of the playoffs and well below .500, a finish that York believes Nolan can avoid in the future.
"When we hired Nolan three years ago, we set a five year plan to put the 49ers back on track and until this season we were on the right track," said York. "We were moving forward and progressing. During the last two days we have analyzed this frustrating season that started out with such high expectations. The question is can the challenges that faced us this season be overcome and can we get back on the right course? Based on my discussions with both Mike and Scot, I am confidant that the 49ers can overcome the challenges we faced this year, that we can make significant changes to correct the course that we are on, and that we can deliver a winning team not only in 2008 but going forward."
Currently, the only change that has been made to the 49ers coaching staff was the termination of offensive coordinator Jim Hostler, who had inherited the offense in late February of last year after Norv Turner left to take the head coaching job in San Diego. Hostler worked with four different starting quarterbacks over the course of the season, as he unit's production fell from an overall 26th ranked unit to last in the NFL.  
With Monday's season-ending press conference being moved and then eventually cancelled, speculation was rampant that Nolan would be let go himself, but the 49ers head coach insisted that he didn't feel like he had to sell himself to ownership over the last few days of meetings and clarified the team's decision to postpone its season wrap up.
"No, I do not believe I had to do that," said Nolan. "I do believe the meetings we had always occur. We had a lot to talk about, 16 weeks of the schedule to talk about, and I think it's important in those discussions that you put everything on the table. I believe those meetings are much like going into a game and trying to win a game. Whatever the outcome is of a game, you deal with it. Those meetings are much like a game. You go in and put it all on the table – good, bad, things you can change, whatever it might be. You take the outcome as it comes. I didn't go in thinking I had to do that (sell myself). I think the decision to make Scot GM or my decision to pass the trigger will make us stronger."
McCloughan will now have final say on personnel, a power that was previously charged to Nolan. With the direction from ownership, McCloughan also has the ability to hire and fire the head coach in the future. McCloughan said that Nolan staying on as the team's head coach was an important factor in his decision to accept the role of general manager.
"The one thing I respected about the season, the players never quit playing and that's something to be said for Coach Nolan," said McCloughan. "Nowadays with these younger kids, they are very hard to keep on track, very hard. Mike does a phenomenal job of getting them to believe and following Mike. One of the reasons I feel so positive about the situation is because he is that guy and players want to play for him and they want to win for him."
Nolan will retain the decision making power when it comes to his coaching staff, and insists he's still the one voice of the organization.
"I will remain the one voice of this organization and the face," said Nolan. "I will not have the trigger on the personnel changes. It's as simple as this. If there's a disagreement on players and we could not come together, Scot will make that decision when it comes to personnel. When it comes to the coaching staff, those are still my decisions."
Nolan said he does have candidates for the coordinator position but would not reveal those names at this time, or discuss his time frame for making a hire. When Nolan hired Hostler a year ago, part of his criteria included keeping the offensive system similar to Turner's, but that won't necessarily be the case this year.
"My main objective will be to get someone who utilizes our personnel very well, who has great command presence among our players, and hopefully with experience as well," said Nolan.
Alex Smith was brought up several times during the afternoon press conference, following a season in which communication issues broke down between the head coach and the starting quarterback.
"I need to have a good relationship with every single football player on our team, whether it's our quarterback or anyone on our football team," said Nolan. "It might be different because every relationship is different. I care about all of our players, obviously our relationship is a little bit different. It had a couple of strains this year, but I think those strains can make relationships stronger."
Nolan said the issues between he and Smith weren't a matter of not talking, but talking and still not getting on the same page.
"If there was some way to avoid the lack of communication as Alex called it at that time, I would have liked to have done that," said Nolan. "I still feel like we were communicating - I just think the words that were exchanged - because it wasn't like we weren't talking, it was more we were together and the things that needed to be said weren't being said. It was two people exchanging conversations, but not hooking up as well."
Smith entered the 2007 season as the starter, but McCloughan said that Smith would have to earn the job in 2008, although his competition isn't clear at this point. McCloughan said he hopes to re-sign Shaun Hill, and that he will need to discuss Trent Dilfer and his future later this week. Dilfer's 14th NFL season came to a conclusion after suffering a severe concussion in the Vikings game. McCloughan also said he wouldn't hesitate to sign another quarterback in free agency or to take one in the draft, something the team has shied away from in the last two drafts.
"The more competition we have, the better off it is for everybody," said McCloughan.
Sidebar: Although Mike Singletary's name continues to be mentioned for various head coach vacancies, Nolan said that he has yet to be contacted by any teams for permission to interview his assistant head coach/linebackers coach.  CB Tarell Brown left Sunday's final game against Cleveland on a cart in the first quarter. The 49ers said that the rookie cornerback has an MCL tear and a partial tear of his ACL. The MCL injury will not require surgery, although the partial tear to his ACL could require surgical repair.