1ST QUARTER HIGHLIGHTS - 49ERS 7 - REDSKINS 0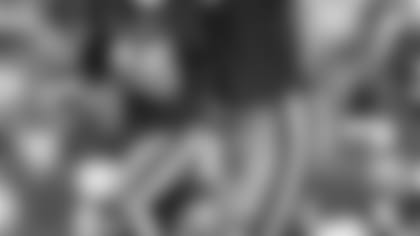 TE Billy Bajema fielded a short opening kick and took it 13 yards for good opening field position out at the 35.
RB Frank Gore started off the game with a 7-yard carry, followed by a 5-yard run out of the wildcat formation, and then left the field to get his ankle re-taped. DeShaun Foster was stopped for no gain on 1st down, but picked up a 9-yard gain on the ground on the next down. On 3rd and 1, Shaun Hill found an open Billy Bajema behind the Redskins secondary for a 29-yard gain and a first down at the Redskins 15. Back in the game, Gore was stopped for no gain. A short throw to Jason Hill earned four yards and set up a 3rd and 4. Josh Morgan caught a short pass and managed to get out to the sideline for a first down at the 3. Foster gained a yard on the ground, setting up a 2nd and goal from the 2. Hill seemed to be looking for a shovel pass, but with an open lane to the end zone, he took it. Guard David Baas enjoyed spiking the ball.
Redskins QB Jason Campbell had time to throw, but Walt Harris broke up a pass deep to Antwaan Randle El. A handoff to Clinton Portis gained two yards on a sweep out to his right. On 3rd and 8, Campbell tried a short dump off pass for Ladell Betts but it was out of his reach.
Following a punt that bounced out of bounds at the 35, Gore gained three yards on the ground. J. Hill took the ball on an end around and gained 9 yards and a first down. Hill flicked a short pass to Gore over the middle for a 6-yard pickup. On 2nd and 4, Foster ran over a few Redskins defenders for a 9-yard gain at the Redskins 38. Foster bounced it out to the left and was grabbed by the ankle by London Fletcher for a 5-yard gain. On 2nd and 5, a quick handoff to Gore picked up four yards up the middle, leading to a 3rd and 1. Hill threw to the right sidelines to Isaac Bruce but it was for a loss of one, bringing on Joe Nedney for a 48-yard field goal try that he pulled wide right.
The Redskins took over on downs at the 38. A 4-yard carry by Portis was followed up by Campbell's first completion, an 8-yarder to James Thrash. Using play action, Campbell hooked up with Santana Moss for a 17-yard completion at the 33. A false start set up a 1st and 15 from the 38, with the Redskins picking up 4 yards on a quick throw to Randle El. Portis swept to the right for a 5-yard gain, leading to a 3rd and 6. Campbell scrambled for the needed yards to move the chains. Portis followed up a 4-yard carry with a 7-yard burst up the middle to end the quarter with a Redskins first down at the 9.
2ND QUARTER HIGHLIGHTS, 49ERS 7 – REDSKINS 17
Portis burst through the line for a 4-yard touchdown that completed a 10-play, 62-yard scoring drive.
Gore's 3-yard carry put him at the 1,000-yard rushing mark on the first play of the drive. On 2nd and 7, Hill found Vernon Davis for a 9-yard completion and a first down out at the 36. Hill took a shot for Josh Morgan, but was picked by Carlos Rogers, who returned the ball to the 49ers 23-yardline before Hill mde the stop.
LB Manny Lawson nearly picked off a deep ball to Santana Moss to set the tone on the drive. On 2nd and 10, Justin Smith quickly brought Portis down after a gain of one, and then on 3rd and 9, Campbell's short pass over the middle to Betts was stopped for a loss of one by Joe Staley. Although the Redskins didn't gain a yard on the drive, it was close enough for Shaun Suisham to hit a 41-yard field goal to put the Redskins up 10-7 with 11:32 to go in the quarter.
The 49ers offense avoided another turnover as the ball got away from Hill on what looked to be a play action fake to Gore. Hill recovered but it lost 9 yards, yardage that the 49ers couldn't overcome as the 49ers had to punt after a three and out.
Parys Haralson stuffed Portis for a 4-yard loss to start off the next series, but Betts gained 6 on the next play which set up a 3rd and 8 at the Redskins 24. Campbell connecting with Moss for a 15-yard pass play to move the chains. Facing another 3rd and 2 out at their 47, safety Michael Lewis came on a blitz and got a sack, but it was negated due to a defensive holding penalty on Takeo Spikes. Spikes came up with a stop on Portis on a 3rd and 1 at the 39 for no gain, but the Redskins went for it and Portis easily picked it up with a 3-yard run. The Redskins converted another 3rd and 5 with a short pass to Chris Cooley that he took 12 yards to the 19-yardline at the two-minute warning. Two carries by Portis gained eight yards, setting up a 3rd and 2 at the 11. Safety Mark Roman came unblocked and had Campbell for a sack, but the Redskins escaped him and scrambled for the first down at the 6. Campbell threw a short pass to Randle El, who escaped a tackle by Nate Clements for a 6-yard touchdown. The 16-play drive covered 78 yards and allowed the Redskins to increase their lead to 17-6.
Hill threw three straight passes, completing only one on a 6-yarder to J. Hill as the first half came to an end.
**3RD QUARTER HIGHLIGHTS, 49ERS 14 – REDSKINS 17
**The Redskins opened the second half with Campbell immediately picking up a first down with a 10-yard completion to Moss. Portis lost the ball on a draw play up the middle, and Spikes recovered at the 38.
Gore headed out to his left for an 8-yard gain. Robinson then took the snap in the wildcat and handed off to Gore for an 11-yard pickup over right guard. Foster took the next carry for an 18-yard gain, also over right guard. Set up at the 1, Foster needed two chances to get into the end zone for the score.
Justin Smith and Aubrayo Franklin dropped Cambpell for a 13-yard sack to start off the Redskins next offensive series. Two screen passes to Cooley and Betts still came up ten yards shy of a first down as Washington had to punt.
Allen Rossum got the return to the 25-yardline.
Barry Sims was called for a false start, losing five yards. Hill was quickly forced out of the pocket and threw a dangerous pass to Bryant Johnson, who had Rogers all over him. A screen pass to Davis picked up 5 yards, leading to a 3rd and 10. Hill took a shot for Bruce but it was overthrown.
Lee's 47-yard punt took a favorable bounce over Randle El's head. By the time he picked it up, he was gang tackled by a trio of 49ers for a -2 return.
The 49ers defense held the Redskins to a three and out with S Dashon Goldson batting down a 3rd and 2 pass for Randle El.
A horrible punt by Ryan Plackemeier took a favorable roll, down to the 49ers 18-yardline.
With 6:24, Gore took the handoff and squeezed out a 10-yard run before fumbling at the end of the play. Delanie Walker picked it up and gained another two yards. Andre Carter then dropped Hill for a sack, but on 2nd and 17, Hill hit Josh Morgan on a quick slant. Morgan had room to run and got just shy of the first down marker. On 3rd and 1, Gore crawled and looked to have had the first down, but officials didn't give him much of a spot. Head coach Mike Singletary didn't challenge and the 49ers punted.
The defense stopped the Redskins on a 3rd and 3 pass play on what would have been a three and out, but Parys Haralson was offsides on the play, handing Washington a first down at the 23. A 9-yard pass play to Moss set up an easy 2nd and 1 conversion for Portis. Cooley dropped Campbell's next pass, and then was forced to throw away his next. On 3rd and 10, Campbell got the ball to Cooley for a 14-yard completion as the quarter came to an end.
4TH QUARTERHIGHLIGHTS, 49ERS 27– REDSKINS 24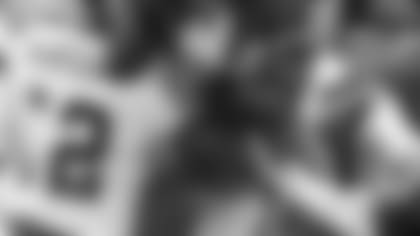 A 4-yard run by Portis started the final quarter. Harris drilled Moss to force an incompletion, with the Redskins leading receiver than just flat out dropping a slant pass that would have been a first down.
Safety Keith Lewis just narrowly missed a block on the ensuing punt.
The 49ers started off their next drive with a 19-yard completion over the middle to Bryant Johnson. The throw was short, but Johnson slid and made the grab. Foster caught a short 5-yard pass and then made a one-handed grab for a 12 yard pickup to the Redskins 44. Hill then launched one up for Robinson, who leapt to make a 24-yard reception at the 20. An end zone throw to Johnson was defensed by Shawn Springs. On 2nd and 10, Hill threw to Bruce, who picked up 9 yards to set up a key 3rd and 1 at the 11. Robinson took the handoff and stayed low to get the needed yard, plus one for a first down at the 9. Hill threw to J. Hill, who then dove for the pylon. The officials discussed it for a minute, but gave J. Hill the TD.
Nate Clements started off the next series with a one-yard stuff of Portis. On 2nd and 10, Campbell got the ball to Cooley, but Lawson made the stop a yard shy of the marker. Justin Smith burrowed through the line and dropped Portis for a loss of one on a 3rd and 2 at the Redskins 35-yardline, forcing another punt after a three and out.
A 35-yard punt return by Allen Rossum set the 49ers up at midfield. Hill immediately threw a deep ball over the middle to Morgan for a 26-yard strike. The drive then stalled and Nedney was brought on for a 33-yard field goal to put the 49ers up by 7 with 5:06 left in the game.
A 43-yard kickoff return by Rocky Cartwright set the Redskins up at their own 45-yardline. Campbell's 2nd and 10 pass to Cooley counted for 12 yards and earned the Redskins a first down at the 49ers 31. On 2nd and 12, Campbell scrambled up the middle for a 23 yard gain to set the Redskins up at the 10-yardline. Runs by Portis for 1 and 2 yards was followed up by a 5-yard catch by Cooley to advance the Redskins to the 2-yardline. On 4th and 2, Campbell had no one to throw it to, and then scrambled up the gut for a 2-yard touchdown.
Suisham tied the game with his extra point.
Rossum got the kickoff out to the 27 for the offense with 1:02 left in the game.
J. Hill dove to make a 9-yard catch on 2nd and 10 to set up a 3rd and 1 play that Hill converted with a 19-yard toss to Robinson. After spiking the ball to stopo the clock, Hill found Johnson over the middle for a 19-yard completion at the 21. Another spike and a knee led to a 39-yard game winning field goal by Nedney as time expired.