On Sunday the 49ers held a shells only practice to fine tune before they traveled up to Napa for a pair of joint practices with the Oakland Raiders scheduled for Monday.
But before they hit the road, the 49ers worked on goal line run plays and held a team scrimmage.
Head coach Mike Nolan said the 49ers objective is to try and get as much good work in as they can. He also commented that his players are fired up for the practice in Napa.
"If you're competing against a guy from another squad, that gets your attention," he said.
Veteran cornerback Walt Harris was also aware of his teammates' enhanced anticipation of the trip.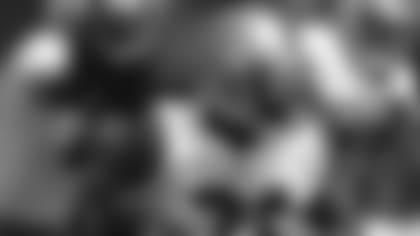 "You can kind of sense it and feel it," he said. "Guys are really looking forward to going to Napa."
Quarterback Alex Smith worked with the first team during team drills on Sunday and Shaun Hill worked with the second team. Tight end Vernon Davis and rookie wide receiver Josh Morgan both caught two passes.
Joining them on the field was wide receiver Ashley Lelie, who had been out of action since the first week of camp with a strained calf.
"After being on the sidelines, it felt good to be back out there," he said after the workout. "I'm glad my calf held up today – it felt good."
Lelie credited 49ers assistant strength coach Mark Uyeyama for helping maintain his stamina while he was out of action.
Also back in action was rookie defensive lineman Kentwan Balmer, who made an impressive play during the team portion of practice. As wide receiver Jason Hill carried the ball on a reverse, Balmer stayed home and was there to make a play on Hill in the backfield.
After the 90-minute practice, a number of players were excited to face their cross-town rivals in a competitive atmosphere Monday.
"I think the opportunity to go against the Raiders will really benefit this team. It's going to be exciting," center Eric Heitmann said. "They're our local rivals, and we're looking forward to it."
With the first preseason matchup between the two teams less than a week away, the 49ers are looking forward to getting a preview of what to expect for their trip to McAfee Coliseum on August 8.
"I think it's about time we hit somebody else," linebacker Tully Banta-Cain said. "We've been beating on each other for the past week and a half now. The competition has been kind of monotonous, so it's nice to switch it up and go against another color."
WR Ashley Lelie and DL Kentwan Balmer returned from their injuries and participated in all portions of practice.
WR Jerard Rabb injured his groin during practice. S Lewis Baker (thigh) and S Mark Roman (hamstring) missed practice because of their injuries. TE Delanie Walker went through some individual work, but was held out of part of practice due to headaches.
RB Michael Robinson remains out after having his knee scoped, while G David Baas is still on PUP.
LB Parys Haralson went through practice today, but will not make the trip to Napa to rest his sore shoulder.