Residents of the Valley Village Retirement Community in Santa Clara can't remember the last time they had as much fun as they did Tuesday.
They spent the afternoon playing cards, but it was the celebrity dealers that really made the day so memorable.
Several 49ers players including cornerback Tarell Brown, safety Mark Roman, long snapper Brain Jennings and center Cody Wallace sported green card dealer hats as they led the residents in games of go fish, hearts, steal the old man's deck, blackjack, rummy and gin rummy. Also joining the players as dealers were Alice Pivacek and Frank Kadlecek, who both serve on the Santa Clara Senior Advisory Board.
"This was the most wonderful thing we have ever had," said Ann, who has lived at Valley Village for 20 years. "We have had some nice things, movies and so forth, but this brought out real joy to the people. You could see they were having fun. They were mixing and everybody was trying something. It was a real new experience, the best thing that could have happened to us."
Along with the players, Santa Clara mayor Patricia Mahan and former 49ers players Gordy Saltau and Len Rhode also served as celebrity dealers.
From the beginning of the event, it was obvious how many 49ers fans there were at Valley Village. The residents were excited to see their favorite football players in person, and they all took advantage of the opportunity to get some autographs. Everybody left the event with a smile across their face.
"Having the players here and some of the alumni players that some of the old-timers remember was really a treat for them," Mahan said. "They just had a great time. It was fun, they liked the socialization.
"You can just tell they had a great time."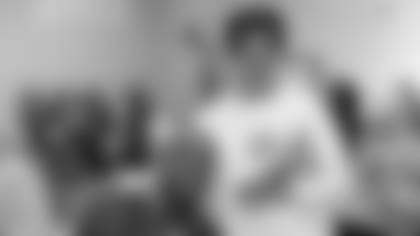 And the Valley Village residents weren't the only ones who enjoyed themselves Tuesday. The players really connected with the retirement community residents and had a great time throughout the afternoon.
"The 49ers as an organization are very community-oriented, and we always have a great time coming out here doing this sort of thing," said Roman, who was playing gin rummy at a table full of Valley Village women. "Just to come out here and to be in touch with these older ladies is a good thing. Maybe they can teach me a couple of things."
And throughout the afternoon, they did.
The 49ers know how valuable of an experience it is to learn from the elderly, and they all left the retirement community with some new knowledge.
Roman got marriage advice from the women at his table, although he isn't sure whether he will take it. "I don't know if I can just say, 'Yes, dear,' all the time like they told me to," Roman joked.
Brown gained a lot of wisdom from the people at his table, but the tangible thing he left with was knowledge of a new card game.
"They're teaching me to play rummy, I've never played before," he said. "I'm doing alright. I'm losing, but I'm doing alright."
Jennings spent his afternoon playing blackjack, and by the end of event Jennings had most of the chips at his table.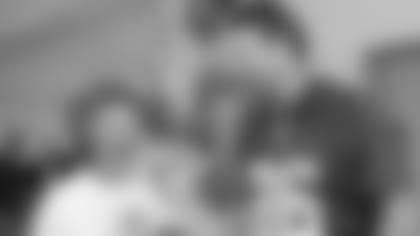 "Unfortunately for the guests at the table, the house is cleaning up right now. And I'm the house," he joked. "It's going well for one person with the green hat. I'm not real popular right now."
This Community Tuesday event was also one way the 49ers will show support for Veterans' Day next week. Many of the Valley Village residents are veterans, and they appreciated the 49ers support of the military.
"This is our greatest generation, which you can tell by their patriotism and their spirit here," Mahan said. "It was really nice to recognize our veterans today."
The 49ers would like to give a special thanks to Mariani's of Santa Clara for catering the event and providing great food to accompany a great day at Valley Village.