The San Francisco 49ers announced Wednesday that QB Alex Smith was placed on injured reserve with a shoulder injury. Smith sustained a non-contact injury to his surgically repaired right shoulder late in practice on Friday.
It marks the second straight season that Smith has wound up on the I/R list.
"Alex and I were so excited last year with what he was going to do," said now second-string quarterback Shaun Hill. "He looked so good in the preseason, so good throughout practice, so good in the offseason, we were very excited for what he was going to do. It's very sad that this has happened to him again, getting injured. Hopefully he'll get it corrected and he can move on."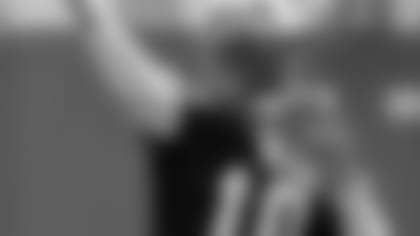 Quarterback Jamie Martin, a veteran of 14 NFL seasons, was signed to the 53-man roster to replace Smith.
Martin (6-2, 205) most recently spent the 2006 and 2007 seasons as a backup with the New Orleans Saints. He was originally signed as a rookie free agent with the Los Angeles Rams in 1993 out of Weber State. After moving with the team to St. Louis is 1995, Martin spent the 1997 season with Washington, the 1998 season with Jacksonville and the 1999 season with Cleveland. He returned to Jacksonville in 2000 and then went back to St. Louis in 2001 for two seasons. He spent part of 2003 with the New York Jets before returning to St. Louis for the 2004 and 2005 seasons.
"Well, I live in St. Louis with my family and we've got the kids in school. I had just been working out," said Martin. "I'm happy with my career to this point. I figured maybe something would happen but if not that was just fine. And I got the call from Mike [Martz] and here we are."
Martin saw the most extensive duty of his career in St. Louis in 2005, starting five games in relief of injured QB Marc Bulger. During that span he completed over 70 percent of his passes and led the Rams to a 4-1 record.
Martin has a history with 49ers offensive coordinator Mike Martz. The two worked together when Martz was an offensive assistant with the Rams in 1993 and quarterbacks coach in 1994. The two also were together in Washington in 1997 when Martz was quarterbacks coach with the Redskins. Martin and Martz were reunited with St. Louis in 2001 when Martz was the head coach of the Rams.
"Some plays jump out at you with the familiarity," said Martin of his first glance at the 49ers playbook. "Obviously it's one thing for it to be familiar on paper – it's another thing to get out and see it out on the field again and get re-acclimated to it again."
In addition, the 49ers announced that they have waived DE Louis Holmes from the practice squad, replacing him with DE Larry Birdine.
Birdine (6-4, 270) originally signed with Green Bay as a rookie free agent in 2007 out of Oklahoma. He was waived by the Packers and spent time on the Tennessee practice squad before being signed to Denver's 53-man roster in early November. Birdine was inactive for the final eight games of the 2007 season. He went to training camp with Denver this past summer but was waived prior to the start of the regular season. 
Holmes originally joined the 49ers as a rookie free agent in 2008.