On Monday, November 2, the San Francisco 49ers hosted their annual Bike Build with TurningWheels for Kids presented by Optum at the SAP Performance Facility. Players including WR Torrey Smith, DT Quinton Dial, and FB Bruce Miller along with nearly a dozen others from the 49ers roster joined 49ers front office staff and volunteers from Optum and Optum Cycling to assemble 50 Diamondback and Raleigh bicycles for students of 49ers Academy. Assisted by TurningWheels for Kids, teams of volunteers powered through the assembly process and ensured that each bike passed the quality control test before being delivered to the students in a special ceremony at the 49ers Academy in East Palo Alto. More than just a recreational tool, the bikes will provide the students with transportation and additional access to critical community resources. The San Francisco 49ers Academy opened in 1996, and in alignment with the 49ers Foundation, seeks to "Keep Kids Safe, On Track and In School." The Academy serves middle school students and provides a small, caring and safe community – both during the school day and through after school programs. The Academy aims to bridge the opportunity gap by creating transformational learning opportunities that empower youth to realize their full potential.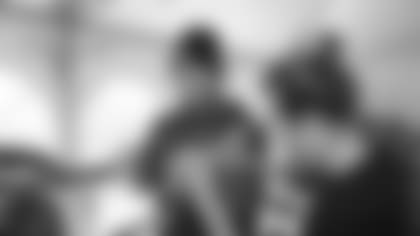 G Andrew Tiller, QB Blaine Gabbert, TE Blake Bell, P Bradley Pinion, WR DiAndre Campbell, NT Garrison Smith, RB Kendall Gaskins, LB Marcus Rush, LB Nick Bellore, OL Trent Brown, TE Garrett Celek, and TE/LS Kyle Nelson joined Torrey, Quinton and Bruce to affix handlebars, pedals, reflectors and tires to the bikes for the youth.   
"It's a great way to give back to the kids in our community," shared Kyle Nelson, who also participated in last year's bike build. "Last year, I saw excited the recipients were when they received their bikes, so I have really been looking forward to the event and meeting this year's beneficiaries."
In the afternoon, five student leaders joined 49ers players and Optum volunteers to put the finishing touches on their bikes. The build was followed by a lesson in bike care and safety, which the students later took back to their classmates to share their learnings. These bikes will not only serve as a source of fun and recreational activity, but also as a means of transportation for youth to and from school and after school activities in East Palo Alto. For many of the students, this is the first bike they've ever owned.
"It's an indescribable feeling to be part of this, impacting the community in such a positive way," said Torrey Smith. "It's great to see the kids with their new bikes and to realize what this means to them."   
TurningWheels for Kids is a non-profit organization that distributes bikes year-round via various partnerships focused on preventing childhood obesity, supporting low-income families and aiding foster children. By providing bikes, TurningWheels seeks to improve children's health and well-being. To learn more about the organization, including volunteer opportunities, please visit their website at turningwheelsforkids.org.