Downtown San Francisco was filled with cheers from a crowd of thousands as 49ers linebacker Manny Lawson, tackle Joe Staley and guard Chilo Rachal partnered with additional San Francisco celebrities and local chefs at the 7th Annual Celebrity Crab Fest at Union Square – a fundraiser for the San Francisco 49ers Foundation.
Crab parts quickly were flying as the three minute timed competition got underway when eleven competing pairs worked to remove the most meat from their crab as possible. And just like on the field, the contest quickly got competitive.
A four time crab cracking participant, Manny Lawson, was hoping this was his year to win and even though Rachal and Staley are rookies at the event, Lawson still wasn't going to give them advice.
"We are on the same team, but at an event or a contest like this, it's every man for himself," said Lawson. This is my fourth year coming. I haven't won in the past three years I've done this. I'm saving all tips I might have and keeping them to myself."
Lawson also weighed in on how well he thought Rachal and Staley would do in the contest. "Well, this is funny. Chilo came here in hopes to eat crab. He didn't know it was a crab cracking contest. Joe Staley is allergic to shellfish. So it's going to be a toss-up between them because one may eat it and the other might just throw it away. So we don't know."
After three minutes of non-stop cracking, the veteran Lawson was upset at the end as rookie cracker, Chilo Rachal, and his partner Darren Lacy, executive chef at Luques Restaurant & Bar, won the contest with his bowl of crab meat weighing over 8.6 pounds and took home the coveted trophies – a sourdough bread crab.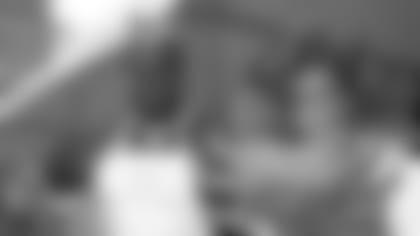 "I just had a plan when I came in," said Rachal. "I just cracked and cleaned it all out."
Although the contest with the players was the highlight of Saturday's event to honor San Francisco's favorite food, the Dungeness crab, the event allowed everyone a chance to get into the crab action. The Square was packed throughout the afternoon as the crowd sampled crab delicacies from some of the best restaurants in San Francisco. Eleven food booths lined one side of the square and a beer and wine garden pouring Guinness beers and wine from Kenwood Vineyards Winery was a central point for hours after the contest. 49ers players were also on hand at the 49ers booth to sign autographs with a $20 donation towards the 49ers Foundation.
In addition to the autograph donations, the 49ers Foundation, which aims to help support and fund development programs for underserved youth that keep them safe, on track and in school, raised an event record of over $16,000 through beer, wine, and food ticket sales from generous fans in less than three hours! 
The 49ers Foundation would like to extend a big THANK YOU to the Union Square Association for producing the event and all the event sponsors: Golden Gate Disposal & Recycling, Macy's, Guinness, The Chancellor Hotel on Union Square with Kenwood Vineyards, The Kimpton Group, Boudin Bakery & Bistro, Sears Fine Food, Stanley's Steamers, MJM Management Group, the San Francisco Department of the Environment, CBS5 and the CW 44cable12.
Another big thank you to the participating restaurants and chefs: Jen Biesty of Scala's Bistro, Adam Carpenter of Ponzu, Keira Moritz of Puccini & Pinetti, Robert Helstrom of Kuleto's, Seis Kamimura of Postrio, Darren Lacy of Luques Restaurant & Bar at the Chancellor Hotel, Fernando Padilla of Boudin Bakery, Mauro Pando ofThe Grand Café, Thomas Rimpel of The Oak Room at the Westin St. Francis, Richard Slusarz of Grandviews at the Grand Hyatt, and Arnold Wong of E & O Trading Co.
And finally to the celebrities participating in the crab cracking contest: Joe Staley, Manny Lawson, Chilo Rachal, the Gold Rush girls, SF's legendary doorman Tom Sweeney from the Sir Francis Drake, Sasha Farber from Burn the Floor, San Francisco Fire Chief Joanne Hayes-White, Miss Chinatown San Francisco Amy Chu, CBS5' Dave Ramazzano, and Paul Tonelli from 107.7 The Bone.