On Saturday night at the Fairmont Hotel in downtown San Jose, 49ers Owners Denise and John York were honored at City Year San Jose/Silicon Valley's 2010 Starry Night 16th Annual Benefit Gala with City Year's Service Leadership Award recipients for their outstanding community work in the Bay Area community through the 49ers Foundation.
"City Year has a 21 year history of community service across the nation," said City Year San Jose/Silicon Valley Executive Director Beach Pace. "Once a year City Year sites recognize leaders in our local communities who exemplify a commitment to service and education. City Year San Jose/Silicon Valley is proud to honor Denise and John York, the 49ers and the 49ers Foundation with our Service leadership award for their commitment, dedication and investment in education and our community."
As supporters of City Year San Jose/Silicon Valley, the 49ers Foundation's goal to keep youth "Safe, On Track, and In School" aligns with City Year's initiative to keep students in school and on track. Over the past three years, the 49ers Foundation has donated $160,000 to City Year San Jose/Silicon Valley.
During John York's acceptance speech, following thanking the organization for the honor and fellow attendees for being at the event, he spoke of how every person in the room can help make a difference.
"City Year can be an opportunity to reevaluate how each of us see's our world, opening our eyes and hearts to the hardships of our neighbors and keeping us from being blind from the reality of the world," said York. "I think this world view really captures the essence of City Year's mission to give a year, change the world. Let's all take that motto for ourselves and figure out how we can help change the world."
City Year unites young people ages 17-24 for a year of full-time service, giving them the skills and opportunities to change the world. As tutors, mentors and role models, these diverse young leaders help children stay in school and on track, and transform schools and communities across the United States.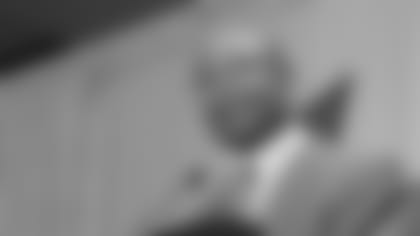 49ers Head Coach Mike Singletary was also in attendance to show his support and spoke following the fundraiser discussing how important it is for youth all over to have people who care in their lives and the impact those mentors can have on the children's lives. Team President/CEO Jed York, along with twin sisters Jenna and Mara York attended to show support for their parents and the 49ers Foundation as well as 49ers alumni Keena Turner and Guy McIntyre.
Saturday's award reception also included a sit down dinner and fundraiser for City Year San Jose/Silicon Valley along with a variety of inspirational speeches. One speaker was a current City Year staff member who stood up on stage with a nine year old boy named Christian and spoke of the motivational impact she made on Christian's life and how she helped change him from being a student who was always in the principal's office for behavioral reasons to one who now is constantly praised for his good grades and attitude by his teachers.
According to City Year, in Silicon Valley there are an estimated 4,400 students off track in school in any given year. During the 2009-2010 school year, City Year corps members have worked one on one and in small groups with the students and schools that need them the most. In just the first half of the school year 65% of students tutored have improved at least one-half grade level and 90% of students tutored have increased literacy scores.
During the dinner, City Year hosted a fundraiser where they raised nearly $55,000 to help keep children on track and in school. The York family was one of the first to raise their pallet and donate $10,000 toward the cause.