The weather isn't the only thing heating up in Santa Clara right now as the 49ers appear to have adjusted their offensive philosophy to include hot reads.
In the past, the 49ers kept things simple for their quarterback and relied on the offensive line to pick up the blitz, but offensive coordinator Mike Martz apparently plans to go on the attack.
"We've got a lot of hot routes and sight adjusts and I think that's very important," said tight end Vernon Davis who is thrilled to have found himself on the receiving end of several hot reads. "You take advantage of a blitz, get rid of the ball quick, and try to make a play out of it. That's where big plays come from a lot of times, off of hot routes."
Head coach Mike Nolan explained the difference between the past and new offensive approach following Tuesday's open OTA session.
"To get technical for just a moment, some people redirect all their protections so that everything is picked up every down," said Nolan. "I'm a defensive guy, so I'm always trying to see if I can get you to think I'm coming here, and then come over here instead. If you are right on offense, that's great. You picked up the blitz and the quarterback has a lot of time and everyone still has to get open. If you throw right into the blitz, there is usually a guy wide open standing there, you just have to get him the ball. Some teams don't redirect. They try to take advantage because they know you are coming but they also know what they are going to do with the ball."
As a former defensive coordinator, Nolan said Martz' system makes him a lot more nervous to defend.
"If you are going to pick it up, I know I just have to play coverage. But if you are exposing me and hitting receivers that I'm not accounting for because I'm hoping the blitz will take care of them, then I have a chance for a big play that can hurt me," explained Nolan. "If you look at Mike's numbers in his offense, that's a lot of what happened. The greatest show on turf wasn't because it was three yards and a cloud of dust or even if the receivers aren't getting much on the catch, those receivers break one tackle, you have a chance for a big play."
Quarterback Shaun Hill is a fan of the addition of the hot reads and the quick and short throws, but he also believes Martz' offense lends itself to taking shots deep.
"What's nice is there are times when the defense is being aggressive and we need to get the ball out quick and make plays, but there are also times when the defense is being aggressive and we can take shots down field and take advantage of them in that way too," said Hill. "There are both of those in this system and it's up to us to know when we can do those."
Making the best decisions in those situations is something that could play into the 49ers starting quarterback battle.
While Nolan called Hill a "gamer," and a player he knows can step in and command the offense, the 49ers head coach touted Alex Smith for his raw and natural abilities.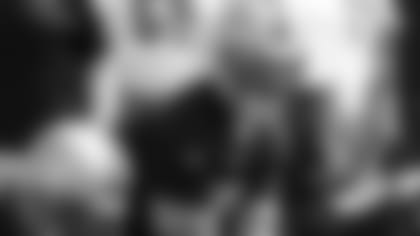 "Alex is very athletic, has the strongest arm out of all of the guys," said Nolan. "He's really intelligent. Now he has to go in there and put together four quarters with the group and move the ball consistently and make plays that he should make."
And Smith, like all of the 49ers quarterbacks, has more being demanded of him than ever before.
"We certainly do more; really giving defenses different looks, running a combination of different things," said Smith. "There's a lot new for me. From a quarterback perspective, I'm asked to do a lot of different things and I have to have a lot of different tools."
Thus far, Nolan likes how Smith has bitten off some of those new responsibilities.
"Right now I'm seeing him do things in practice that he hasn't done in practice or in a game before," said Nolan. "For instance, putting the blitz on his shoulders and getting the ball to the receiver real quick instead of going back and hoping the protection has picked it up. Those little things, he's shown the ability in practice."
Translating that to an actual game can be a different story, which is why Nolan is in no rush to name a starter, reiterating on Tuesday that he intends to include preseason play in the evaluation process.
However, Nolan did concede that his staff might at least put together a pecking order for the start of training camp.
"At some point you do have to make a decision who takes more reps with the first group than the second, but it doesn't decide who your quarterback is," said Nolan. "You do have to do some of that in all fairness to the other players. If they are getting a different quarterback all of the time, it's hard for them as well. You do have to create some of that, but it's not the deciding factor."
Other Tidbits from the Offense

TE Vernon Davis said he's also running more deep routes this year, and even routes that Martz has used Torry Holt and Isaac Bruce for in the past.
Asked whether or not the offensive playbook is heftier than in year's past, QB Alex Smith had this to say…
"It's more demanding. For the amount we've put in, in this amount of time, yes, this is more than past years of new offenses, just from a sheer amount. I don't know when that ends."
To the untrained eye, Mike Martz' offense might feature the typical gunslinger at quarterback, but Smith argued that it's actually very controlled.
"I think a lot of times it comes off that way because there are balls getting thrown all over the place and lots of types of throws," said Smith. "From an outside perspective and even for me watching film early-on and not having the knowledge of the offense, yeah, it looks like the gunslinger back there. But it's very fundamental in how it is put in and installed. It's very much the opposite of just go out there and make it happen. This is very thought out. Everything is done for a reason. Everything is coached extremely hard."
With OTAs nearing their end, QB Shaun Hill will turn to Camdenton High School quarterback Kyle Simpson to help keep him prepared in the final weeks before training camp. The two hooked up last off-season when the youngster was part of a crew painting Hill's house in the Lake of the Ozarks, Missouri.
"His boss told me he was a quarterback and so after he got done, we'd head out and throw," said Hill. "I talked to him through his whole season, had him bring over some of his film, and when I'm home we go out and throw spots to each other. Sometimes when i need extra conditioning, i'll run routes for him."