Fresh off their trip to Indianapolis for the NFL Scouting Combine, 49ers head athletic trainer Jeff Ferguson and his staff opened up the training room on Wednesday for a group of 20 students from Pacific Grove High School.
The students, who are currently enrolled in a class in the study of sports medicine, came to 49ers headquarters because they are interested in pursuing a career in the medical training field.
The group was greeted by the 49ers community relations staff who gave the students, along with their sports medical instructor Dr. Anthony Payan and Athletic Director Todd Buller, a tour of the 49ers facility. Afterwards, they spent roughly an hour downstairs in the locker room and training room hearing from Ferguson about, what for many, is their dream job.
According to Buller, giving the youth an opportunity to see NFL trainers in action will motivate the youth even further to reach their goals.
"Any time you want to excite a kid to want to do something, whatever that is, these kinds of experiences make it very real for them," said Buller. "In class, they can talk about taping, they can talk about injuries. When they really see people that are doing it and it's an occupation at the very highest level, where we're at today, it really means a lot. I think it sparks a lot of interest, and it makes kids want to excel."
Ferguson spoke to the youth about what exactly medical training is, paths the students could take to become a medical trainer, and then shared his personal experience on how he got where he is today and what it's like to be a medical trainer in the NFL.
"I think the words of the trainer Ferguson will affect the kids greatly, just to persevere in school," said Payan. "He was so humble in the way he talked about his profession and how he got to where he is at. Just the experience of the facility and the kids seeing and hearing concepts that they've been familiar with – that they're now familiar with. It's really, really wonderful for me as an instructor. It's been great, been awesome."
During the talk, Ferguson mentioned 10 points the 49ers training staff use as their keys to success throughout the year: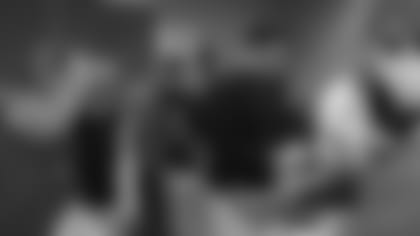 Be professional.
Control your pattern of speech.
Develop a high level of concentration.
Players come first.
Develop and maintain a sense of urgency.
Be on time.
Control your emotions; Handle pressure.
Develop a sense of appreciation for where you are.
Treat people with respect.
Develop your ability to listen.
The group even got a surprise visit from 49ers Pro Bowl defensive lineman Justin Smith, who was at the facility working out and decided to stop in and say hello to the youth.
Having the opportunity to see the 49ers facility and spend time in the training room and meet the team's MVP isn't an opportunity that is handed out every day, and neither is having a "tape off" with one of the 49ers trainers in the actual training room the players get taped at before every practice.
Following a demonstration from Ferguson about the proper technique to tape ankles and an explanation on how you tape for a variety of injuries, Ferguson challenged two of the students to partake in a "tape off" with 49ers training intern Josh Sims.
While the students performed well, Sims has taped countless numbers of ankles and won the contest with ease, but it definitely inspired the youth to put in hours of ankle taping to one day get where Sims is. Following the win, Sims mentioned when he was in school, his fellow students and him would spend hours just practicing on each other to get it right.
"The kids will always remember the trainers' talks about their education, and then the tape-off," said Payan. "They're amazed at what a real trainer does and how he tapes. They'll never forget that – and the facilities."
After the tape off, the 49ers wrapped up the tour with a visit to the locker room, opportunity to walk onto the practice field and lunch in the newly created 49ers Café.