At a glance, Mischa Byrne and James Jiles have nothing in common.
Mischa is a seven-year-old boy from San Jose who runs around with a gap-toothed grin while Jiles is a 68-year-old from Pittsburg, Calif., who has a hard time moving around anymore.
But these two share a common bond that nobody wishes to have – they are suffering from life-threatening illnesses.
However, they shared another connection Thursday night when they were the 49ers special guests as the team took on the Chicago Bears.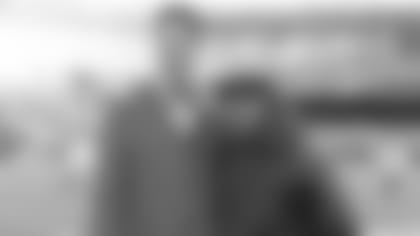 "This just really made my day," Jiles said. "It is so amazing to be out here."
Through charitable organizations and the work of the 49ers community relations department, Mischa and Jiles were given the opportunity to do anything they wanted, and both chose to go to a 49ers game.
"This was absolutely at the top of his list," said Mischa's dad, Brendan Byrne. "There wasn't any question that this is what he wanted to do."
Mischa was at the game as part of the Make-A-Wish Foundation. The Make-A-Wish Foundation is a world-wide charity organization that grants wishes to children with life-threatening medical conditions.
The Dream Foundation allowed Jiles to attend the game. The Dream Foundation was the first national wish-granting organization for adults suffering from a life-limiting illness.
Both Mischa and Jiles were on the field for pre-game warm-ups and got to see their favorite players up close before watching the game. They even got to meet members of the team including cornerback Nate Clements and tackles Joe Staley and Tony Pashos. They also had the opportunity to meet 49ers alumni Keena Turner and Steve Bono.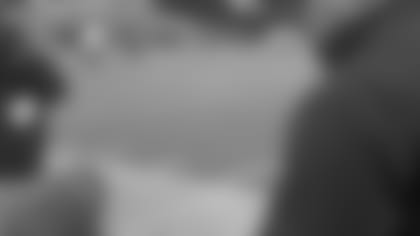 However, perhaps the biggest highlight of Mischa's day was when he got a special visit from 49ers defensive coordinator Greg Manusky.
"That was awesome," Brendan Byrne said. "That coach came over here and gave him a football then played catch with him on the field.
"Everyone around here has been so great to us and it means a lot to us. I can just see how happy he is over there and that means everything."
Jiles was at the game with his younger brother George Jordan, and like Mischa's father, Jordan could see how much his loved one was enjoying the experience.
"This is something he always wanted to do and I know he is having a great time," Jordan said. "He is loving this, I know it."
The Make-A-Wish Foundation was founded in 1980 and has granted more than 185,000 wishes since its inception. In the last year alone, Make-A-Wish has made 336 wishes come true in the Bay Area.
"It is something that gives them a little bit of hope and it helps them go through what they are going through," said Hermelinda De La Torre, program director for the Make-A-Wish Foundation of the Greater Bay Area. "They spend so much time in the hospital and can't live like most kids, so this gives them an opportunity to feel normal and it is a great way to help them cope with their illness."
The Dream Foundation was founded in 1994 and its mission is to enhance the quality of life for individuals, and their families, at the end of life's journey. This is the first year the Dream Foundation has operated in Northern California.