One NFL scout called linebacker Patrick Willis "a beast." And that was before Willis won The Associated Press 2007 NFL Defensive Rookie of the Year award.
Willis' dominant performance could have been overlooked because his San Francisco 49ers went 5-11 in a mediocre division. Instead, his league-leading 174 tackles and presence all over the field made him a runaway winner and the fifth straight linebacker to take the honor.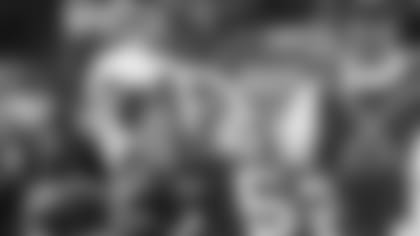 Willis earned 48 votes on Friday from a nationwide panel of 50 media members who regularly cover the NFL. Only Carolina linebacker Jon Beason, with two, also received votes.
"It's confirmation of what you've been doing as an individual," Willis said. " From an individual perspective, it would be good for people that doubted, or didn't know if you could be a No. 1 draft pick, or if you could come into the league and do well because of your size or where you might have played ball at ... and show them that if you put your mind to it, you're capable of anything."
Willis certainly looked capable of just about anything as he did just about everything in 2007. The 11th overall draft pick in the 2007 NFL Draft from Mississippi was a dynamic presence from the first practice with the 49ers, and by season's end, opponents were scheming to avoid him.
It didn't work very often, witnessed by his total tackles, four sacks and his ability to disrupt the opposition. He made 11 tackles in the season opener and had at least 10 in 10 games. His high was 20 against Tampa Bay, when Willis also had two sacks.
"The good Lord has blessed me with skills that are uncommon, but are just something that I do naturally," he said. "I also know I couldn't do it by myself, without help from my fellow linebackers or that D-line. Knowing that, I just stay humble. Whether it's in the movies or whether it's in real life, you see guys that got bigheaded, and they're in for a rude awakening."
Willis is the third 49ers player to win the award, joining tackle Dana Stubblefield (1993) and cornerback Bruce Taylor (1970).
He also continued the run of linebackers earning the honor. The previous four were: DeMeco Ryans of Houston, Shawne Merriman of San Diego, Jonathan Vilma of the New York Jets, and Terrell Suggs of Baltimore.