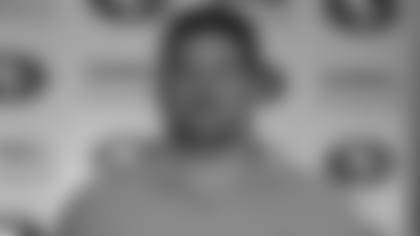 "I had planned on going to my other visits but in getting out here, meeting Greg, meeting Coach Nolan, it felt right. The city felt right. The situation mainly felt right. I felt like why go on another visit if you are going to be right back here.?" - Smith on cancelling his other trips.  *49 will not be Smith's actual jersey number. It is just to signify he's a 49ers.
Heading into free agency 49ers general manager Scot McCloughan said he had a Plan A, as well as backup plans in Plan B, and Plan C. On Saturday, the 49ers executed Plan A, signing the top unrestricted free agent on their wish list in former Cincinnati Bengals Justin Smith.
"You always have a priority in anything you do and Justin was definitely our priority," said General Manager Scot McCloughan. "Justin fills a need position for us, but more importantly, when you are putting out these kind of dollars, you want the whole package and he is the whole package. He's got play making ability, the toughness we look for, and a tremendous work ethic, so I'm very excited about this addition."
Head coach Mike Nolan echoed similar sentiments when it came to his newest defender.
"We are very excited to have Justin join our football team," said Nolan. "He's a very good player, a hard-working football player, he's very committed to his craft and he plays the game much like Bryant Young did in that he goes all out every down, plays hard and makes a lot of plays."
Smith planned to visit the Minnesota Vikings and possibly Jacksonville before coming to a decision, but a helicopter excursion over the San Francisco Bay area and dinner with Nolan, defensive coordinator Greg Manusky, linebacker Jeff Ulbrich and kicker Joe Nedney helped seal the deal.
"The reason I cancelled the visits and signed here was meeting the coaching staff, meeting some of the players, watching tape and really seeing where this defense is and where it can go," said Smith. "I was really impressed with the defensive coordinator and just everything – it's a first-class organization from top to bottom."
Just to be sure, the 49ers wanted to give the Missouri native some reassurance that it wasn't solely city life in Northern California.
"Anyone who comes to us, we try to sell our organization as best we can," said Nolan. "We want people who want to be here, but you understand that a lot of teams are vying for these same key guys. So in the limited time you bring someone in, you want to talk football and then with Justin, we wanted him to get a lay of the land. We took a great helicopter ride up and down the peninsula, saw the city, went by the Golden Gate bridge and came down the coast. It was very good for him to see the area. He and his wife like the outdoors so I think it gave him a good lay of the land."
Now for what sold the 49ers on Smith.
The former fourth overall pick in the 2001draft played seven seasons with the Cincinnati Bengals, including six straight years where he led the defensive line in tackles. Working at both end and tackle in the Bengals 4-3 defense, Smith is an every down player.
"He's excellent against the run," said McCloughan, who had targeted Smith a year ago
in free agency before the Bengals used the franchise tag on him. "He never comes off the field. He can play both run and pass downs and so that gives us the versatility we want in our down linemen."
Smith's numbers declined in sacks last season – going from 7.5 in 2006 to only 2 – as the
entire Bengals defensive unit lacked a consistent pass rush. But over the course of his career, Smith owns 43.5 sacks and will give the 49ers a high-energy player whose motor never stops when it comes to tracking down opposing quarterbacks.
"He's got a big-time motor and goes hard on every down," said McCloughan. "You love when you see a player who brings that kind of fight on every play and he definitely plays the game because he loves it. There's not a lot of flash to his play, but he's very consistent and he always ends the season having played a heck of a year."
"I haven't really thought about it. Every Sunday you gear up and go out and fight with the guys who have been practicing and playing with. There are several games I probably could have missed, or should have missed, but I don't like to leave my guys out there and that's kind of the way I've always been. " - Smith on his 107-game starting streak
Nolan believes Smith's versatility as a run and pass defender makes him a solid addition for the 49ers 3-4 hybrid scheme, but he's willing to make whatever adjustments he needs to in order to play to Smith's strengths.
"I think he fits extremely well," said Nolan. "It's about adding good football players to your team. Whether that means we have to convert more often to a 4-3 to utilize Justin, I'm hundred per cent in favor, as is Manusky and our defensive staff. But, I don't believe that's really the case. I think we'll stay exactly with our scheme and he'll strengthen our scheme because he's a very good player, and I am excited about utilizing his strengths."
Although the Bengals primarily ran the 4-3 defense, Smith said the transition to a 3-4 will not be entirely new for him.
"In Cincinnati we switched all the time between a 3-4 and a 4-3," said Smith. "A lot of people don't know, but a lot of teams do that depending on the down and distance, the package, and the formations that offenses are throwing at the defense. So, I've done it a lot before."
Lastly, Smith has also proven to be durable over his career, currently enjoying a 107 consecutive game starting streak.
"As we did last year, we want to invest our money in guys who have been healthy over their careers," said McCloughan. "I think Nate Clements also had a streak well over a 100 and that tells you that they are durable, and that they'll also play hurt for you because everyone has bumps and bruises throughout an NFL season. We felt with Nate, and with Justin that we found guys who had a lot of football ahead of them."
Smith has many details to take care of in the next few weeks, but he spent most of the morning watching film with Nolan in order to get a jump on the defense, and plans to return to San Francisco for the start of the off-season program in a few weeks.
"Absolutely I plan to be here," said Smith. "I signed on and I'm going to be out here year round and be involved. So, I'll move out here, soak it in and give it all of my effort."
McCloughan also discussed Friday's signing of former Steelers cornerback and return specialist Allen Rossum.
"He's been a productive return guy as both a kickoff and punt returner," said McCloughan. "We feel like we've got a lot of guys who can return kicks right now, but the draft is thin at punt returner and so it was important to get someone we felt good about. He's proven over the last ten years that he can do that for us."