On Friday, the San Francisco 49ers kicked off their first voluntary minicamp under head coach Mike Singletary. When Singletary told the media his players should be ready for next season after being given the job last November – he wasn't kidding.
The workout had elements similar to that of a boot camp, with Singletary playing the role of drill sergeant, demanding the best effort from his men.
It featured a physically demanding seven-station conditioning circuit which challenged the endurance of the entire 49ers roster and the first on-field work with the installation of new offensive coordinator Jimmy Raye's offense.
"I think the biggest thing was giving coach [Jimmy] Raye an opportunity to really get a feel for what's here, get a feel for what he has to work with. See the offensive guys and as a team, let the guys know what the expectations are going forward and set the tone for the offseason program," Singletary said before his first minicamp as 49ers head coach.
Raye will be working with a few talented quarterbacks in Shaun Hill and Alex Smith, who are in a competition to be the starter. Both signal callers took reps behind the first team offensive line and completed several passes during the 11-on-11 portion of the practice.
"Every year no matter what position you're in, you're always competing, competing to get better," Hill said of the competition with his close friend, Smith. "We've been in this role before and we've done it and been friends after that. And whoever the second guy is will take a step back and he'll help the first guy."
Smith, who recently restructured his contract to remain in San Francisco, is also eager for the competition and has been preparing for it since last season ended. Smith came into the minicamp weighing in at 221-pounds. He said he added the weight to increase his durability and absorb the hits that come with his position.
After suffering two shoulder injuries the last two seasons, which caused him to be on the injured reserve list last year, Smith hopes the weight will help him stay on the field. As of now, it's a matter of building strength in the shoulder so he's ready for the high volume of throws he'll be asked to make in training camp.
"I think the last thing as far as the shoulder, would be building back up the endurance strength of it all," he said. "You obviously try to build up your endurance and get to the point where, 'Yeah, I can throw a lot of days back to back to back.' Kind of like I used to be – I felt like I could throw for days and not get tired. That's something I feel like I still have left in front of me."
Both quarterbacks and the entire 49ers offense will also be spending a lot of time in the coming months getting in front of and acquainting themselves with Raye's playbook.
"It's our job to go through the playbook," said starting left guard David Baas. "They install certain things every single say, but we really need to be on top of everything. Everybody has to get in their book and make sure they're sharp when they get out here."
As for how the playbook will look when it's being performed on the field, Hill said, "Fast. Hitting on all cylinders. Scoring touchdowns, first downs, moving the chains and just in out up to the ball fast. You'll definitely see a rhythm with our offense."
But until training camp rolls around, the 49ers will be marching to the rhythm of Singletary's command. At Friday's workout, Singletary made sure his team practiced with an intensity level to his liking.
"I've tried to lay out to the players where we're going and who we are," he said. "The first thing is we definitely have to have a physicality about us. The next thing is we have to have a toughness about us. We have to be smart about what we're doing. We have to be disciplined.
"We want to put a team on the field that, not just the fans can get excited about, but the players can get excited about, because of what we're doing and the way we do things. I'm excited about it. I'm excited about the process. I'm excited about today. I'm excited about this weekend and as we go forward that excitement will grow."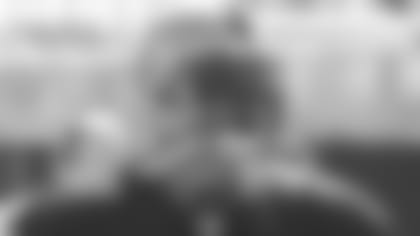 Led by head strength and conditioning coach Duane Carlise, the 49ers went through a nearly hour-long circuit training portion of practice. The stations which lasted three minutes each, focused on various football movements, involving cone drills, bag drills, and other practice equipment. Each station was divided into seven groups of players and had multiple types of paired position players with one another. That way every player had a similar body-type to go up against in the competitive drills.
"It was awesome," Carlisle said of the workout. "It was very, very challenging to say the least."
Carlisle was especially pleased with the unity and chemistry that he saw being formed during the circuit training.
"You had our specialists Joe Nedney, Andy Lee and Brian Jennings participating. It was a team effort," he said. "The guys were encouraging each other and they were suffering together. They were working together and it was a great experience to see those guys go through that."
Starting left tackle Joe Staley agreed with Carlisle's sentiments.
"It was good, definitely tough," he said. "We came out and really worked hard. They put through the paces to see where we were and they really wanted to test us mentally. It was good that everybody responded. It was a real solid start to the first day."
Joining the 49ers for the minicamp workout were two of the free agent additions in the offseason, wide receiver Brandon Jones and defensive end Demetric Evans. Fullback Moran Norris, a former member of the team from 2006-2007, who was also signed at the start of free agency was in attendance as well.
Jones, a signee formally of the Tennessee Titans said he's learning all the wide receiver positions in Raye's offense, but is currently lining up at the flanker or "Z" position.
"Jimmy Raye brings a good program, a good scheme to the offense," he said.
With veteran wide receiver Isaac Bruce unsure about returning for another season, Jones said he's willing to step up and become the 49ers top wideout if needed.
"I think I could fill it – that's the opportunity that I want," he said. "That's what I play the game for, to be able to be that number one guy. I just want to get on the field, make plays and be me."
Also excited to make plays for the 49ers is Evans, who came over from the Washington Redskins. Evans will be lining up as a left defensive end in the 49ers 3-4 defensive scheme, something he's never done, but feels good about doing.
"From what I've seen, they like to do a lot of movement, a lot of getting up the field and getting off the ball," he said. "Not just sitting there and taking on the blocks."
The 280-pound end said he was brought in to be "an athletic d-lineman."
According to Evans, one of the biggest reasons he joined the team despite being unfamiliar with the scheme was what he saw on film from when the 49ers defeated his Redskins 27-24 in the season finale.
"I was impressed with what I saw."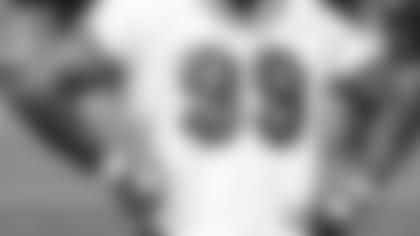 Outside linebacker Manny Lawson brought more than his trademark smile to 49ers headquarters for minicamps. He brought 10-15 more pounds of body weight which he hopes will help him be more explosive and powerful this season.
While fielding questions from the gathered media, the second question to Lawson was about his noticeable larger figure.
"Can you tell?" he joked. "Do my cheeks look a little pudgy? What about the legs… Yeah, I gained a little bit of weight."
Lawson said he's up to 250-pounds, instead of his normal 235-240-pounds from last year.
"That's always been a question people have had – can Manny Lawson put on weight? If the weight comes, it comes, but if it doesn't, it doesn't," he said. "I don't think it's hindered me when I wasn't where I'm at (now). I won't put on too much to where it does hinder me. If I continue to put on weight and I continue to produce and play at the level that I'm capable of playing at – then the weight is a good thing."
At last season's training camp, no player made more interceptions than Dashon Goldson. The ballhawking safety made a habit of reading routes and coming up with the ball in his hand almost on a daily basis. After one interception, a fan yelled out, "Hey Dashon – You're Gold-son!"
Now that he's been moved up from the second team to the first team at the free safety position, Goldson hopes to give the 49ers Faithful plenty more to cheer about.
"I know my stuff, I've been competing since my first day here as a rookie and nothing has changed since then," he said. "It's still the same defensive guys, same faces, so the chemistry is there."
Goldson said he brings sideline to sideline playmaking ability to the position and that when it comes to his ballhawking skills, he goes "Up for that ball like no other!"
Goldson was hampered with a PCL injury he suffered against the Giants and wasn't 100 percent when he came back for the final two games of last season. But now the 6-2, 200-pounder says he's over the injuries and ready to step up, thank in part to what he learned from teammate Mark Roman.
"Mark was one of the smartest guys I've played against," Goldson said. "His leadership and his role on this team, I studied what he was doing and I admired what he accomplished."
---
---