The Cardinals will have to wait at least another week to clinch a second-consecutive NFC West crown.
In front of a national audience watching "Monday Night Football," the 49ers wouldn't allow their NFC West counterparts to waltz into Candlestick Park and clinch a playoff berth. Instead, they forced seven turnovers (five fumbles and two interceptions) in a 24-9 victory that keeps their playoff hopes alive.
"We talked about it in the locker room after, this is who we are, that out there tonight," quarterback Alex Smith said after the win. "The defense, obviously, what they did was outstanding. On offense, that was who we want to be, be an offense that does whatever it takes to win, find a way to move the ball and that's what we did tonight."
Thanks to a dominant defensive effort and an excellent performance by running back Frank Gore, the 49ers (6-7) picked up the season sweep over the Cardinals (8-5), who have a two-game lead over the 49ers with three games left on the schedule.
"I think tonight we had the opportunity to go out and show the nation, all that was watching, what type of football that we can play," linebacker Joe Staley said. "Tonight, the light was on us. We stepped up and it showed."
Unlike weeks past, it was the 49ers opponents who made self-inflicted wounds. Coincidentally, head coach Mike Singletary made it a point this week to stress that point to his players.
"Let's see how good we can be without killing ourselves in the process," Singletary said. "I think, with the exception of the couple of turnovers that we had, I think we came out and did that for the most part."
With all the changes of possession (nine combined turnovers by both teams) it was the Cardinals who came up with the game's first turnover when defensive end Darnell Dockett batted a Smith pass up in the air to himself.
Although Arizona could not come up with points off their first turnover, the 49ers scored the game's first touchdown as a result of their own initial takeaway. Arizona running back Tim Hightower lost possession of his second carry of the game, when free safety Dashon Goldson laid a big hit on him knocking the ball out in the process. The officials blew the play dead, but a challenge from Singletary gave the 49ers possession at Arizona's 8-yard line.
The 49ers capitalized when Smith hit tight end Vernon Davis for his 11th touchdown reception of the season from 5-yards out.
"He did a great job of winning, and I let it go," Smith said of Davis' catch in front of Cardinals strong safety Adrian Wilson. "It was tight coverage; he got physical and made the play."
The 49ers weren't done scoring points off takeaways. The turnover party was just getting started for the defense.
On Arizona's very next offense snap, running back LaRod Stephens-Howling caught a slant and was stripped by Willis for the 49ers second turnover of the game. Safety Mark Roman returned the fumble 25 yards to set up a 37-yard field goal from Joe Nedney.
It was a rough start for the Cardinals, who committed four penalties and gave up two turnovers in the first quarter. The start of the second quarter was much of the same; Goldson intercepted a Kurt Warner pass, giving Arizona a turnover in three straight possessions and Goldson his third interception of the year.
"They played unbelievable all night," Smith said of his defensive unit. "They just played tough tonight. I think they were rolling, [playing with] a lot of confidence. That was great to see."
With a two-possession lead the 49ers tried to add on another three points, but Nedney's 53-yard field goal missed wide right. Arizona was in the driver seat to put points on the board before halftime, but once again the 49ers defense came up with another takeaway.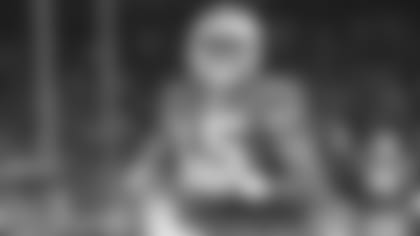 This time, cornerback Tarell Brown came up with an impressive diving interception on the 49ers 32-yard line. With less than three minutes remaining, Smith marched the 49ers on a crucial touchdown drive that resulted in a beautiful 35-yard touchdown pass to wide receiver Michael Crabtree. The rookie scored his second NFL touchdown on a deep in pattern and then out-ran Bryant McFadden the final 15 yards for the first time at Candlestick.
"Crabtree did a great job," Smith said. "He made the great catch and finished it off with the run."
To close out the first half, Ahmad Brooks sacked Warner from his outside linebacker postiion, knocking the ball out in the process. Defensive tackle Justin Smith fell on the fumble to close out the dominant first half performance by the 49ers defense.
It was the most first half takeaways by a 49ers defense since they came up with five turnovers against the New Orleans Saints on Sept., 14, 1997.
Besides the stellar defensive effort, the offense moved the ball consistently in the first half. Gore rushed for 104 yards on 13 carries. He finished the game with 167 yards on 25 carries, including a 2-yard touchdown run in the fourth quarter to make the game 24-9.
"They let me get in the zone [tonight]," Gore said. "My O-line did a great job up front, receivers down the field. I just told myself to be patient."
Gore and the 49ers offense couldn't have enjoyed their frequent possesion of the football, if it weren't for the efforts of Brooks and Goldson, who combined to force five of Arizona's turnovers.
Brooks and the rest of the unit continued their stellar play in the second half as the 49ers held the Cardinals high-powered offense to just nine points. Each had their best games in the NFL. Brooks finished with three sacks with two forced fumbles. Goldson added six tackles and two forced fumbles.
"It is very satisfying," Brooks said of his big day. "All across the board we did well, we did our jobs. We gave our offense good field position and it definitely helped."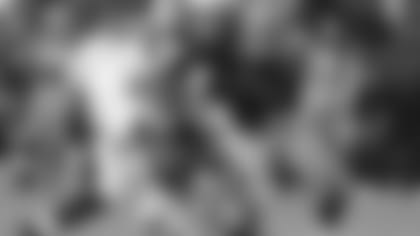 Arizona's offensive struggles continued in the second half, largely because of the 49ers team defense. It didn't help that their best play-maker, wide receiver Larry Fitzgerald, missed time due to a knee sprain. Fitzgerald got tangled up on a deep ball, but later returned to action. It was a less than memorable day for Fitzgerald who finished the game with only two catches for 22 yards.
"I was very proud of every one of our [defensive backs], because they did what they had to do," Singletary said. "They challenged people. They were in their faces."
The entire Cardinals offense struggled, converting four-of-11 third downs, compared to the 49ers offense which converted eight third downs. It was quite the improvement from last week's performance at Seattle, in which the 49ers offense only converted one third down.
Without Fitzgerald's services, the Cardinals got on the scoreboard with a 38-yard FG by Neil Rackers. Arizona came up with their second interception of the game when strong safety Adrian Wilson stepped in front of a pass intended for Delanie Walker. The Cardinals scored their only touchdown of the game when rookie running back Beanie Wells made a nice second-effort to get in on fourth-and-goal from the 1-yard line. Arizona was looking to make it a two possession game, but defensive tackle Ray McDonald blocked Rackers' point after attempt.
Warner came into the game playing his best football of the season, but was held in check finishing the night 16-of-29 for 178 yards with two interceptions and two fumbles, one of which he lost.
Trailing by 15, Wells coughed up the team's fourth fumble of the night when he was leveled by another punishing open-field hit from Goldson. Parys Haralson recovered the fumble at Arizona's 16-yard line to set up the offense up inside the red zone once again.
"When I see my opportunities I'm going to take them," Goldson said of his aggressive style of play. "I'm going to try and be smart about it. I'm football player. Look at Troy Polamalu, he takes shots. He misses some, but he's going to make more than he misses. That's how I feel about my game."
The 49ers sealed the game when Gore scored his single-season, career-high 10th touchdown on a run off the right tackle from 2-yards out with 9:22 remaining in the game.
With Gore and the rest of the 49ers excited about Monday's performance, optimism for the rest of the season remains. The 49ers will travel to Philadelphia in a short week to take on the Eagles in a must-win game.
"We just have to worry about our destiny and that's just winning out," Gore said. "Philly is a good team, they're on a good roll. We're going to break them down this week and try to go up there and get a win."