49ers Head Coach Mike Singletary Honors Bay Area Youth Football Players and Coaches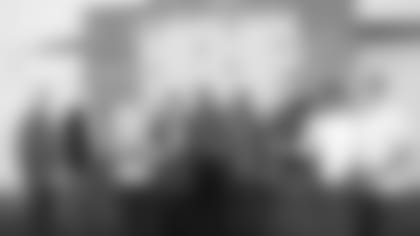 On Friday, December 26, the 49ers Youth Football program and head coach Mike Singletary welcomed over 20 Bay Area high school coaches and players to the team's Santa Clara practice facility to enjoy lunch, tour the building and watch part of the 49ers practice session. Following practice, Singletary recognized and awarded the 49ers Charlie Wedemeyer High School Coach of the Week and 49ers Player of the Week award recipients from throughout the season.
Coach Singletary also presented the Kelly-Moore Paints High School Coach of the Year Award to Coach Butch Cattolico from Los Gatos High School in San Jose for his impact on his team, school and community.
Coach Cattolico will be given a $2,000 donation from the San Francisco 49ers Foundation. The Coach of the Week award winners received a $1,000 donation from the San Francisco 49ers Foundation and a $500 gift certificate from Kelly-Moore Paints to go towards beautifying their school.
The award winners were excited and honored to be invited to the facility, especially the high school football players, who had the opportunity to watch their role models and envision themselves out there one day.
Headed to California Berkeley next season as a freshman, linebacker Steve Fanua from Milipitas High School was thrilled to be chosen as one of the ten Player of the Week's this season, and is excited the 49ers are recognizing athletes at the high school level.
"It feels great, it feels good to know that the NFL is looking at the younger players coming up and seeing how we are developing."
When asked who he looks up to on the field, his answer was easy.
"I want to end up being one of the greatest linebackers who ever played," he said. "So, somebody I look up to is Joe Staley because that dude is a great player and a good role model too."
Cameron Marshall, a running back for Valley Christian High School was also pumped about watching his idol Frank Gore practice. He was also humbled by the High School Player of the Week recognition and one day wants to be in the NFL pursuing his passion like Gore.
"When I first got it I was really surprised and honored to have received the award," Marshall said. "I've been out here a couple times before, but it's always motivating to see these guys working hard out here and doing what they love, and you know you want to be doing this one day."
Additional Player of the Week winners included Rob Atkinson from Harbor High School, Emre Titizer from Lynbrook High School, Zeke Sanders from Santa Cruz High School, Dante Fullard from Gilroy High School, Omar Al-Helew from Santa Teresa High School, Travis Johnson from The King's Academy, and Cody Jackson from Serra High School.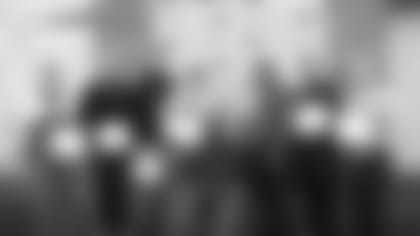 The Player of the Week awards are given to high school football players who best exemplify a well rounded student athlete, from their accomplishments on the football field, to their grades in the classroom, to their work in the community.
In addition to Cattolico, who received the Kelly-Moore Paints Coach of the Year award, the 49ers welcomed the other Charlie Wedemeyer Coach of the Week winners this season including Frank Moro of South San Francisco High School, Ron Kellner of The King's Academy, Jeff Borges of Andrew Hill High School, Nick Alfano of Santa Teresa High School, Steven Zenk of North Salinas High School, Mark Krail of Pioneer High School, Jason Nikolao of Menlo-Atherton High School, Tony Keefer of Tamalpais High School and Patrick Walsh of Serra High School.
The Charlie Wedemeyer High School Coach of the Week Award was created in honor of former Los Gatos High School football high school coach Charlie Wedemeyer. Wedemeyer, born in Hawaii and the youngest of nine, earned him a football scholarship to Michigan State University and was chosen to the East-West Shrine Classic and the Hula Bowl, Charlie was named "Prep Player of the Decade" in the state of Hawaii. He married his high school sweetheart and moved to Los Gatos, California, where Wedemeyer eventually taught and coached at Los Gatos High School. At the age of 30, he was diagnosed with Lou Gehrig's disease and given one to three years to live. Against tremendous odds, Charlie has survived and still coaches football on the junior varsity level at Los Gatos High today. Although he is on 24-hour life support and can only move his facial muscles, his spirit and motivation is still alive and strong today.