On Saturday, the 49ers finished up the practice portion of their rookie minicamp with a spirited workout that featured more circuit conditioning drills and some impressive passing plays during 11-on-11 work.
"I thought it went pretty good," sixth-round pick Fresno State tight end Bear Pascoe said of his first minicamp in the NFL. "The first day was tough but we fought through it and today was a lot better. I thought everybody came out firing and was ready to work."
After getting their first taste of the conditioning circuit on Friday, the rookies were put through the ringer once again.
"It was a surprise, but you have to fight through it," fifth-round pick Ball State quarterback Nate Davis said. "The biggest thing I learned from the minicamp is that you have to be in shape and learn the playbook."
Davis said his biggest fear coming into camp initially was learning the playbook.
A year ago, Chilo Rachal had the same reservations. But now that he has a year under his belt, Rachal (one of the selected veterans asked to participate in the minicamp) felt a lot more comfortable during the workouts.
"This camp is better because I know what I'm doing. I'm able to move at a pace I'm comfortable with instead of just guessing," the 49ers starting right guard said. "You get a better understanding of the offense and what the whole offensive line is doing."
On the other side of the ball, young playmakers like defensive back Tarell Brown have also seen a growth in their level of understanding of the playbook.
"I'm pretty comfortable, but you can never get too good at what you do," Brown said. "So this is getting me back familiar with the defense, going over stuff over and over again and training my mind to get back into football season."
While watching his new teammates and fellow rookies workout, the 49ers first-round pick Texas Tech wide receiver Michael Crabtree took as many mental notes as he could.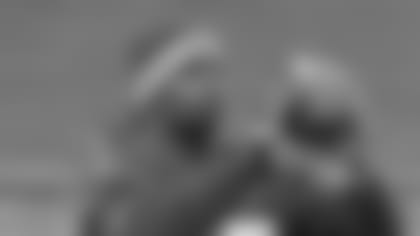 "Mainly I was getting the mental notes down and trying to learn as much as I can by watching," he said of how he spent both practice sessions. "I was just asking questions, trying to pick the other wide receivers' minds a little bit. The hard part is watching. The easy part is being out there physically and doing it. I'm just trying to do the best I can and learn as much as I can in two days."
Unable to participate because he's recovering from foot surgery, Crabtree rode on an exercise bike adjacent to the practice field while his rookie teammates took part in the conditioning drills.
During the most strenuous portion of practice, some of the new players needed extra encouragement from head coach Mike Singletary, while others used the drills to showcase their physical and mental toughness.
"I got through it a lot better than I did yesterday," Pascoe said. "It was really similar to stuff we've done at Fresno (State) for our fall training. I've been through stuff like that before and it's all a mindset. If you've got the right mindset going into it, then you'll have fun."
Now that the rookies have experienced their first NFL minicamp, they should be ready for the next step when they come back to town for Organized Team Activities in two weeks.
"I'll take what I learned here and I'll take it back to work with me it these next two weeks," Pascoe said. "I'll keep building on it and hopefully when I come back for OTA's, I'll be ready to rock and roll and hit everything in stride."
Though the practice portion of the minicamp is now over, all work is not yet done. The players will still go through meetings tomorrow before heading home and preparing for OTA's which start May 18.
Offensive and Defensive Coordinators Speak
Offensive coordinator Jimmy Raye spoke to the Bay Area media on a number of different topics. Many of the questions focused on the 49ers draft picks, his offensive philosophy and on the quarterback competition.
Here's what Raye said in regards to having a clear-cut date for naming the 49ers starting quarterback:
"Not at this time. I think right now, the competition, the installation of the system, learning the verbiage and the nomenclature that is different from what they've done in the past, so that we have an opportunity to go forward understanding how to communicate, the calls, what is expected of them in the play of the position. That process is taking place. We'd like the competition to continue and run its course, and let the best player survive that. I have no real timeframe on that. Last I checked, we don't play until September 13th so I'm fine with that going into the offseason and the final mini-camp, and really all the way into training camp."
Following Raye, defensive coordinator Greg Manusky got behind the microphones and spoke with the media as well. Besides being asked about his defensive personnel, Manusky commented on the improvements made to the 49ers 3-4 defense last season.
"We were 3-4, 4-3 going back and forth with Justin Smith. But the last eight games of the season we went to more of a 3-4 defense with Parys (Haralson) and Manny (Lawson) on the outside rushing. We got better. We got consistent throughout. We improved our stats and numbers and stuff. And that's what we're trying to do here in the mini-camps and the OTA's is do those things."
One of the most memorable sights from the conditioning circuit portion of practice took place when Manusky and running backs coach Tom Rathman took part in one of the circuit stations themselves. The two raced each other while carrying weighted bags. Although Rathman beat Manusky by a step, both coaches had a good laugh.
At the same station, special teams coach Al Everest offered the heavy bags as a gift to undrafted free agent wide receiver Dobson Collins.
"If you want you can take one of these bags home with you. I'm sure they'll let you take it back home on the plane," Everest said to Collins jokingly.
When it came time to scrimmage, the intensity of practice certainly picked up. Right off the bat, all three quarterbacks (Shaun Hill, Alex Smith and Nate Davis) were able to make completions with a variety of receivers.
On a deep-in route, Alex Smith found an open Josh Morgan, who had beat the coverage of undrafted free agent cornerback Carlos Thomas.
Hill also found Morgan on a 20-yard flag route down the right sideline past the arms of free safety Dashon Goldson. The offensive line gave Hill an abundance of time on the play, which allowed Hill to survey the field and find an open target.
Davis, the rookie also had a nice completion when he found wide receiver Michael Spurlock on a 15-yard hook pattern. Davis' perfect pass landed in Spurlock's hands over the outstretched arms of rookie inside linebacker Scott McKillop.
The play of the day on offense went to Shaun Hill, who connected with wide receiver Jason Hill on a 45-yard pass between the hashmarks. Hill got past cornerback Marcus Hudson and the rest of the 49ers secondary, hauling in the deep pass from his namesake.
On defense, the play of the day honors went to outside linebacker Jay Moore. When Davis threw a quick pass to the flats, the blitzing Moore, got his hands up in a hurry and intercepted Davis' pass.