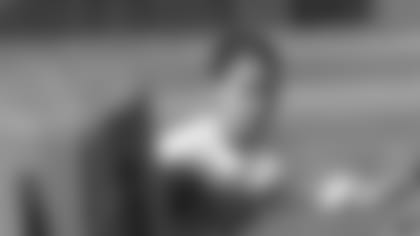 Santa Clara Students Pass, Catch and Hydrate with the 49ers at a Gatorade Jr. Training Camp* 
On an unseasonably sunny day in Santa Clara on Tuesday October 28, the San Francisco 49ers partnered with Gatorade to bring a special treat to the students at Briarwood Elementary School. The second through fifth graders were able to take some time off from class to participate in a Gatorade Jr. Training Camp taught by the 49ers Youth Football staff. The kids even had some extra incentive to show off their football skills for the 49ers Gold Rush Cheerleaders and mascot Sourdough Sam, who were also invited to take part in the event.
"This is an event that the kids love to come out and participate in," Julianne Topliff, Principal of Briarwood Elementary School, said. "Number one, they like to come out and learn how to do the drills. Number two, we've got the cheerleaders, football staff and Sourdough Sam out here so it makes it an even more exciting event for them."
The drills, demonstrated by Sourdough Sam, were designed to build football skills at a number of positions including quarterback, wide receiver and running back. The kids, aged seven to eleven, were enthusiastic about learning proper techniques from the staff.
"I'm excited because we get to have fun and I get to learn more about football," Jason Hall, a fifth grade student at Briarwood Elementary School, said. "We are doing the quarterback drill, the Gatorade hydrating station, the running back drill and the wide receiver drill. It's awesome."
Hall, a running back and linebacker with the Sunnyvale Knights football team, was one of a few of the students with football experience attending the camp looking to perfect his techniques. One of his main goals is to emulate Frank Gore, his favorite NFL player, whose jersey he was sporting. But the rest of the boys and girls were equally excited to have the chance to learn about football and being active outdoors.
"There are about 85 kids out here from Briarwood," Topliff said. "It's very exciting for them. The smiles on their faces say it all. You can tell that they just love to be out here. It's about physical activity, and that's the key because there are kids out here who otherwise may not ever get that chance to come out and play football."
The students, who wore their Gatorade Jr. Training Camp t-shirts for the entire experience, cheered loudly as 49ers Youth Football Representative Ryan Myers led them through the drills and talked with them about the importance of being active, proper hydration and getting 60 minutes of physical activity every day.
"It was really fun to go out to Briarwood Elementary School and teach the kids a little bit about football and being active," Myers said. "Most importantly, we're teaching them about 49ers football which is all about respect. You could tell they definitely understood the importance of respecting themselves, their school, their communities and their families. They were really excited to be outside learning and having fun. The 49ers are proud to partner with Gatorade to put on these wonderful camps."