One down, thirteen to go.
The 49ers began voluntary offseason practices on Monday with a large turnout for the team's first organized team activity. Although it was scheduled earlier than every other NFL team's first OTA session, all of the players in attendance were happy to get started early.
As one player said it best, "We play football – that's what we do."
"It's a big difference with us coming out and where we're at – we're hitting the ground running – already talking about protection adjustments. A year ago, you're really taking it in and working on the basics," starting quarterback Alex Smith said after the 90-minute workout.
Smith enters this offseason running the same offense in consecutive years for the first time in his six-year NFL career. Excited about what that means, Smith is eager to get to work for a full offseason preparing to be the team's starter.
This time last year, the former No. 1 overall pick of the 2005 NFL Draft was coming off season-ending shoulder surgery. But those feelings are all but a distant memory.
"Where I'm at with my shoulder, is not even close to where I was a year ago. Now I'm able to come out here and focus on football," Smith said. "I'm much more confident in what I can do right now, without a doubt. It's nice to get a lot of the reps out here and take advantage of them."
Smith said he and his teammates were much further ahead offensively in their first day of OTAs, as evident by the offense working on blitz pickups. This time last year, Smith and the rest of the 49ers offense were learning the basics off Jimmy Raye's system. Those initial practices focused on details such as getting in and out of the huddle and where to line up.
Now, the offense is able to pick up from they left off and did so by emphasizing developed concepts on Monday.
"Today is day one, but really this was the start of it all. We have a lot to look forward to," Smith said.
For newcomers like quarterback David Carr, the OTA session was more about fitting in than standing out.
"You feel like everything is going so fast, because you're in a new system. My goal was to get a snap and look like I knew what I was doing. I accomplished that I think, so hopefully we can keep getting better," Carr said with a smile.
In just a few weeks with his new teammates, the free agent addition has been impressed with the dedication he's seen around team headquarters.
"It's a good spot. It's a hungry team. I don't get a sense of complacency at all, from the coaches to the players," he said. "There's a little bit of a hunger in the air. It's cool. It kind of refreshes you a little bit."
Same Players, New CoachesBesides players working with new teammates for the first time, a few new coaches were able to work with their players for the first time.
After the individual portion of Monday's workout, new special teams coordinator Kurt Schottenheimer led a special teams portion of practice, working with his new players on the field for the first time.**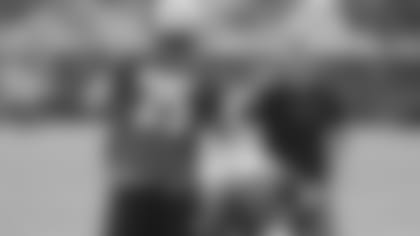 "**He's all about business," kicker Joe Nedney said of his new coordinator. "He fits right into this whole team's mentality. He's going to be an asset, we've had a really good track record on special teams, we've had good coaches and he's going to fit right in. We're not going to skip a beat with him."
Likewise, the offensive linemen left the first OTA session with a lot of respect for their new coaches, head offensive line coach Mike Solari and his assistant Ray Brown.
"I got a good vibe from both of those guys," tackle Barry Sims said. "As a group, we know we know we're not going to get to where we want to be without working hard. And those guys are all about working hard. It feels good to be a part of it."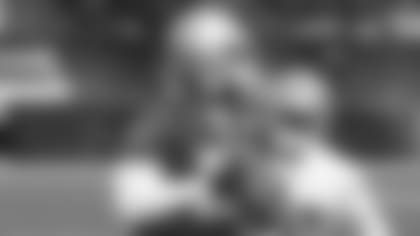 -Second-year wide receiver Michael Crabtree was unable to participate in OTAs or minicamps last offseason, as he was recovering from offseason foot surgery. But, Crabtree made up for lost time on Monday, catching four-straight passes from Smith to start off the team portion of practice.
-Another player who made his OTA return on Monday was defensive tackle Ray McDonald, who missed all of last offseason coming off knee surgery. McDonald said his knee feels the best it's felt in five years, and this is the first time he's felt comfortable doing offseason workouts since he was in college at the University of Florida. "Last year, I couldn't be out there with my teammates and I didn't like it. I couldn't do the offseason program, OTAs, minicamps or training camps with the guys," McDonald explained. "I was always by myself, now it's a blessing to be able to be with my teammates and get that camaraderie going again in the offseason."
-Last week, Reggie Smith said in an offseason Q&A with 49ers.com that he was eyeing a breakout year in 2010. He got off to a solid start by coming up with a nice pass breakup on Monday. Smith showed excellent range, breaking on a Smith pass intended for wide receiver Josh Morgan.
-Second-year defensive lineman Khalif Mitchell said he dropped 36-pounds this offseason by mostly playing soccer back home in Virginia.