The 49ers are looking for Vernon Davis to give their offense a much awaited spark in 2008, and the tight end was happy to oblige right out of the gates. During a team drill in the first practice of mini camp on Friday, Davis enthusiastically took on linebacker Parys Haralson on a play that continued beyond the whistle.
"You've got guys out there competing like Parys," said Davis. "He was coming hard and like I always do, I got a little, not upset, just a little emotional. I didn't mean anything towards him and we just started to compete."
Both players got in at least one punch before Haralson went to the ground in a fight that ended when Davis tossed Haralson's helmet to the sidelines. That's when head coach Mike Nolan grabbed the tight end and told him to cool it for a few plays.
"Coach said to keep each other up and not to hurt each other and to control the anger and go on from there," said Davis.
Some other highlights from the first practice included several grabs from Isaac Bruce, who made it look easy all practice long, and an interception by linebacker Brandon Moore.
"He was catching them just like he did in St. Louis," said Willis of Bruce. "I'm glad we added him."
In the afternoon practice, left tackle Joe Staley squabbled with defensive lineman Walter Curry. Safety Dashon Goldson showed his ball skills with two interceptions, while Shaun Hill hooked up with wide receiver Bryant Johnson on a deep ball for the afternoon highlight reel.
Quarterback Alex Smith took the first reps with the first-team unit in the am practice, with Hill getting the nod first during the afternoon's practice. Both players are expected to split the reps with the first unit as they compete for the starting quarterback position.
"A lot has been made of this but it is a natural part of this game," said Smith. "It is a competitive sport. Shaun and I have had to compete our entire lives at this game in order to get here. Competition is part of the deal. We play football. We are going to go out there and give it our all and that is compettion and I think we are going to push each other. But to make it a big deal, it's part of the game. We've dealt with it our entire lives."
Smith can understand that after three years as the heir apparent, earning his job might seem a little off to some people, but he said he prefers it this way.
"When all of the sudden you are given something, that's the thing that is probably more abnormal," said Smith. "Competition is part of this."
After spending the last six years of his career hoping to secure his position as the number three quarterback, it is definitely a first for Hill to be fighting for the number one spot, but he said he's not altering his approach.
"You can't worry about the other guy," said Hill. "You are just out there trying to improve on what you can do and play your game. I'm just going out there and trying to improve every day. It'll make both of us better and ultimately it will make the team better."
The situation will continue to draw heavy scrutiny until a starter is named, but Hill insists it won't cause any problems between he and Smith.
"We have a great relationship," said Hill. "If there is any quarterback situation in the league where this could work I think it's us. We want ultimately what's best for the team. We are going to push each other out there and we are going to help each other at the same time."
Originally, Smith thought he might be limited still in mini camp after having surgery to repair his shoulder injury but he was full-go in both practices.
"It felt good," said Smith. "I think I'm right on schedule for where I'm supposed to be right now. It did feel good out there today."
Smith said he hasn't pushed it to see exactly how far he can throw, but that he is able to complete all throws that are being asked of all of the quarterbacks in this weekend's mini camp.  
Every player on the 49ers roster was out on the field for the start of Friday's three-day mini camp, except for G David Baas, who is recovering from surgery to repair his torn pectoral injury.
DT Joe Cohen, DE Melvin Oliver and LB Manny Lawson are not expected to participate in the camp as they continue rehabbing their ACL injuries, but all three did some light work in the individual periods.
Wide receiver Arnaz Battle was expected to go on Friday, but was held out in the morning practice after tweaking his ankle at the team hotel on Thursday night. Battle returned to practice Friday afternoon.
T Jonas Jennings worked in the morning practice, but was held out of the afternoon practice per the schedule that has been set out for the offensive lineman by the 49ers athletic training staff.
Turning Over the Baton
What a difference a year makes. This time last year, tackle Joe Staley thought he was going to puke before practice, while linebacker Patrick Willis said he felt like his head was on a swivel.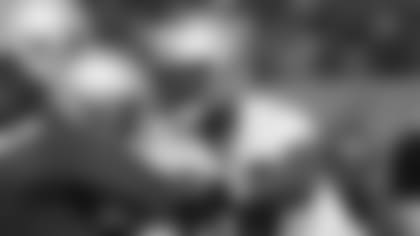 "This time last year I was wide-eyed and didn't know what to think or expect," said Willis. "I didn't know what to do, what to say or how to act. Now I am acclimated and can just be free."
Willis quickly became vocal in his rookie campaign as the Pro Bowl linebacker was responsible for breaking the huddle, but Staley got into the groove of things in the morning practice.
"Today when we were doing drills, Coach Warhop yelled out 'young guys, go get the sandbags.' I was like 'yeah, young guys, go get them,'" said Staley. "Jonas started laughing and just said it was weird to see me yelling out like that because last year I was the one doing that stuff."
This year, the 49ers only have one first-round draft pick in defensive lineman Kentwan Balmer, but he sounded pretty close to the way Staley and Willis did during their inaugural mini camp.  
"The speed and the mental part of it was the hardest," said Balmer. "Everybody is fast. Everything was like a blur but luckily I had older guys to lean on. It was okay for a first day, okay is all, just okay."
Staley wasn't as modest when he talked about the play of the two drafted rookies in the offensive line group.
"Chilo Rachal is very explosive, quick off the ball," said Staley. "Cody Wallace is a smart individual, already making calls out their and confident in his calls."
Willis meanwhile praised the presence of this off-season's prime free agent acquisition, defensive end Justin Smith, who made quick work of getting around the offensive lineman to stick it to Frank Gore.
"I see a lot of talent out there and a lot of good players, and I think if guys continue to work and put it together we should be alright, but I really like the attitude and presence that Justin Smith brings out there," said Willis. "He made a play on one of the first plays he had out there today and he got all excited and jacked up. I was like, 'I like that.'"
In addition to the rookie class, several off-season free agent acquisitions made their 49ers practice debut on Friday. Here's what some of them had to say.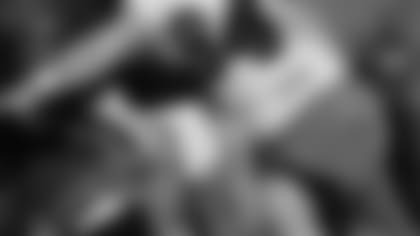 DE Justin Smith "It went pretty smooth. I've been going over the defense with the coaches so day one I kind of new what we were doing. I thought the defense flied around and we looked pretty good today. You can move along pretty quickly. For a lot of these guys, it's old news to them. There are some changes but for them, it's not very hard. But if you are new to here, or a rookie coming in here, you just have to keep up the pace and get in your book at night."
RB DeShaun Foster
"The funny thing, I was a little nervous. I hadn't been nervous in a while so it felt good to get out here and get the jitters out and get acquainted with my new team."
LB Dontarrious Thomas
"It was definitely tough. It's just going to take me some time to get used to the tempo, how things are run, and just for me to get more familiar with the defense so that I'm not thinking so much."
NFL Films Front and Center
Throughout both practices, tunes from NFL Films blasted out of loud speakers that were set up along the sidelines.
"If you think about it, every time you go for pre-game warm-up, every time you get in the stadium, there's not a time when it really counts that is quiet," explained head coach Mike Nolan. "Never. And, I thought that a little bit of inspiration would be good. I kind of liked it."